It's a brownie! It's a cookie! It's a wanna-be brownie cookie! These triple chocolate cookies are made in 20 minutes or less and deliver the same rich, fudgy, crinkle topped texture that we all know and love from our favorite brownies. Chock full of decadent chocolate flavor, these cookies are dangerously delicious!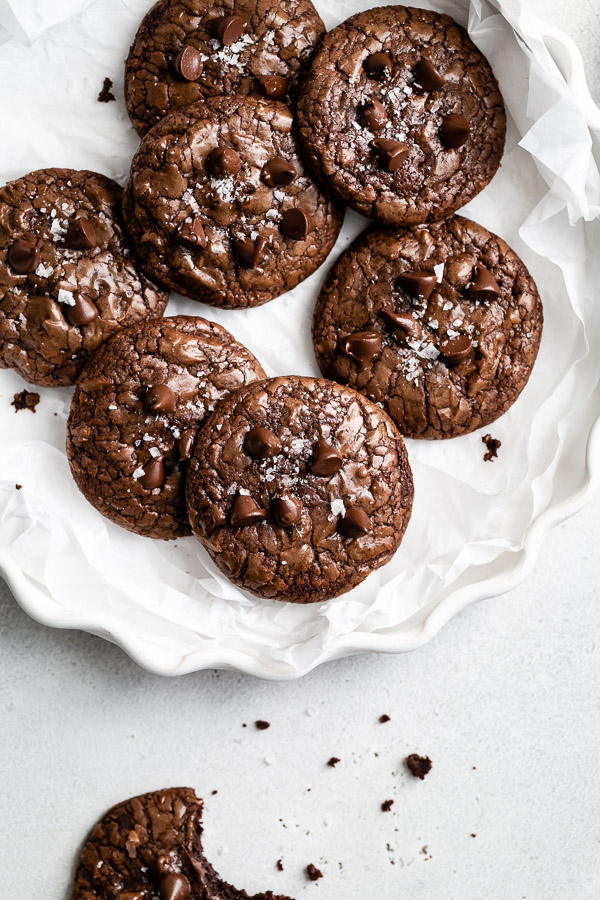 Hello chocolate lovers. Meet wanna-be brownie cookies. Also known as the world's most fudgy, chewy, chocolatey brownie in cookie form. I could not be more excited to share this cookie recipe with you all and I just know you're going to be fast friends. This ultimate melt-in-your-mouth cookie is near and dear to my heart because it's literally chock full of triple chocolate goodness. You all know by now how much I adore all the chocolate things and these easy, decadent cookies taste just like your favorite crinkle topped, fudgy brownie. I know I say this a lot but there are seriously not enough adjectives in the English dictionary to describe just how good this cookie is.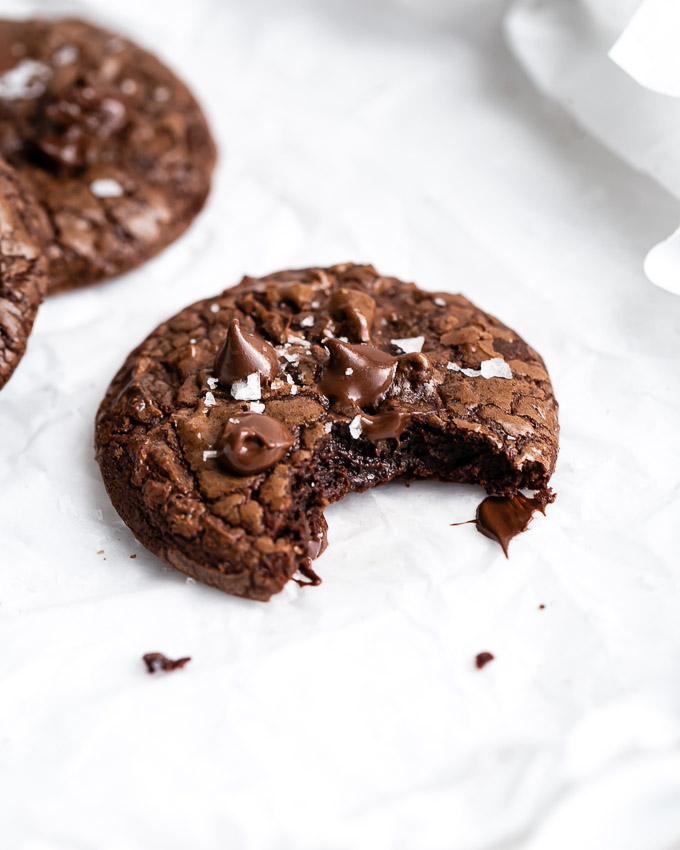 This cookie is loaded with three kinds of chocolate. Yep! You heard that right!! THREE kinds of chocolate. We are not messing around here folks. If chocolate is the question, these cookies are the answer. Not only are they incredibly delicious, but they are easy to make, require zero chilling time, and they freeze beautifully. Look no further for your new favorite cookie!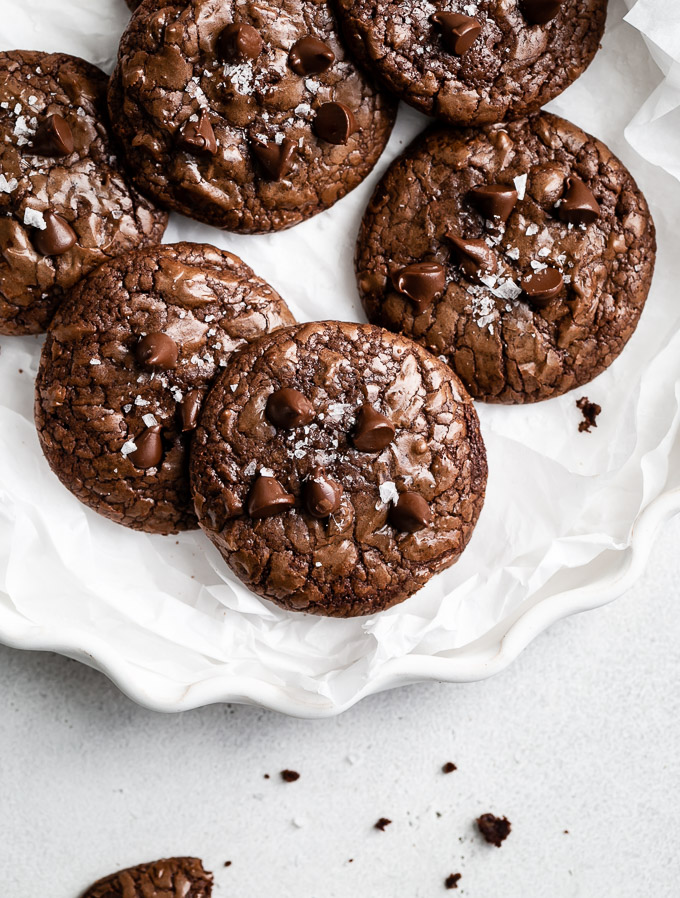 INGREDIENTS YOU NEED TO MAKE WANNA-BE BROWNIE COOKIES
These easy, no chill cookies are made with the same ingredients you use to make brownies. We just switch up the ratios a bit and the result is a rich and extra chocolate cookie that tastes just like your favorite brownie. And the best part is that the recipe calls for simple ingredients that you likely already have in your pantry so you can whip up a batch of delicious brownie cookies whenever the craving strikes!
Butter. You'll need room temperature, unsalted butter to make these soft and gooey cookies. If you only have salted butter, omit the extra salt in the recipe.
Sugar. This recipe combines both granulated sugar and brown sugar to create the perfect sweet and chewy cookie.
Flour. Just a scoop of regular all purpose flour gives these cookies the perfect texture. Be sure to spoon and level your flour for best results.
Eggs. Check that your eggs are room temperature so that they incorporate well into the batter. If you're in a hurry, place your eggs in a bowl of warm water for 10 minutes.
Chocolate, chocolate and more chocolate. This wanna be brownie cookies are loaded with three kinds of chocolate. I wouldn't change a thing about them but you can swap out the chocolates to suit your sweet tooth. For best success, use high quality chocolate bars and Dutch process cocoa powder for a rich, dangerously delicious cookie. I wouldn't recommend using milk chocolate as it will make for a very sweet cookie.
Espresso or strong coffee. You might be tempted to skip this ingredient but I've tested this cookie both ways and you won't taste the coffee at all. It works to enhance the deep, rich chocolate flavors perfectly!
Baking powder. Just a bit helps to give the cookies a little lift in the oven.
Salt. Dust the tops of your brownie cookies with a sprinkle of flakey sea salt for a totally swoon-worthy sweet and salty treat!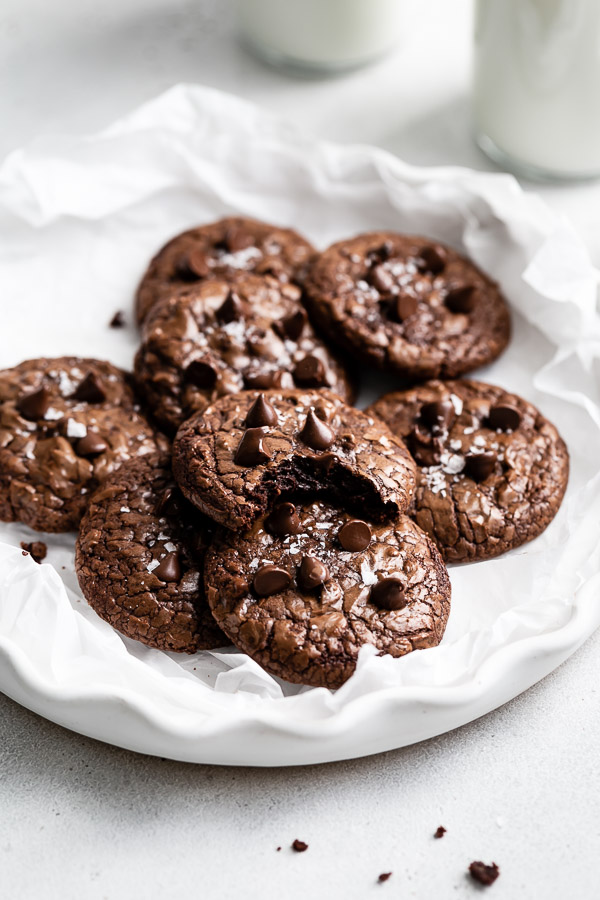 WHY ARE THESE WANNA-BE BROWNIE COOKIE SO GOOD?
Oh wanna-be brownie cookies, how do I love thee….let me count the ways! These triple chocolate cookies are lights-out delicious! Imagine the deliciously rich and fudgy texture of a homemade brownie, but in cookie form. They're a chocolate lover's dream and not only are they easy to whip up in 10 minutes or less, but they require zero chilling time so you can be face to face with an oooey, gooey, ultra chocolatey brownie cookie in just twenty minutes.
SIGN.ME.UP.
As if you needed another reason to love these cookies, you'll be happy to know that not only do they bake up in no time, but they freeze beautifully. Trust me, your freezer stash NEEDS these cookies! If you are a chocolate lover like me, you have to add these triple chocolate cookies to the top of your must-bake list. They're almost too good to be true!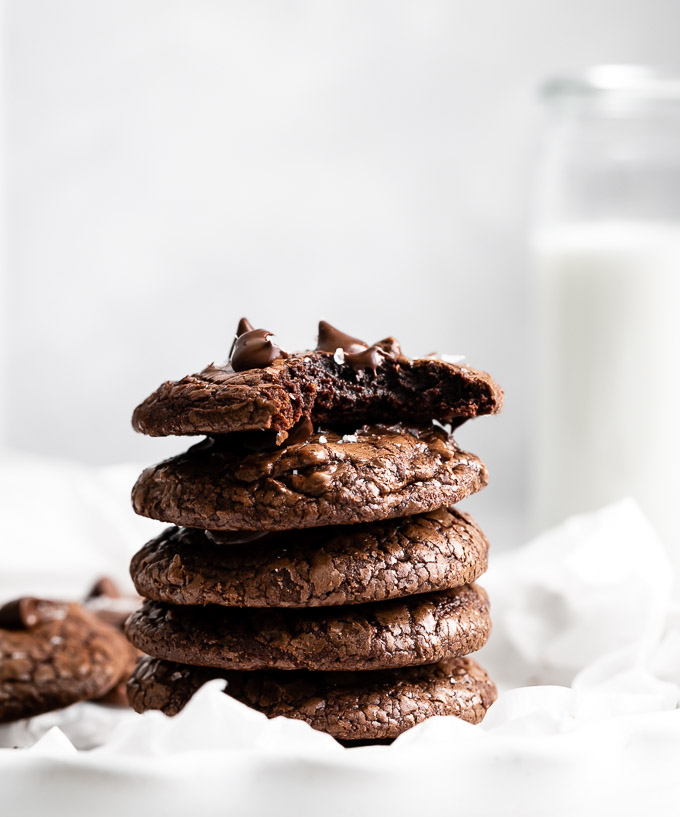 TIPS TO MAKE THE BEST BROWNIE COOKIES
These wanna-be brownie cookies have the same rich, fudgy texture of a brownie that we all know and love. The recipe is simple, but for best results, follow the directions word for word and read through these tips and tricks before you get started. You'll be glad you did!
1. Don't skimp on good quality chocolate. This rule holds true for most recipes, not just cookies. But it is important to note that quality chocolate makes all the difference, especially in this wanna-be brownie cookie which is the definition of decadence. Splurge on the good stuff friends. It matters. For this particular recipe I used Valrhona for the chopped chocolate and Guittard for the chocolate chips. And I love this Dutch process cocoa powder.
2. Use room temperature eggs and butter. Okay, this cardinal rule is tough for even me to follow. Sometimes you just want a cookie and you want it NOW. Softening the butter and watching the clock while the eggs warm up to room temperature takes time and trust me when I say I'm the least patient person in the universe. Not kidding. Just ask my mom. But room temperature butter and eggs are the key to cookie success so don't cut corners. Take your butter and eggs out at least an hour before mixing the batter.
3. Let the batter rest. For the perfect crinkly top, fudgy brownie texture it's important to let the dough rest for just 5-10 minutes before scooping it onto the cookie sheets. This gives the batter a chance to firm up a bit and helps create those irresistible glossy tops. Do not chill the dough as it will change the texture entirely.
4. Do not over bake. Just like brownies, these chocolate cookies should never be over baked. We want those ooey, gooey fudgy centers and crackled tops that are the hallmark of any good brownie. The cookies will continue to cook as they cool on the cookie sheet so remove them from the oven before the center of the cookie looks set. The tops will be crackled and the cookies may be puffed up a bit. They will settle as they cool leaving you with the perfect fudgy, chewy, gooey chocolate goodness.
5. Don't forget the salt! You may think you don't like salt with your chocolate, but trust me, it's the best! Once baked, top each cookie with a sprinkle of flakey sea salt. It's pure heaven!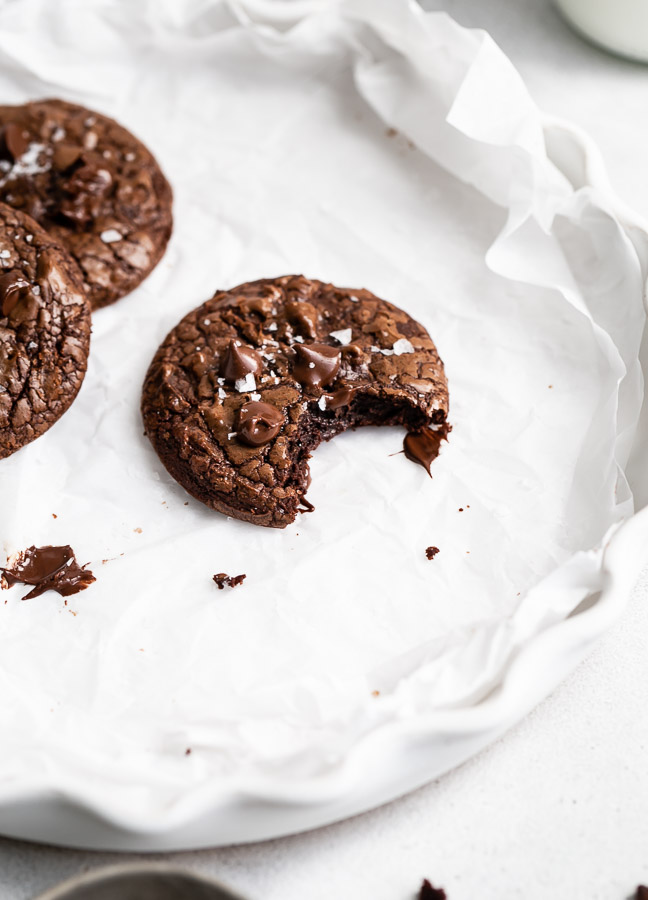 DO THESE BROWNIE COOKIES FREEZE WELL?
Do they ever! Because these triple chocolate cookies are so much like actual brownies, they will stay moist and fudgy long after they are baked. Keep them tightly covered at room temperature and heat them in a barely warm oven whenever you're in the mood for a cookie. To freeze the cookies, wrap the cooled cookies tightly in plastic wrap and then seal in a plastic bag for up to three months. Take it from me, these cookies are the BOMB eaten straight from the freezer!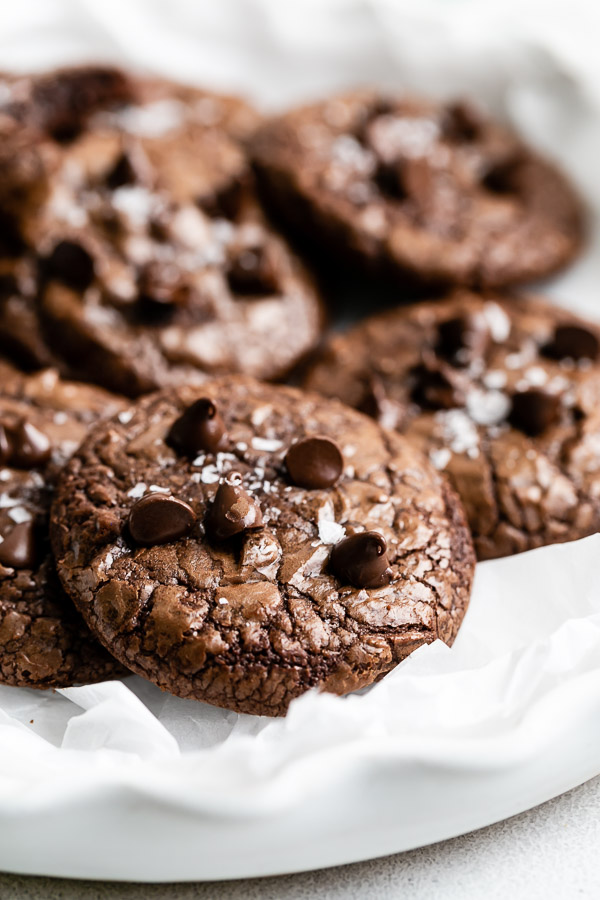 If you made it to the end of this post – congrats! You deserve a cookie. I won't keep you here a second longer because you've got wanna-be brownie cookies to bake. I just know you're going to fall fast in love with these seriously delicious cookies and I hope you'll carve out some time to make them the next time you're craving cookies. Or brownies!
Happy baking chocolate lovers!
If you love these Wanna-Be Brownie Cookies, you'll also love….
The Best Brown Butter Brownies
The Best Brown Butter Toffee Chocolate Chunk Cookies
Peanut Butter Pretzel Chocolate Chip Cookies
Classic Chocolate Chip Cookies & Five Tips for Perfect Cookies Every Time

**Recipe adapted from Foster's Market Chocolate Whoppers