These triple chocolate peppermint macarons are as adorable as they are delicious. Dunked or drizzled in melted chocolate and sprinkled with crushed candy canes, these festive cookies are the perfect holiday treat!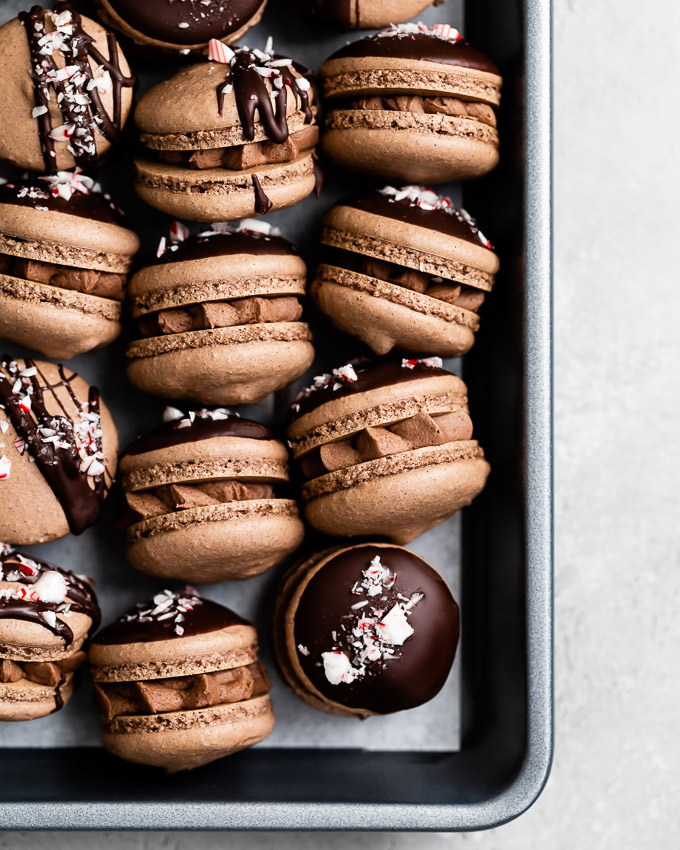 Only three more sleeps until Christmas Day and I'm about 90% peppermint at this point. Can't say I'm mad about it. No use hopping off the peppermint train now so it feels right to add one more chocolate and peppermint confection to the mix. A girl's gotta have options. I live for this flavor combination eleven months out of the year and these chocolate peppermint macarons are all I want for Christmas. These macarons are as delicious as they are adorable and I can't wait to tell you how to make them. Let's get started.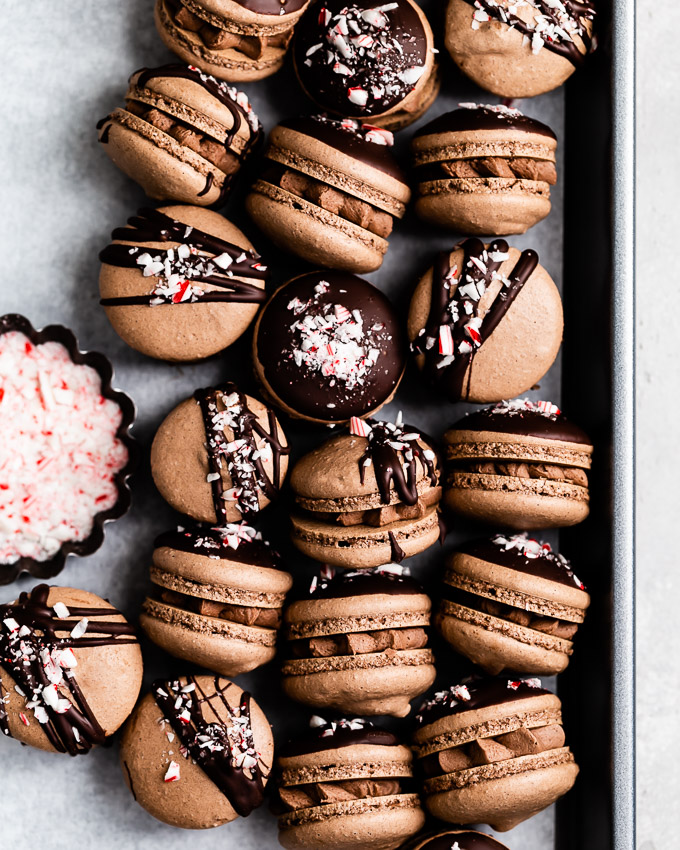 "Macarons are soooo easy to make", said no one ever. I'm not gonna lie, macarons are notorious for being the world's most finicky cookie. But once you get the knack of it, you'll be hooked! I'm not sure a cuter cookie exists and while they do require a little patience in the kitchen, these little chocolate stuffed peppermint topped cookies will be the star of your holiday cookie tray. If you've never made macarons before, I've got you covered. Take a quick peek at this post before you get started for all of the ins and outs of macaron making. It's loaded with tips and tricks to help you troubleshoot so that your macs turn out worthy of leaving out for Santa on Christmas Eve.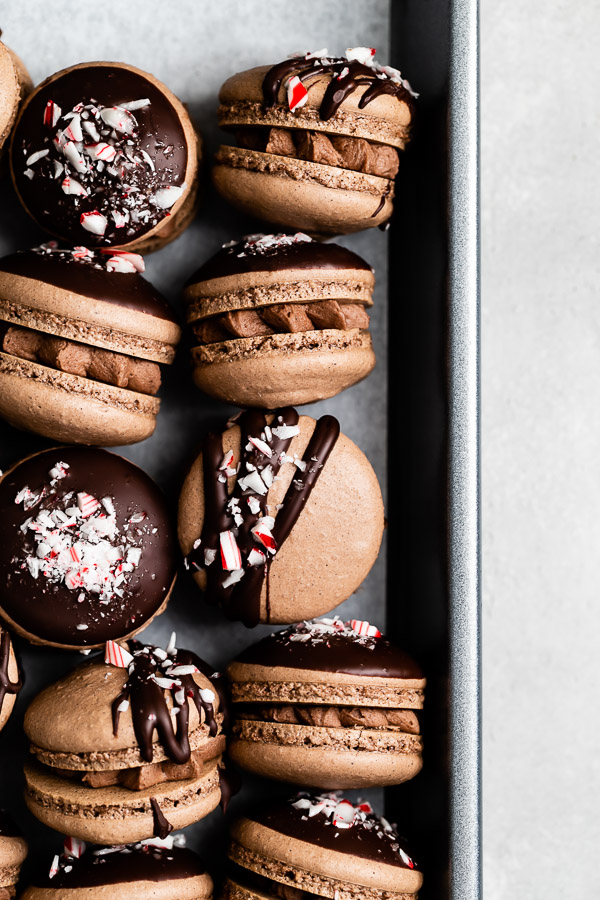 INGREDIENTS YOU NEED TO MAKE TRIPLE CHOCOLATE MACARONS
These cute as can be cookies come together with just a few simple ingredients. Make your list and check it twice!
Confectioner's sugar
Almond flour
Dutch process cocoa
Eggs
Granulated sugar
Butter
Chocolate chips
Peppermint extract
Crushed candy canes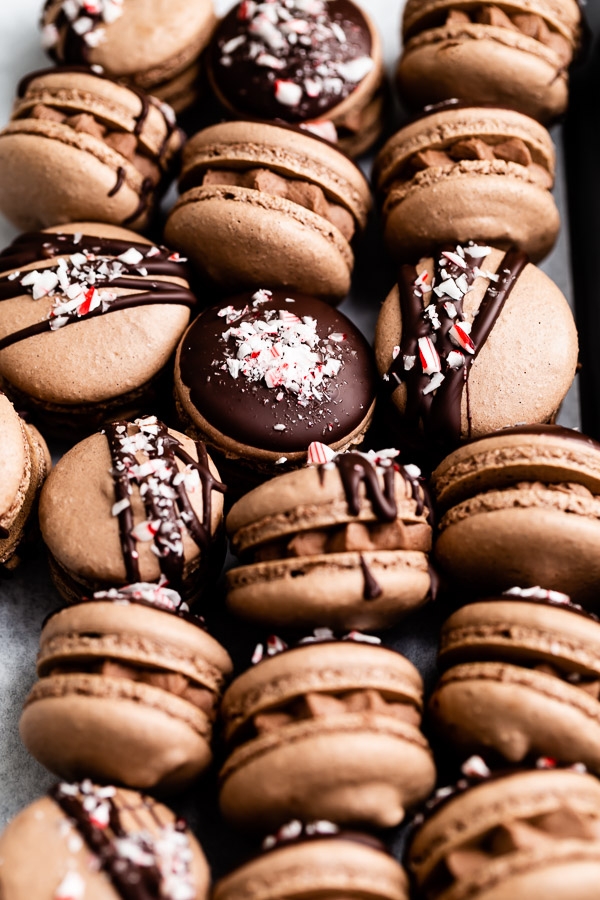 TIPS FOR THE BEST CHOCOLATE PEPPERMINT MACARONS
Prep your ingredients in advance. Macrons are actually one of my favorite cookies to make because they can be whipped up at a moment's notice. They come together quickly so have your ingredients measured and ready and read through the recipe twice to be sure you don't miss a step.
Dry the macarons before baking. The macaron batter comes together quickly but you will need to wait for the piped macarons to dry out before baking. This takes anywhere from 30-60 minutes and on humid days it can take even longer. The macarons are ready to bake when they are dry to the touch and not at all sticky or tacky. Permission granted to take a nap while you wait.
Sift, sift and sift some more. I find that my macaron tops turn out the smoothest when I sift the almond flour, confectioner's sugar and cocoa powder at least 4 times. Sounds like a lot, but it works like a charm!
Cool the cookies completely. I am the world's least patience baker but I do know that warm cookies and cold buttercream don't mix. Be sure to cool the macarons completely before adding a swirl of buttercream. Once you've assemble the cookie sandwich, place it in the fridge to allow it to set. Dunk the tops or drizzle with melted chocolate and then refrigerate once more.
It's all about the peppermint. These macs are made with peppermint in the chocolate buttercream. It's up to you how much of a peppermint punch you want to add. Start with a 1/4 tsp of extract and give it a quick taste before adding more. The crushed candy canes will add even more delicious minty flavor. I like to crush the candy canes by placing them in a plastic bag and tapping them with a mallet or rolling pin rather than running them through the food processor. They make a prettier topping for sprinkling over the triple chocolate macarons.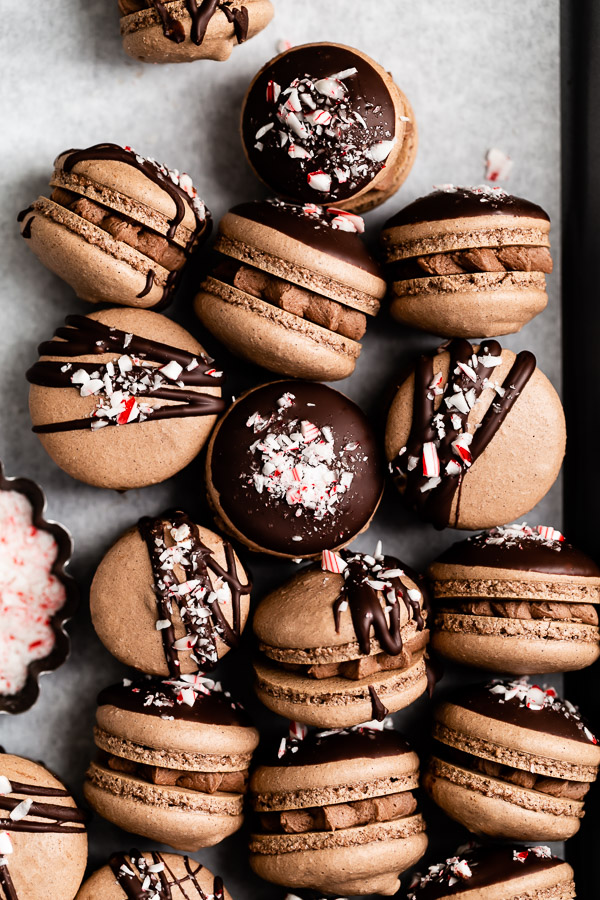 I hope you love these Triple Chocolate Peppermint Macarons as much as I do. They are the perfect holiday baking project that the whole family can enjoy. If you make them I'd love to hear all about it so leave a comment below.
Happy macaron making and Happy Holidays!
If you love these Triple Chocolate Peppermint Macarons, check out these recipes…
Hot Fudge Sundae Macarons
Beginner's Guide to French Macarons
Chocolate Hazelnut Sandwich Cookies
Peppermint Mocha Cookie Sandwiches