A small batch recipe for two light and fluffy red velvet cupcakes topped with swirls of luscious cream cheese frosting. The perfect Valentine's Day treat to share with your sweetie!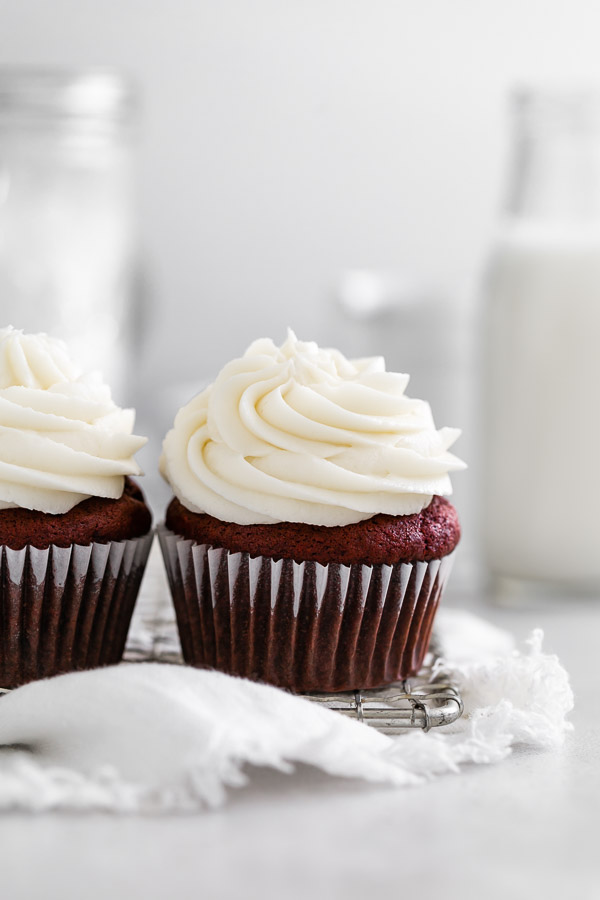 I don't know about you, but if I have a dozen cupcakes in the house, I'm going to eat a dozen cupcakes. I'm always on a quest to find ways to scale down my favorite recipes for any and all cake eating occassions and these red velvet cupcakes for two are the perfect way to celebrate Valentine's Day. One for you and one for your boo. Or two for you, because who's counting? For real tho, who needs a dozen frosted cupcakes at the end of a romantic dinner for two? How about a pair of light and fluffy red velvet cupcakes piled high with a swirl of the fluffiest, dreamiest cream cheese frosting that is lick-from-the-bowl worthy? These decadently delicious red velvet cupcakes make my heart flutter and I can't wait to tell you how to make them.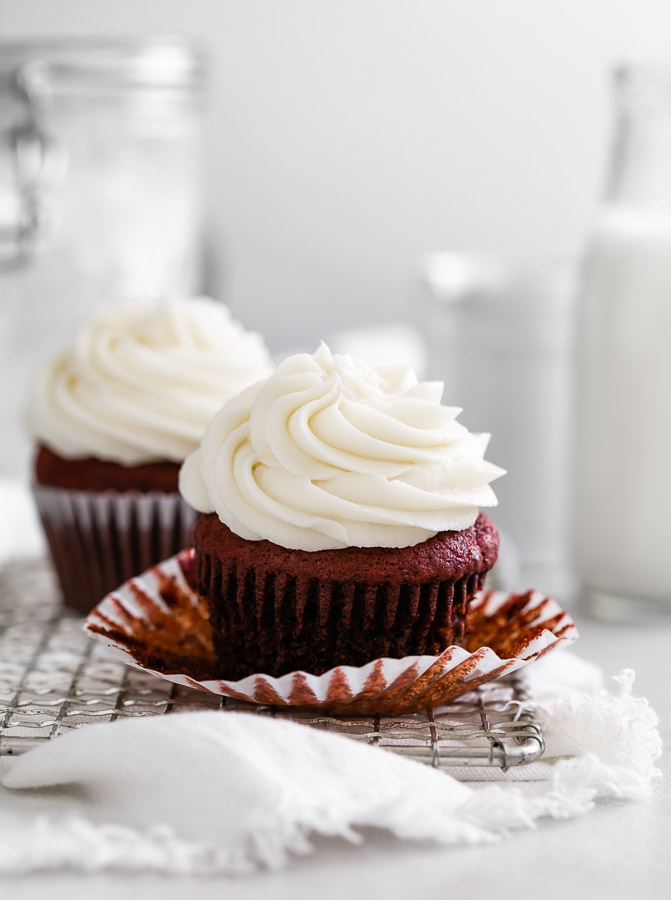 INGREDIENTS FOR RED VELVET CUPCAKES
These fun and festive red velvet cupcakes are super easy to make with just one bowl and a whisk. That's right. No mixer, no creaming, no extra dishes. And the best part is you'll only need a handful of simple ingredients to make the perfect last minute Valentine's dessert to share with your honey. Here's what you need…
Flour
Cocoa powder
Baking powder
Butter
Oil
Egg
Sugars
Buttermilk
Red food coloring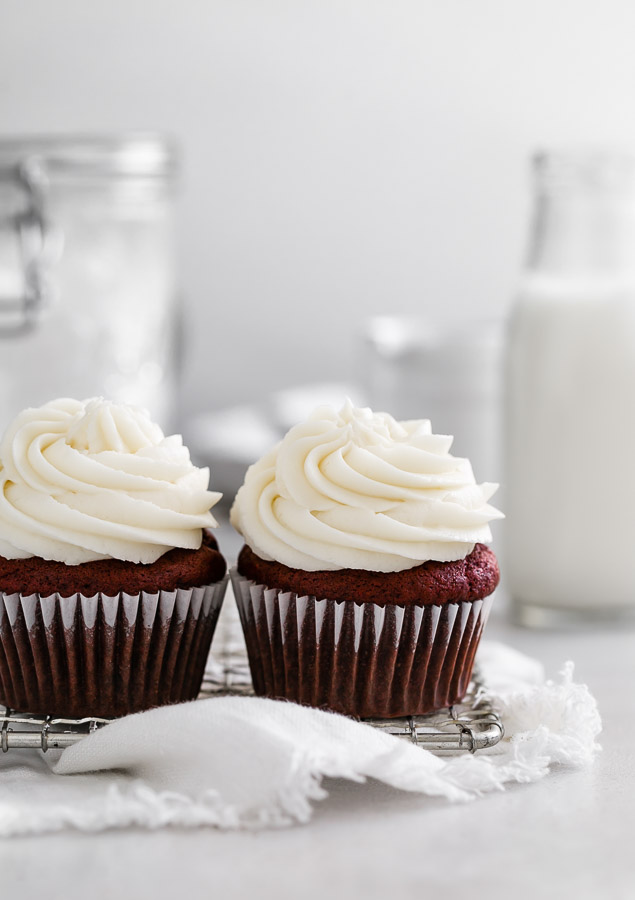 HOW TO MAKE RED VELVET CUPCAKES FOR TWO
Small batch recipes are my new favorite thing. One bowl, two cupcakes. VIOLA! This recipe is as easy as they come and makes a perfectly portioned treat to top off a cozy night in. And the best part is you can celebrate the occasion without too much fuss in the kitchen. This recipe is what I call a super small batch but it can easily be doubled to make four cupcakes. Because leftovers are always a good idea…it is Valentine's Day after all! Follow these tips and tricks for the very best red velvet cupcakes that will make your heart skip a beat!
Sift the dry ingredients. Listen, I'm about the laziest baker you'll ever meet but when it comes to red velvet cake, sifting is a must. For a silky soft cake crumb, sift the flour, cocoa powder and baking powder together before adding to the wet ingredients. This step takes just a few extra seconds and it's sooo worth it.
Use a combination of oil and butter. This recipe uses both oil and butter for a rich, buttery, tender crumb that bakes up perfectly every time. I use canola oil but any neutral oil will work.
Don't forget the buttermilk. Buttermilk is what delivers that trademark flavor that makes red velvet cakes so delicious. It provides extra moisture and added tang that makes these cupcakes sweet, but not too sweet.
Don't over bake. No one likes a dry cupcake so be sure to keep one eye on your oven friends. Don't open your oven until the end of the baking cycle or your cupcakes may sink in the center. The cupcakes are done when a toothpick inserted in the center comes out clean or with just a few crumbs remaining. The top of the cupcake should spring back when gently touched.
Cool completely. Hey, I get it. Sometimes you want a cupcake and you want it now. The hardest part of making these cupcakes is waiting to pile on the super fluffy cream cheese frosting. But try to frost the cupcakes too soon and the frosting will slide right off the top leaving you with a not so pretty presentation. For best results, cool the cupcakes in the pan for 10 minutes and then transfer them to a wire rack for another 20-30 minutes. If the cupcakes are still not completely cool to the touch, pop them in the fridge for 10 minutes before frosting.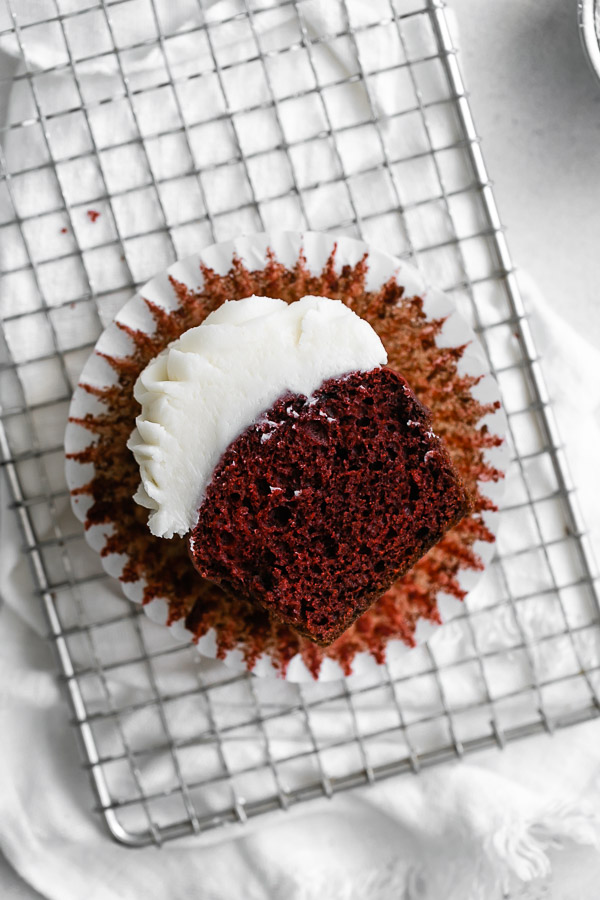 TIPS FOR THE BEST CREAM CHEESE FROSTING
A deliciously tangy and super fluffy cream cheese frosting is the hallmark of a perfect red velvet cupcake. Made with just four ingredients, this dreamy frosting is literally the icing on the cake!
Use room temperature ingredients. Rule number one when making cream cheese frosting is to use room temperature butter and cream cheese. Cold ingredients will not combine well and you'll be left with a lumpy, bumpy frosting. Be sure to set your ingredients out at least an hour ahead for the dreamiest cream cheese frosting ever.
Use an electric mixer. You can absolutely make this frosting in a bowl with a whisk if your ingredients are properly softened to room temperature. It will take a few extra minutes and a little more arm work. For a faster frosting, whip out the hand held electric mixer and you'll have a dreamy cream cheese frosting in seconds.
Chill if needed. Cream cheese frosting is notoriously no-fuss but you'll want to make sure the temperature and consistency of the frosting is just right before piping it on to your cupcakes. If the frosting is too soft, add more confectioner's sugar. If it's too stiff, add a teaspoon or two of heavy cream or whole milk to thin out the mixture. I often find the frosting just needs a few minutes in the fridge to firm up. Once the frosting is perfect for piping, swirl a generous amount on the top of each cupcake. Devour them on the spot or place the cupcakes back in the fridge for safe keeping.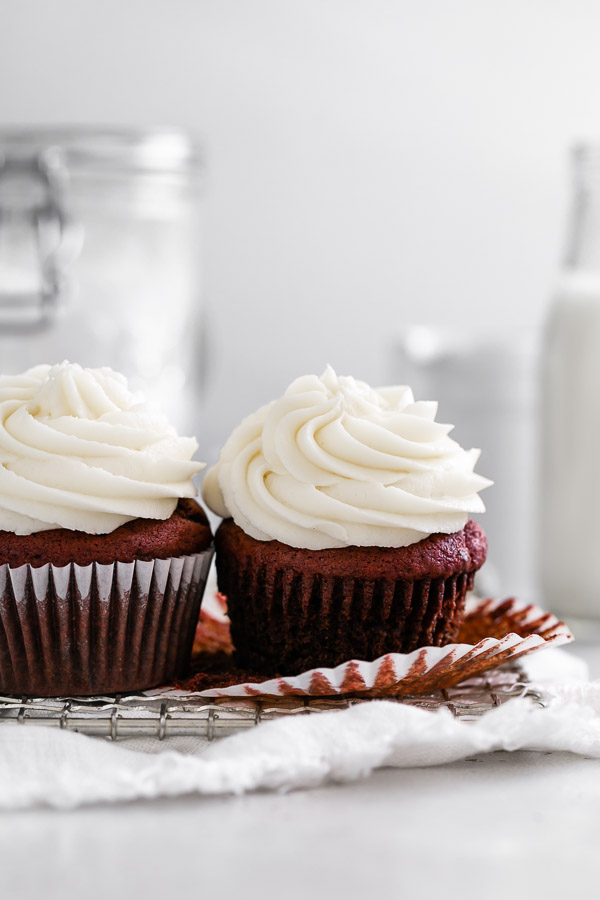 Have fun whipping up these red velvet cupcakes for two this Valentine's Day! For an extra festive touch, add pink and red sprinkles or mini white chocolate chips for a special treat that everyone will love.
Happy Valentine's Day loves!! XO
If you love these Red Velvet Cupcakes For Two, you'll also love:
Chocolate Malt Cupcakes
Salted Caramel Chocolate Espresso Cupcakes
Fresh Strawberry Buttercream Cupcakes