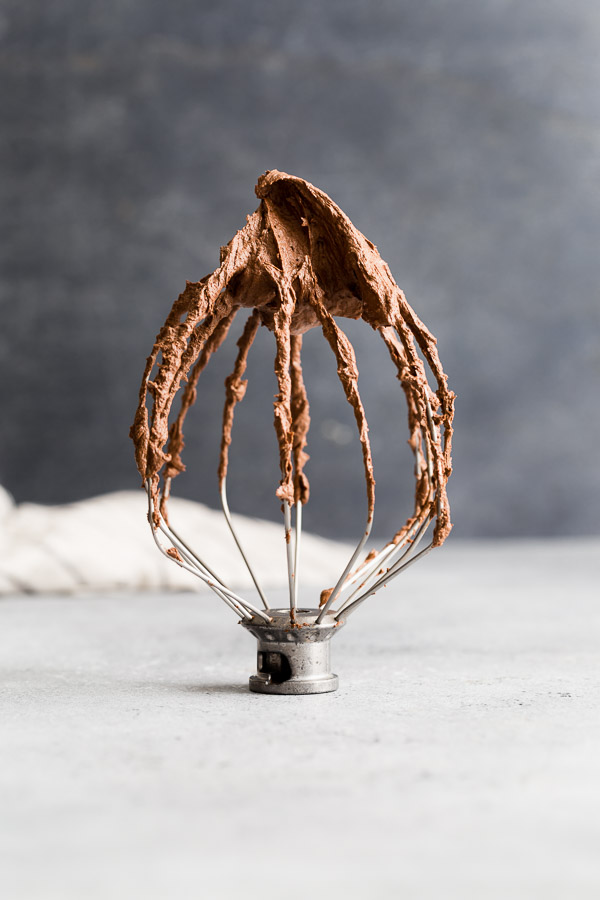 Ever since I posted my Pumpkin Chocolate Swirl Muffins and these Chocolate Glazed Pumpkin Donuts to the blog, I've received a crazy number of messages asking for a classic pumpkin bread recipe. I have to say…there are like a million and half pumpkin loaf recipes floating around the google machine and I kinda didn't think we really needed another. But you asked, so I must deliver! And after one bite of this perfectly spiced, soft and tender pumpkin bread covered in a smooth chocolate buttercream I've decided you absolutely need this recipe in your life. No doubt about it!!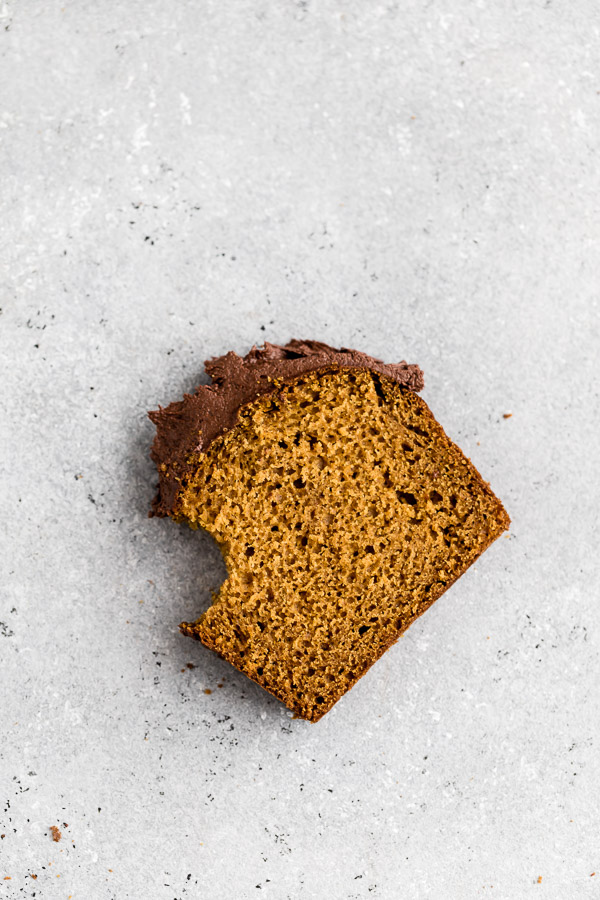 The fact that this bread is topped with chocolate frosting makes this pumpkin bread is a wee bit on the decadent side which I'm not one bit mad about. It's just as perfect with a morning latte as it is for a weeknight dessert cuddled up on the sofa. This loaf barely lasted twenty four hours in my house because we were all noshing on it all day long. I snagged the last piece to save for the next morning and I couldn't wait to jump out of bed just to savor this slice of pumpkin bread heaven.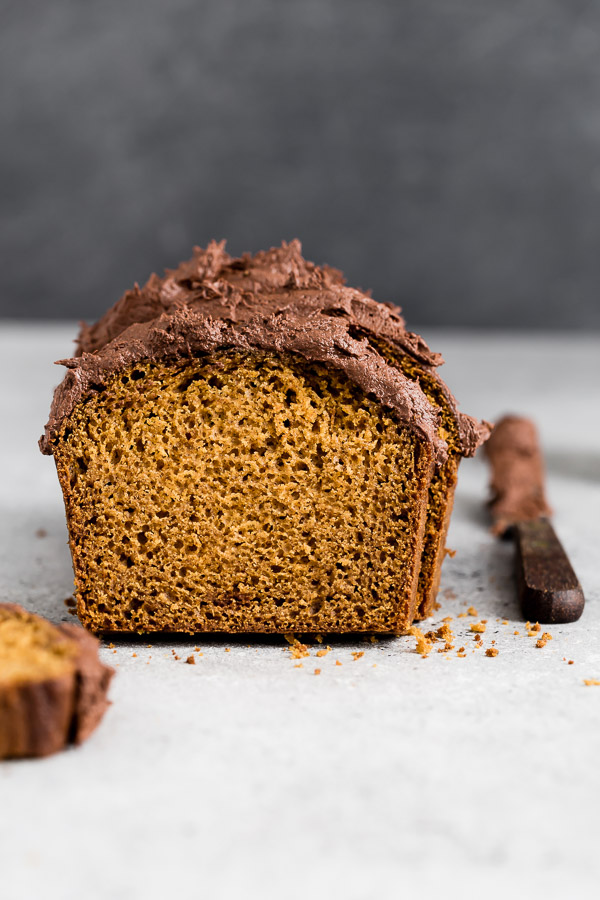 So if you are sensing a trend here with the fact that I add chocolate to all of my pumpkin recipes, you are on to something. We all know by now that I'm a bit chocolate obsessed. I am completely smitten with the combination of a perfectly spiced pumpkin something-or-other with the richness of chocolate. Something about the pairing is just magical. You just have to try it. The thing I love most about this recipe, aside from how ridiculously delicious it is, is that it comes together in no time and requires just a handful of ingredients. The chocolate buttercream could technically be optional, but I mean…just one look at that silky smooth, chocolate lusciousness and I'm fairly certain you'll be smothering the frosting on top with a heavy hand. Chocolate just makes everything good even better, amiright??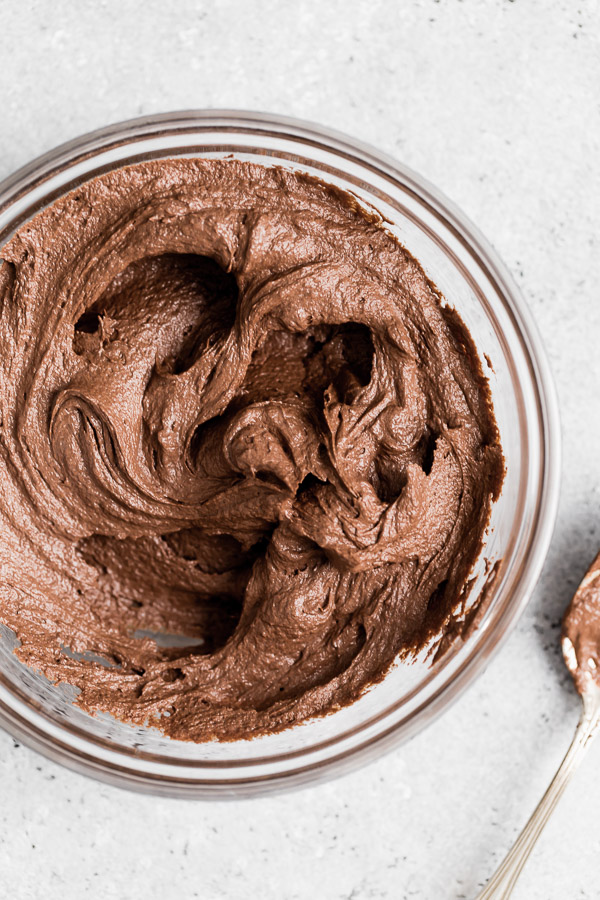 HOW TO MAKE PUMPKIN BREAD WITH CHOCOLATE BUTTERCREAM
This recipe is so easy to whip together you really have no excuse not to make it. I'm a fan of fall spices but too much of a good thing is not a good thing. This loaf is not overly pumpkin-y and it bakes up tender, but firm, with the most perfect texture. It never turns out squishy like some pumpkin or banana breads I've tried. To make this bread we simply mix together the wet ingredients, then the dry. Combine the two and bake for 45 minutes. It's as easy as it sounds and you don't even need a mixer. To check this bread for doneness, simply insert a toothpick to the center of the loaf and it should come out clean or with just a few crumbs remaining. If it's not quite done, return the loaf to the oven for 3-4 minutes at a time and cover the top loosely with foil if the top is browning too quickly.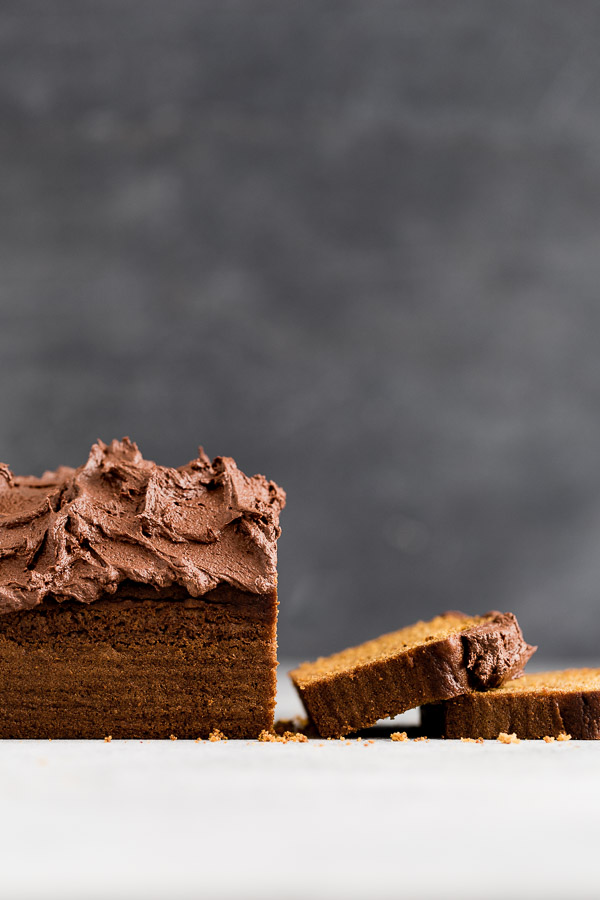 HOW TO MAKE CHOCOLATE BUTTERCREAM
I've made this pumpkin bread with chocolate buttercream twice now already and I'm beginning to wonder if I make the bread just so I can make the buttercream. Like the pumpkin loaf, this buttercream is super easy to mix up and it's equally delicious on cupcakes, snack cakes, even on top of brownies. Lick-the-bowl worthy for sure! To make this rich and smooth buttercream, we whip the softened butter until it's light and fluffy. Next we sift in the powdered sugar, cocoa powder and the add the heavy cream and run the mixer on high speed for 5-7 minutes. Yep. 5-7 whole minutes. All that whipping creates the fluffiest cloud of chocolate buttercream that is pure heaven! Good luck not eating it all before it's time to frost your loaf.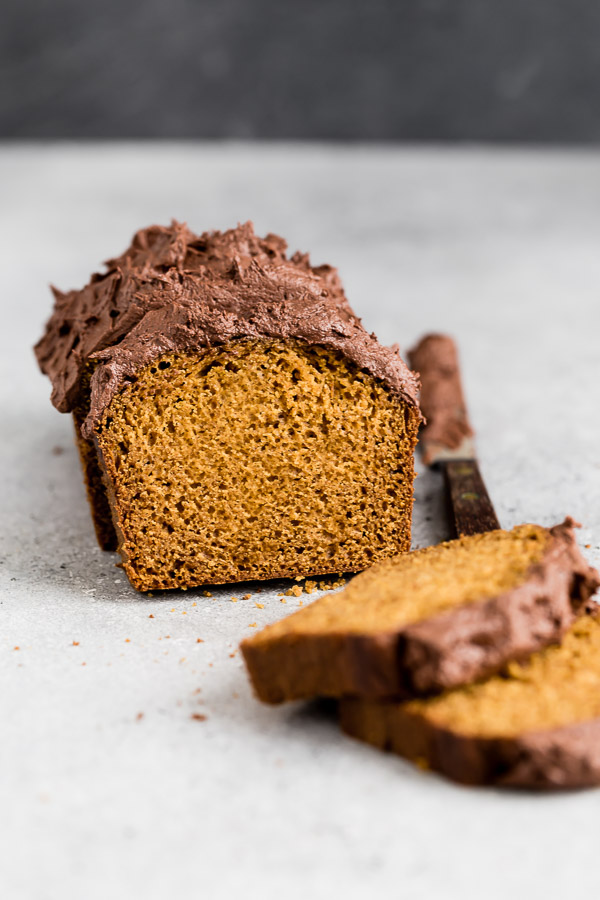 Ok bakers, there you have it. My last pumpkin recipe of the season. I'd like to think I saved the best for last with this one. It's perfect for a little Sunday baking project if you ask me. I can't wait to hear what you think of this pumpkin bread with chocolate buttercream so leave a comment below if you make it. Happy baking!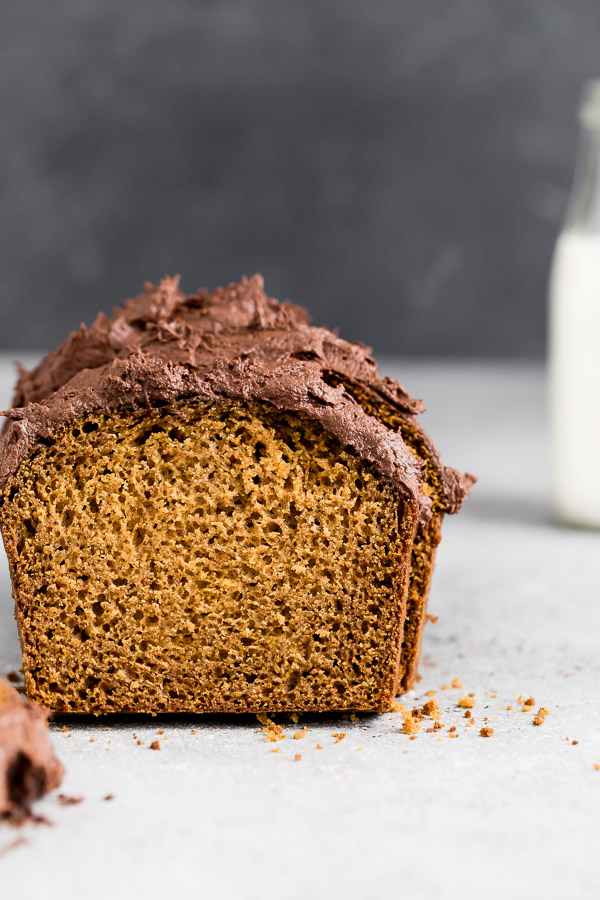 If you like this pumpkin bread with chocolate buttercream, you may also like:
Pumpkin Chocolate Swirl Muffins
Chocolate Glazed Pumpkin Donuts
Gluten Free Marbled Banana Bread