A dreamy peanut butter and chocolate ganache tart that is the perfect combination of salty and sweet. A simple almost no bake tart made with a crunchy, chocolate cookie crust and a fluffy peanut butter filling and covered in a silky smooth ganache.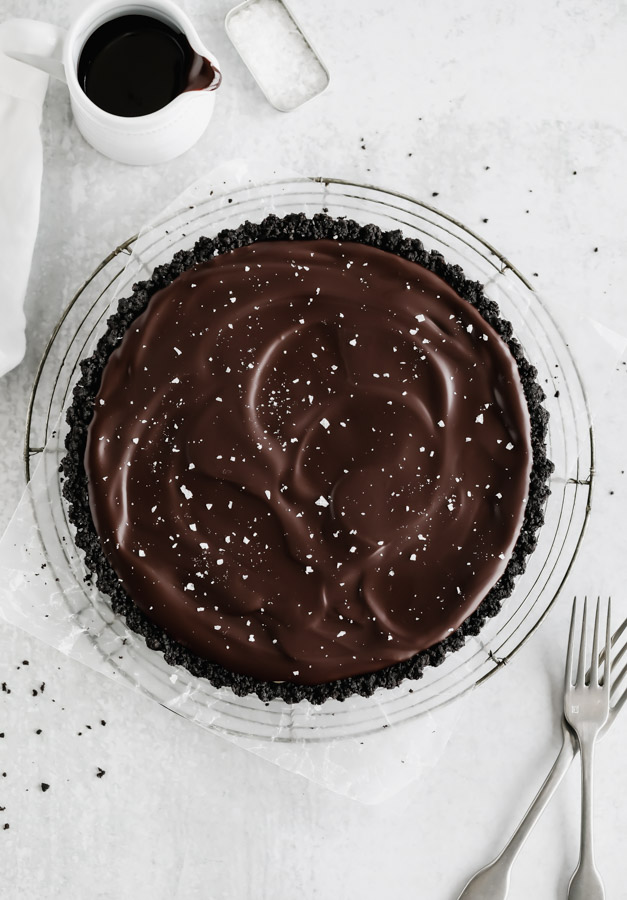 I woke up this morning in Deer Valley, Utah to a fresh blanket of pure white snow on the ground….a true winter wonderland right outside my window. I can't think of a prettier place to be for Valentine's Day and I have big plans to snuggle up in a cozy fur blanket and enjoy the beautiful snowfall from my cozy heated cabin. This is what Valentine's Day is all about to me. Being in a place you love, with the people you love, doing the things you love. It just doesn't get any better.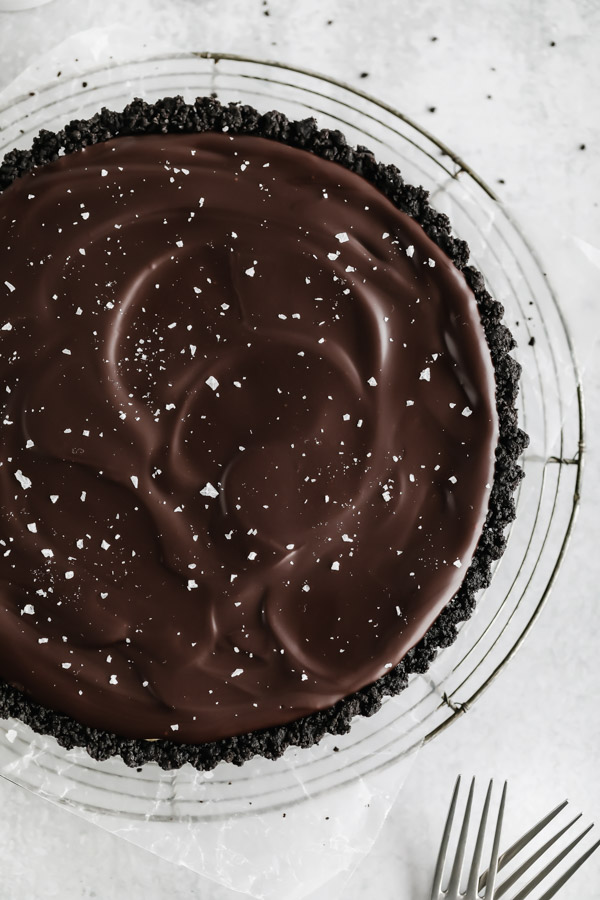 I for one don't need expensive champagne or fancy flowers to make February 14th extra special. What I do need is a decadent chocolate dessert, two forks and a little less time in the kitchen. Say hello to this peanut butter chocolate ganache tart that checks all those boxes and then some. This peanut butter and chocolate duo comes together in no time which means less kitchen time and more chill time to put your feet up and snuggle with your honey.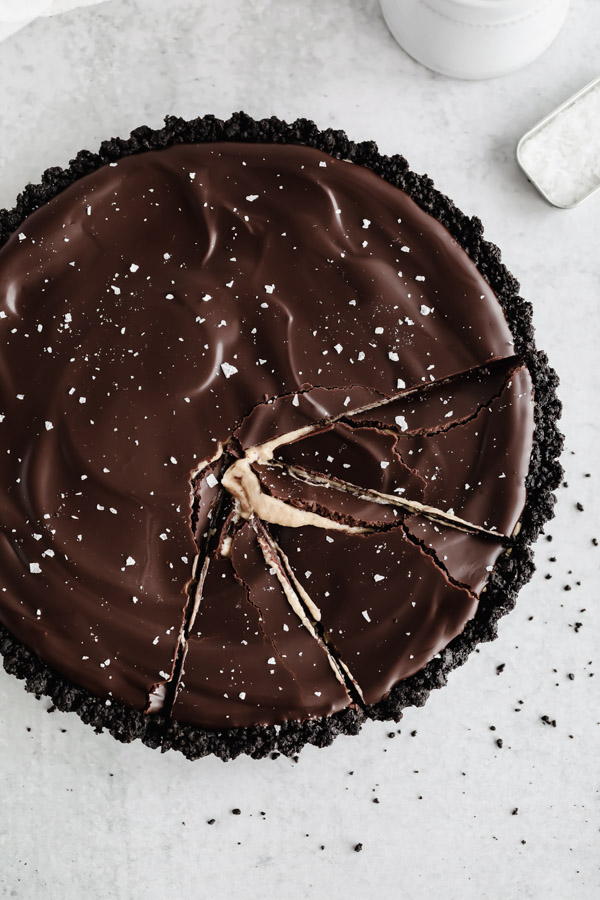 I first came across this tart recipe on The Broken Bread and it looked too good to be true. The salty sweet combo of my dreams. No one can deny that peanut butter and chocolate is a match made in foodie heaven and this tart was calling my name. You're all well aware of my obsession with chocolate so I made a few modifications to Krista's recipe to up the chocolate factor just a bit. When it comes to chocolate, more is better and don't try to convince me otherwise. I can do without the champagne and flowers, but Valentine's Day isn't complete without a generous dose of chocolate and this tart delivers. It is positively swoon worthy!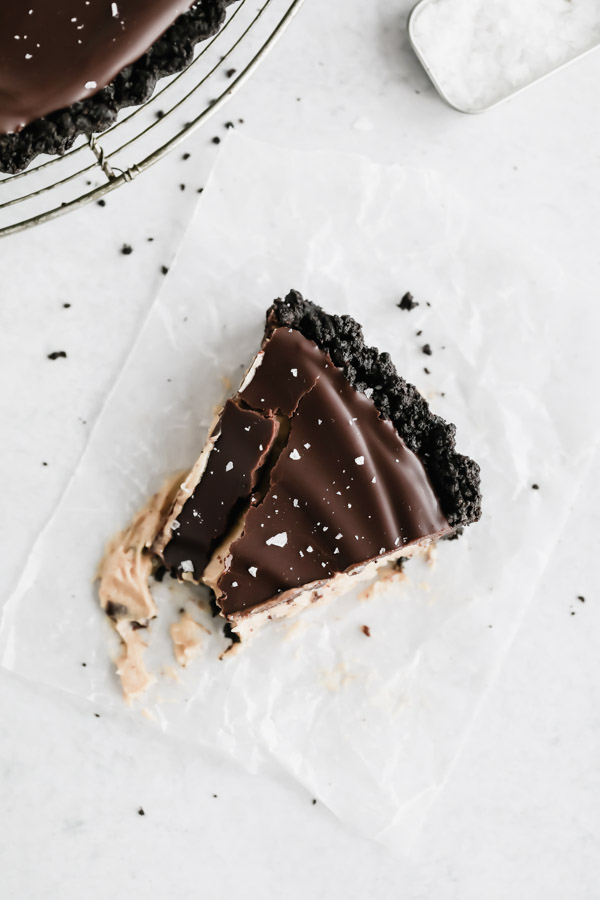 Not only is this tart ridiculously delicious but it's embarrassingly easy to make. No fancy baking skills required which earns this peanut butter and chocolate ganache tart a spot high on my list of no fail recipes. And can we take a sec to oooh and aaah at that shiny ganache top. It gets me every time.
It's just magic!
HOW TO MAKE THE BEST TART
Use the good stuff. There are just a handful of ingredients in this peanut butter chocolate tart so be sure to break out the good chocolate for this one bakers! I like to use a high quality chocolate chopped up into bits for the ganache but chocolate chips will work in a pinch.
Crush the cookies into a find crumb. Don't you just hate it when your cookie crumb crust falls apart the second you cut that first slice? The trick is to be sure you crush the cookies into a fine crumb. I like to use a food processor to get those itty bitty bits of cookie crumbs, but you can also slip the cookies into a large ziplock and crush them with a rolling pin. Then work the melted butter with your fingers into the cookie crumbs to be sure they are evenly coated. It's a tad bit messy but so worth it.
Keep it simple. Once the ganache is ready, don't spend too much time smoothing it over the peanut butter layer. You'll need to work quickly before it starts to set. Just cover the top and then add a few pretty swirls at tah-dah, you have yourself one pretty tart. Don't forget a quick sprinkle of flakey sea salt before serving!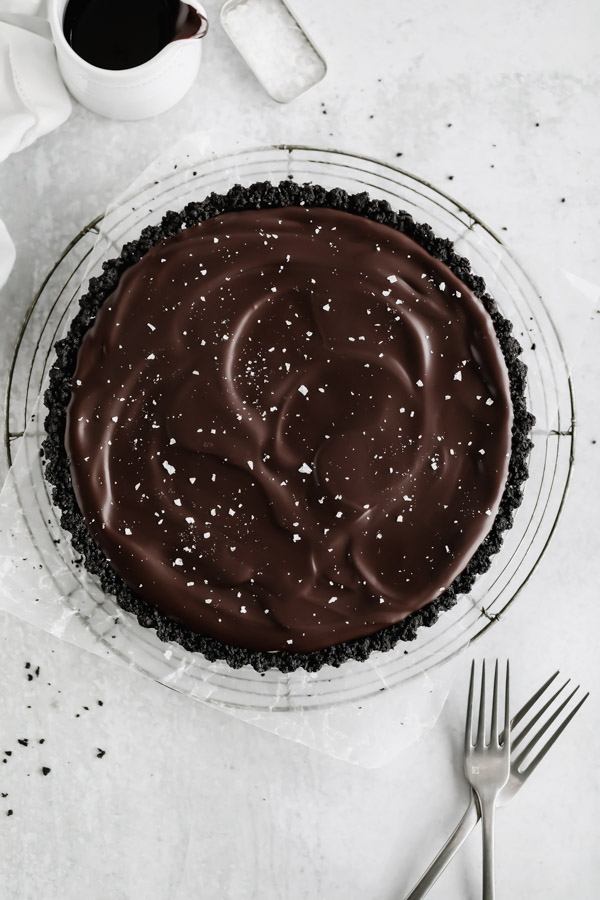 I hope you'll make this heavenly tart, grab hold of your honey, a and a couple of forks and dig in. It's just the dessert you need in your life on February 14th and if I were a betting girl I'd guess you'll be making this showstopper again and again all year long. If you make this peanut butter and chocolate ganache tart, don't forget to tag @brownedbutterblondie on Instagram. Nothing makes me happier than to see what you are baking up in your kitchens!
Happy Valentine's Day! Wishing you lots of love and chocolate.
XOXO
If you like this Peanut Butter Chocolate Ganache Tart, you may also like:
Chocolate Hazelnut Tart
Peanut Butter Swirl Skillet Brownie
Chocolate Dipped Peanut Butter Ice Cream Cookie Sandwiches
Peanut Butter Mousse Sandwich Cookies