Nothing says summer like a homemade ice cream cookie sandwich. So to celebrate the unofficial end of summertime this Labor Day weekend, we're rounding up my all time favorite ice cream cookie sammies so you don't have to search far for the perfect frozen treat.
Each of these ultimate summer desserts are perfect to cool off with on a hot day and so much fun to share with friends and family. And I've also included the recipe for the very best slow churn classic chocolate ice cream that literally causes a line to form around my freezer door.
It's just that good. Don't let the words "slow churn" scare you off. This recipe is simple and the hardest part is waiting for the ice cream to freeze.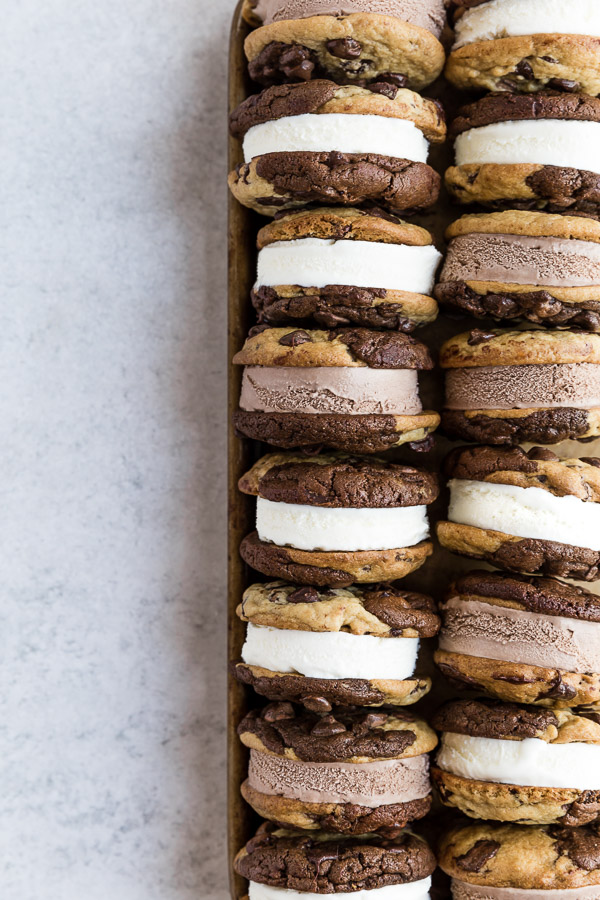 This is the dessert you need in your life when you just can't decide between a cookie and a brownie. You get the best of both worlds with this frozen wonder. Just add the ice cream and you've got a 3-for-1 deal. I'm drooling just thinking about these. They are legit life altering so I suggest you make room in your freezer for a double batch of these epic sammies.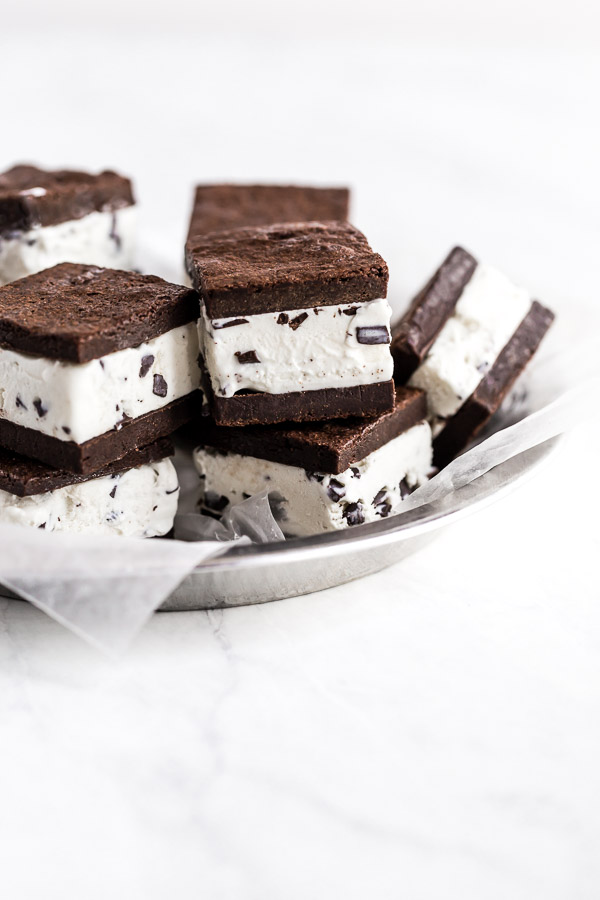 This semi homemade frozen ice cream sandwich is as simple and fuss free at it gets and this is exactly how I want to celebrate the final days of summer. I think we can all agree that brownies are just better a la mode. These brownie ice cream sandwiches are the real deal. Pair them with mint chip ice cream and you have a flavor combination that is a total winner any day of the year.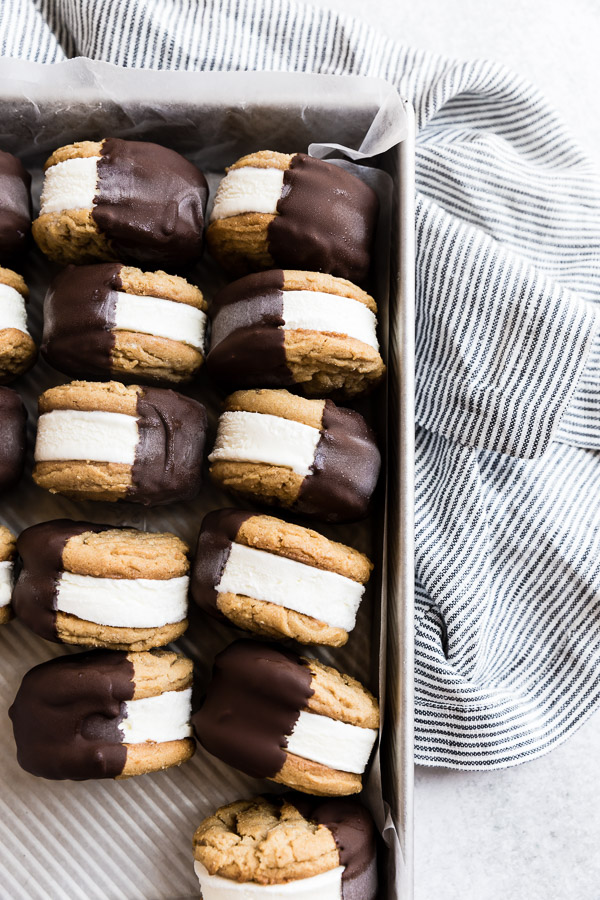 The only thing better than eating ice cream straight from the container is eating it smooshed between two cookies and then dunked in dark chocolate. Go big or go home I always say. Trust me when I tell you that your sweet tooth won't be able to resist this mega ice cream stuffed dessert. You can never go wrong with the classic peanut butter and chocolate combo and a freezer full of these is just the thing you need to kick off the long weekend!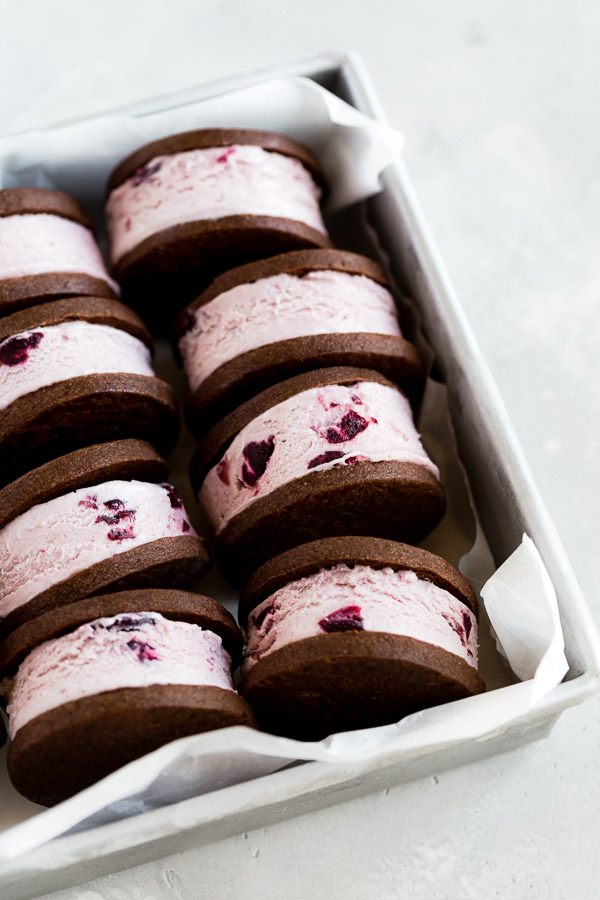 I've been crushing hard on all things cherry this summer. It's such a quintessential summertime flavor and this creamy, slow churn dark cherry ice cream really puts this frozen sammie in a league of its own. You can absolutely use these soft and tender chocolate cookies to bookend any flavor of ice cream you like, but cherry season doesn't t last forever my friends.
Show up at this weekend's neighborhood block party or backyard bbq with a batch of these and you will make lots of friends. It's the kind of treat that has people asking if you deliver.
THE BEST HOMEMADE ICE CREAM FOR ICE CREAM COOKIE SANDWICHES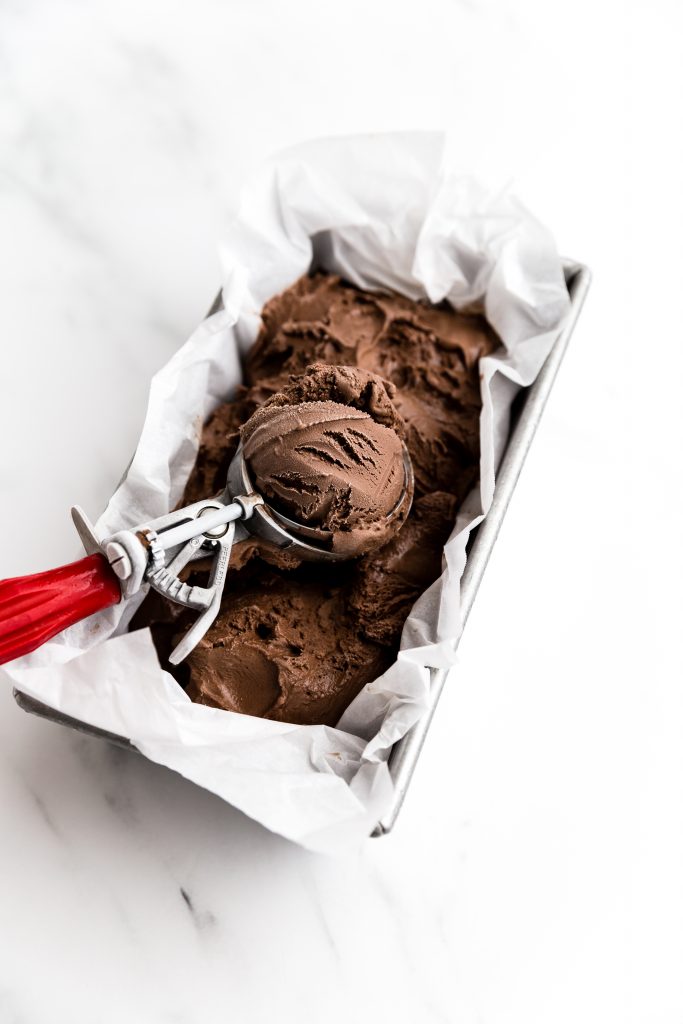 Everyone needs a classic chocolate ice cream recipe in their back pocket because nothing, I mean nothing, beats homemade ice cream. This recipe is a wee bit on the fussy side meaning that there are a few steps required to make it but you'll be oh-so-glad you did! This rich and creamy chocolate ice cream is delicious all on it's own but it's even better paired with two of your favorite cookies…bring on the brain freeze!
Happy long weekend bakers. Hope you soak up all the fun that the end of summer has to offer and I'll meet you back here on the flip side with plenty of new fall inspired recipes.