Buttery, golden brown maple pecan scones have a fluffy texture and crispy edges. Drizzled with a sweet maple butter glaze these scones are the most delightful breakfast treat.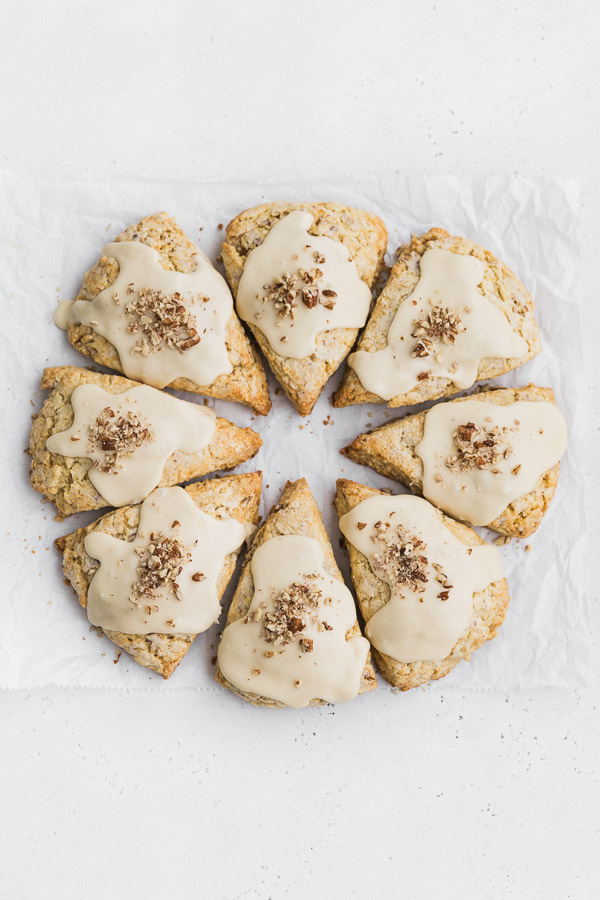 Let's be honest. Scones are just one of those baked goods that pretty much always get a bad rap. Too dry. Too dense. Too this. Too that. I for one am a huge fan of all things carbs….scones included. And anything glazed is a win in my book. But scones done wrong aren't really worth doing at all if you ask me. Dry, dense scones be gone! These maple pecan scones with maple butter glaze are a cozy and seriously scrumptious treat we can all rally behind. A batch of these bronzed beauties makes the most dreamy breakfast straight from the oven and I've got all the deets you need right here for perfect scones every time.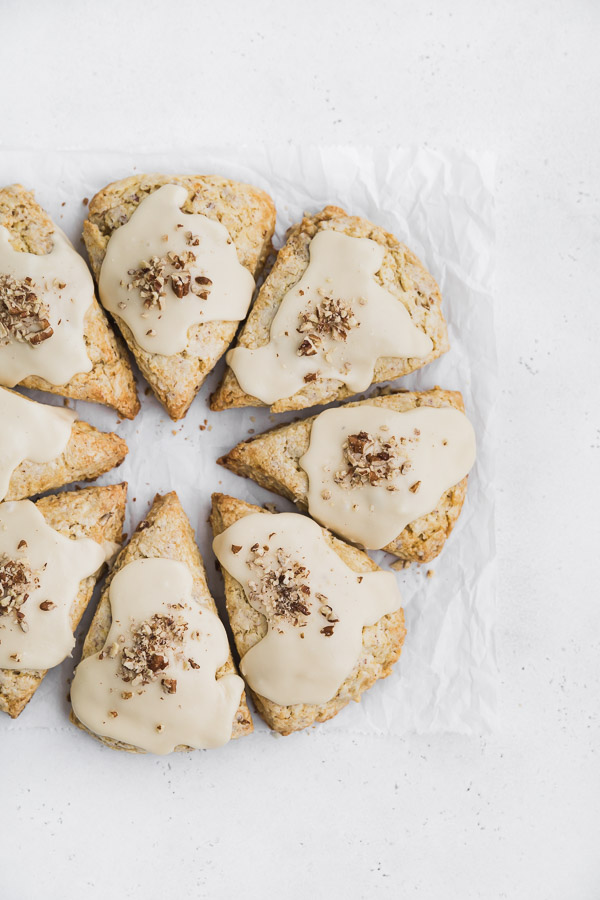 My kids always say that maple syrup makes everything better and I couldn't agree more. This maple butter glaze has made an appearance or two here on the blog before. I drizzle it over my Espresso Chocolate Chunk Scones and that oldie-but-goodie recipe still holds the torch as the most popular recipe on the blog. It could be the scones that draw the carb-lovers in, but my guess is it's the lick-the-bowl worthy maple butter glaze that wins them over. So in true "if it's not broken, don't fix it fashion" I'm using that same maple butter glaze to top off these pecan studded beauties. I mean, don't the words MAPLE.BUTTER.GLAZE. just make you huuungrryy???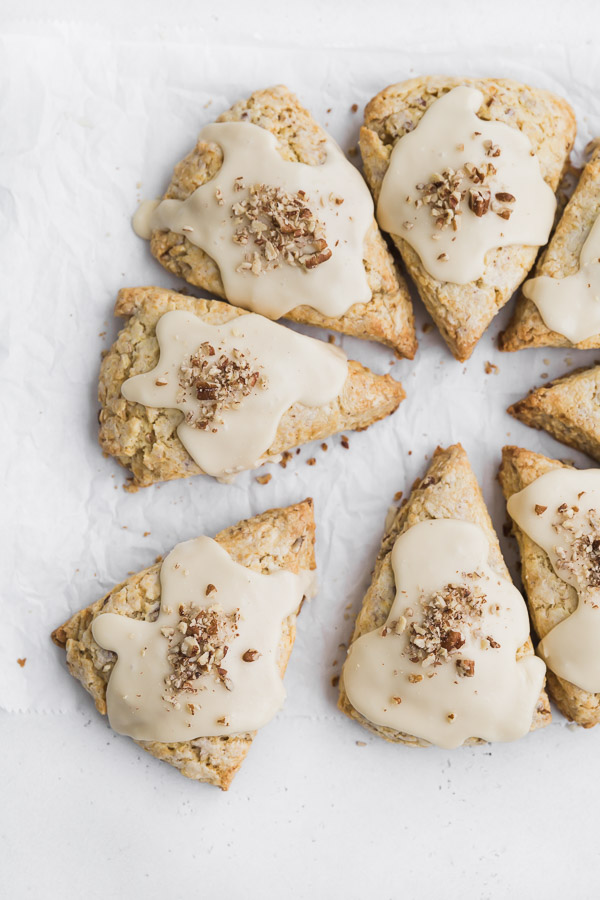 This cozy and delicious breakfast favorite is all the best things I love about fall wrapped up in one scrumptious, gluten-filled, one bowl wonder. The edges are delightfully crisp and buttery and the inside is fluffy with an airy, cake-like texture. They aren't too dense and the salty pecan flavor is the perfect match for the sweet maple glaze. I dare say these maple pecan scones are one of the best things to happen to Sunday brunch.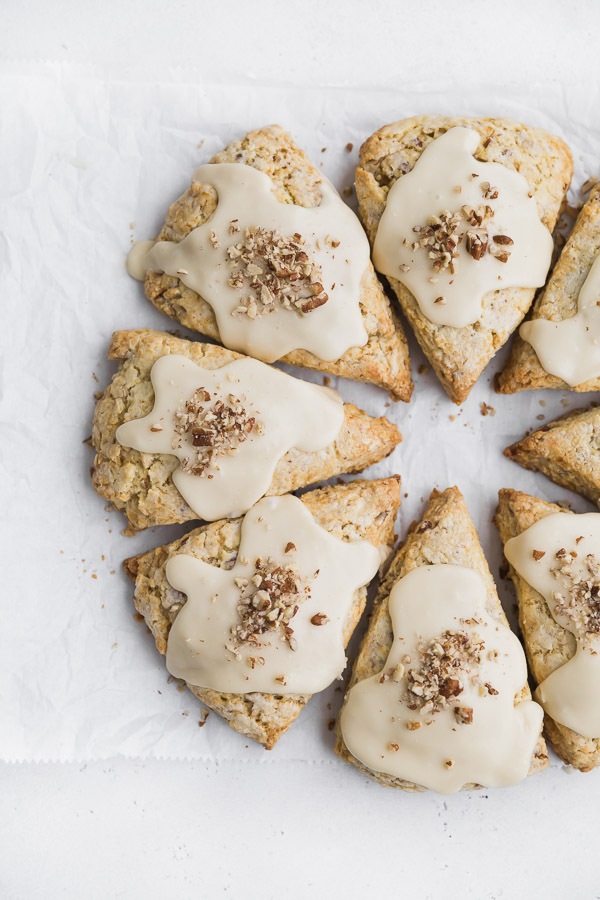 HOW TO MAKE PERFECT MAPLE PECAN SCONES
Follow these simple tips and tricks and you'll be rewarded with buttery, tender golden brown goodies that will have you wondering why you aren't making scones more often.
Use cold butter. The colder the better. Cold butter makes scones rise higher and fluffy scones are where it's at. For best results, freeze your butter for at least 30 minutes before making your dough.
Spoon and level the flour. Too much flour makes for a dense scone. In order to be sure you are using the correct amount of flour, be sure to use the spoon and level method as you measure the flour to avoid using too much. Better yet, use a kitchen scale. Just don't pour the flour into the measuring cup. You'll end up using too much and the scones will be tough.
Don't over mix the dough. Mixing the dough or handling it too much as you shape the scones can also lead to tough, dense scones. Over mixing the dough also warms the butter which in turn heats up the dough. Only mix the dough until barely combined. I repeat, BARELY combined.
Chill the dough. Keep the dough as cold as possible before baking. For best results, freeze the prepared scones after they are shaped for 30 minutes to one hour before baking. This helps the scones to rise to their full potential in the oven. If you are short on time, you can skip this step but keep in mind your scones will not rise as much.
Bake on high heat. Bake the scones in a preheated oven set at 400 degrees. Baking scones at a high temperature allows the baking powder to activate and causes the dough to reach it's highest rise and lightest crumb. The quick baking time (just 18-20 minutes) also results in a crispier, flakier crust.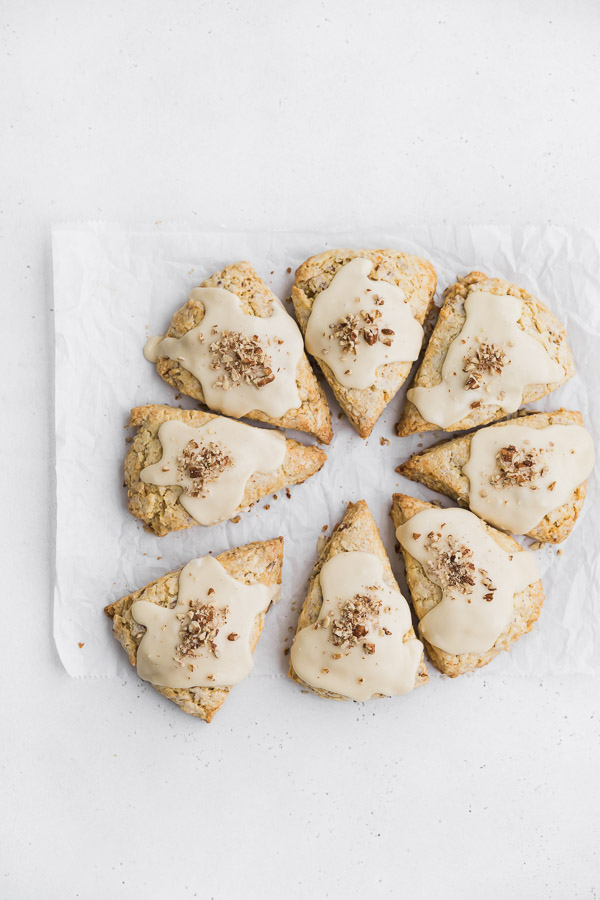 HOW TO MAKE MAPLE BUTTER GLAZE
This glaze could not be easier to whip up and you'll want to bookmark the recipe to top off all of your favorite baked goods. It's to-die-for on top of muffins, coffee cakes and even gracing the tops of old fashioned oatmeal cookies. To make the glaze we simply combine all the ingredients in a small saucepan and heat over medium-low while whisking continuously. Stir until smooth and then remove from the heat and drizzle immediately over the cooled scones. The glaze hardens a bit as it cools so it's best to use it immediately. Good luck getting all of it on to the scones before you start licking the spatula. This maple butter glaze is as good as it gets and I think you'll find it's just a wee bit irresistible.
I hope you make these scones on a lazy Saturday, for Sunday brunch or just for any 'ol average day that could use a little pick me up in the form of a glazed pastry. Any morning that starts with maple pecan scones with maple butter glaze is destined to be a good one. If you make these scones, or any other recipe from the blog, be sure to tag @brownedbutterblondie on Instagram. I love seeing what you're baking up in your kitchens!
Happy baking!

If you like these maple pecan scones, you may also like:
Espresso Chocolate Chunk Scones
Glazed Coffee Cake Muffins
Maple Cardamom Granola