A rich and fudgy brownie topped with a fluffy layer of Baileys buttercream and thick dark chocolate ganache. These Irish cream fudge brownies ultimate chocolate lover's dessert for grown ups!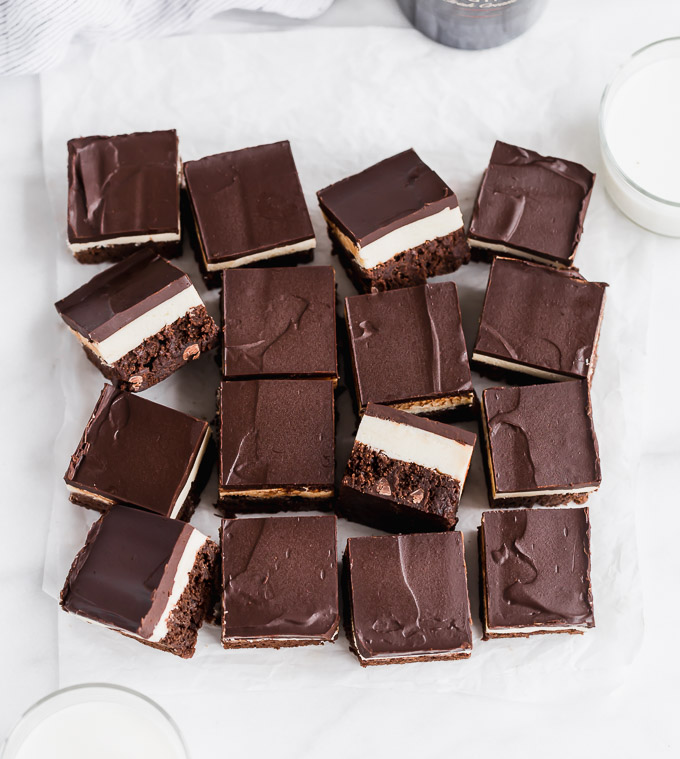 Happy hump day bakers! I'm always grateful for a long weekend but I'm already wondering how is it not Friday yet? Long three-day weekends have a way of turning into even longer weeks that seem to drag on and on with the promise of Friday dangling in the far off distance. From here on out I'm making a new rule. Chocolate is for Wednesdays. The more the better. We all deserve a hefty dose of chocolate laden brownies to ease us through the week and I'm here to bring them. I don't typically bake with alcohol, but these triple layer boozy brownies made with Baileys Irish Cream are worth making an exception for. So is this Baileys Dark Chocolate Bundt in case you're looking for more evidence of this. Easily my favorite bundt cake on the blog. Don't even get me started on that shiny, chocolatey glaze.
But back to these brownies. In hopes of delivering you a mid-week treat you simply cannot pass up, today we are making a three layer brownie that is as decadent as they come. We're talking a rich, super fudgy brownie studded with chocolate chips and frosted with a creamy, ultra fluffy Irish cream buttercream. But we don't stop there because these brownies are the definition of extra. The whole thing is topped with a final coating of deep, dark chocolate ganache. These brownies will knock your socks off and they are definitely for adults only.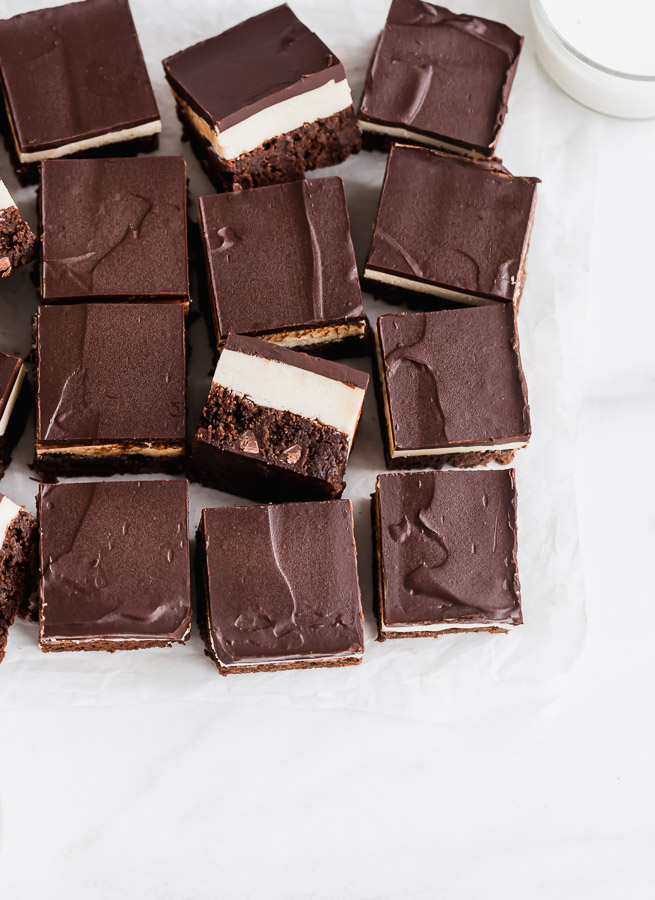 These Irish cream fudge brownies are as rich and delicious as they look and you only need a small square to satisfy your sweet tooth. The original recipe is definitely for grown up since you can definitely taste the Irish cream and the alcohol is not baked off. But you'll be glad to know I have made these brownies into a kid-friendly, mom approved version without the booze and I'm here to tell you that they are just as irresistible. Like kids forming a line at the refrigerator door kind of irresistable. Simply omit the Baileys altogether in the brownies and add an extra tablespoon of heavy cream to the buttercream frosting. Thinking out loud here, you could even substitute the Baileys for an Irish cream flavored coffee creamer.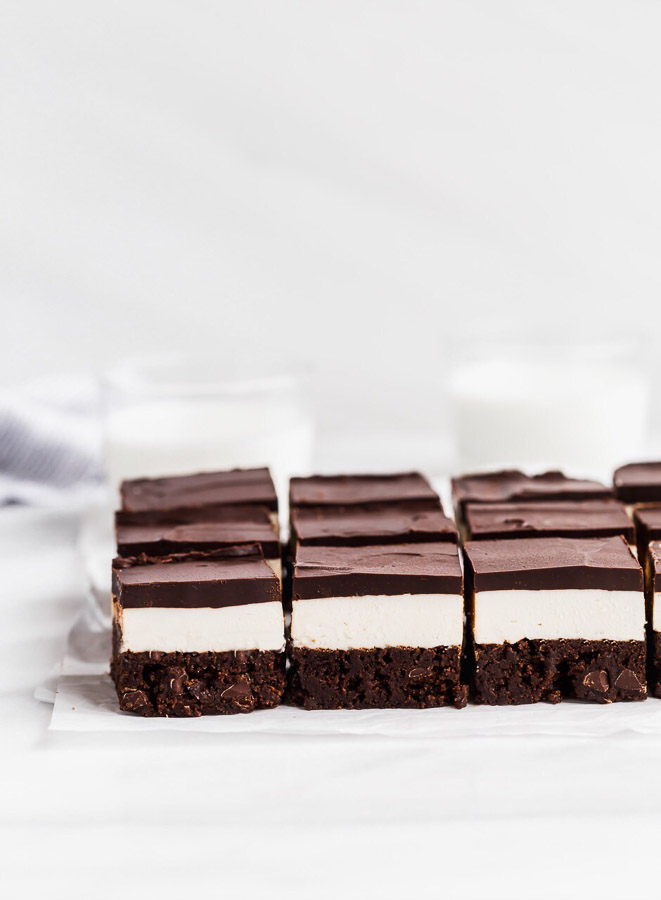 HOW TO MAKE IRISH CREAM FUDGE BROWNIES
These brownies may have three decadent layers that look fancy but they are super easy to throw together. These brownies are both easy and delicious and believe me when I say these bad boys are the ultimate chocolate lover's indulgence. The brownie recipe itself is made from scratch in just one bowl with just a handful of ingredients. They are rich, fudgy, chocolatey perfection! You could certainly use a boxed brownie mix if you are short on time but I find this recipe to be just as quick and homemade brownies are hard to beat. If you do go the store bought route, be sure you use a brownie that isn't overly ooey gooey. We need a brownie that is sturdy enough to hold the layers on top. To make these brownies we first start by melting the butter and chocolate together. Once smooth and glossy we stir in the sugar, Irish cream, eggs, and vanilla. Give it a thorough mix and then add the dry ingredients and you're ready to bake. It's that easy. For best results, keep these two tips in mind… don't over mix the batter or over bake the brownies. Follow these golden rules and your brownies will be perfectly dense and fudgy – just the way brownies are meant to be. These Irish cream fudgy brownies are hella delicious all on their own but we're going to take them to full over-the-top status by adding a layer of boozy buttercream and a generous helping of rich, dark chocolate ganache. I mean….talk about at triple threat. These brownies have it A-L-L!!!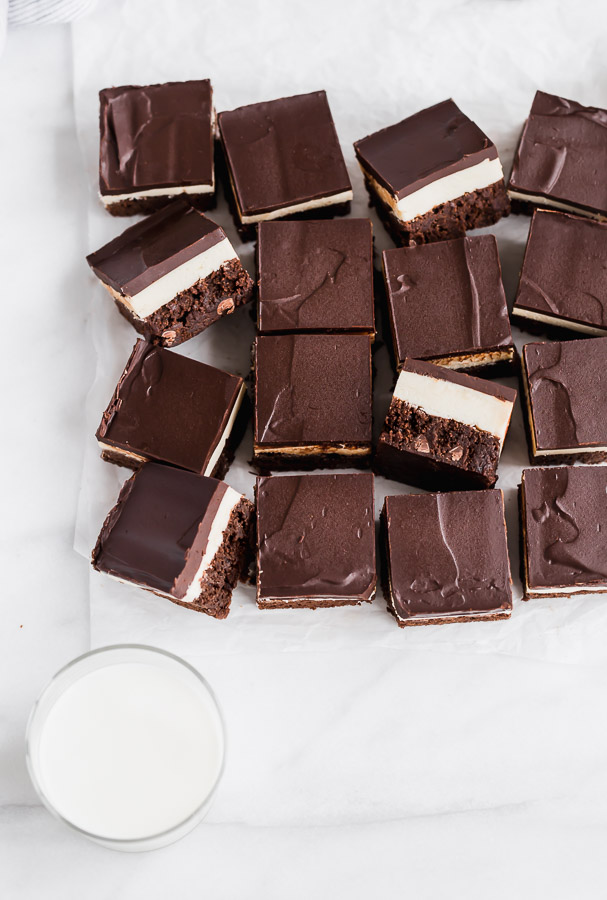 TIPS FOR THE BEST BUTTERCREAM
This Irish cream buttercream is simple to make and absolutely lick from the spoon worthy. It's made in a minute with just a few ingredients and it has that extra fluffy texture I love. Be sure to use room temperature butter and sift your confectioner's sugar for best results. The flavor of the Baileys Irish cream is quite pronounced so a little goes a long way. If you are big on boozy flavor, feel free to add more but taste test the buttercream along the way so you don't add too much. And don't even think about frosting the brownies before they have had a chance to cool completely or your buttercream will melt. To set the frosting, place the frosted pan of brownies back in the fridge for one to two hours before adding the final layer of thick chocolate ganache. The waiting is the hardest part but it's so worth it, pinky swear.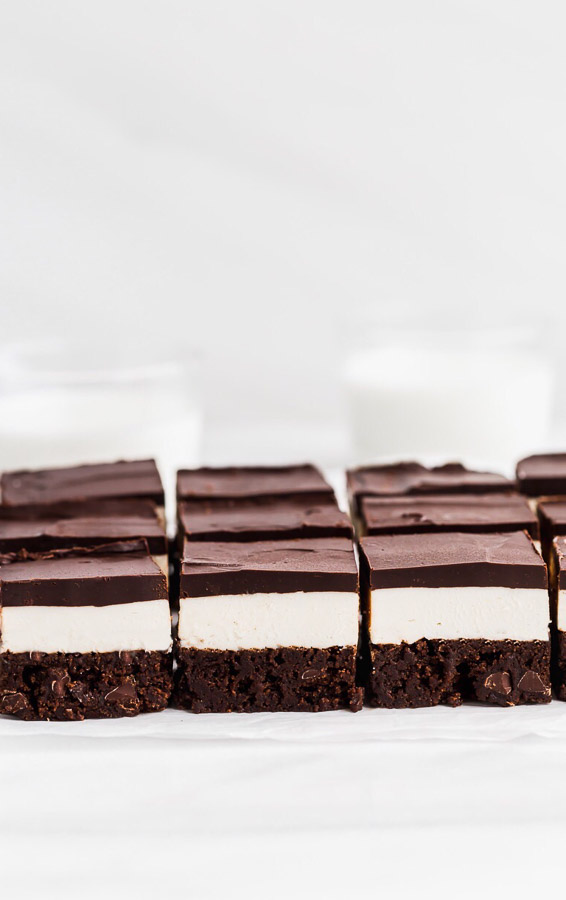 HOW TO STORE FROSTED BROWNIES
These brownies will fly off the kitchen counter the moment you cut that first square. But if you happen to have a few left over, keep them tightly covered in the refrigerator to preserve that perfect fudgy texture. I LOVE, LOVE brownies cold from the fridge and even moreso straight from the freezer. If you haven't tried cold brownies, you must! They're soooo good!!! If you prefer your chocolate at room temp, just let the brownies sit out for 15-20 minutes before digging in.
Happy hump day and happy baking!
If you love these Irish Cream Fudgy Brownies, you'll also love:
The Best Brown Butter Brownies
Frosted Fudge Brownies
Baileys Dark Chocolate Bundt Cake

For my favorite brownie pan, check out this one from Sur la Table.
Original recipe from Sugar, Salt, Magic.