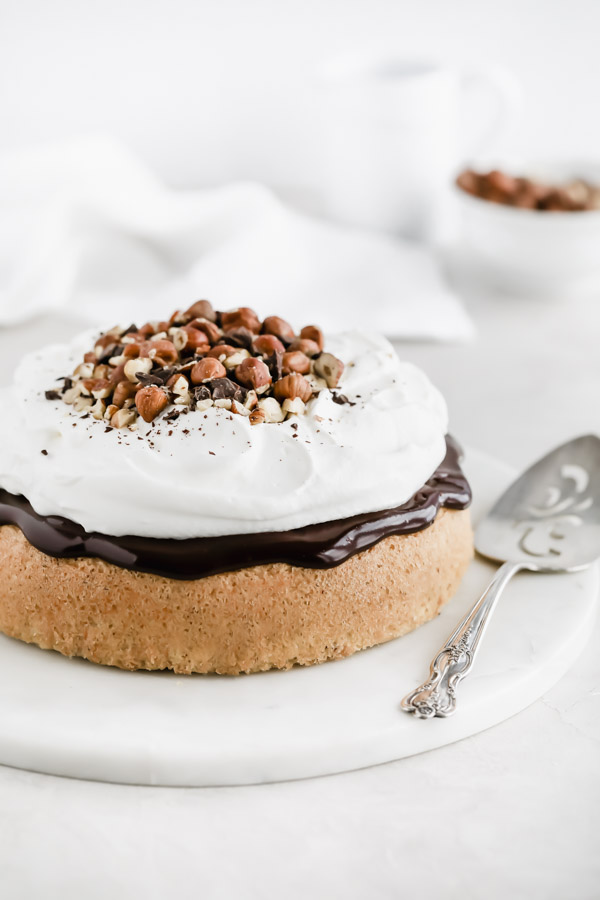 I've been teasing you with this cake over on Instagram for awhile now and I'm so excited to finally share the recipe here on the blog. It's December so I don't need to bore you with my 101 reasons why this recipe is so long overdue. The list is about as long as a five year old's Christmas list for Santa Clause. We are all in the same boat, navigating ourselves the best we can through the organized chaos that is the holiday season. I am busy. You are busy. We are all waaayyy too busy. Which is why I'm going to keep this post short and sweet, just like this Hazelnut Cake with Chocolate Ganache.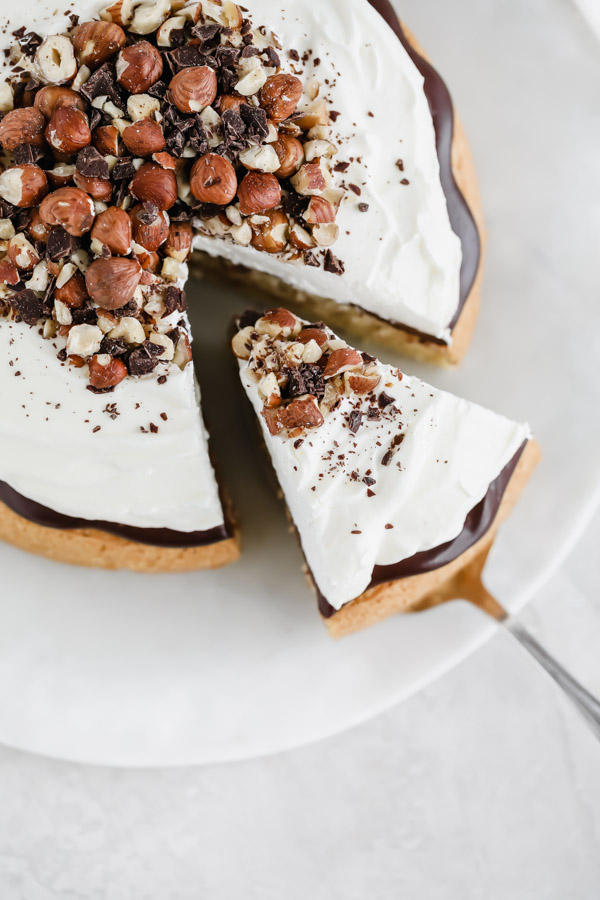 This cake is a lazy-cake-girl's dream. One layer, no decorating skills required and it looks so peerrrdy! Check. Check. Annddd check. If you are a fan of hazelnuts, this cake is for you! I'm personally loving hazelnuts at the moment and and you'll see me adding them to lots of goodies like hazelnut chocolate chunk cookies and hazelnut toffee cinnamon rolls. HELLO!! But back to this cake. It is moist and fluffy, which are qualities I always want from a slice of cake. This 8 inch golden brown beauty is made with both cake flour and hazelnut flour which gives it the most delightful, nutty texture. And the pile of hazelnuts and chopped dark chocolate on top adds the perfect bit of crunch with every bite. And can we just take a minute to oooh and aaahh that fluffy cloud of freshly whipped cream. I just want to dive right into it.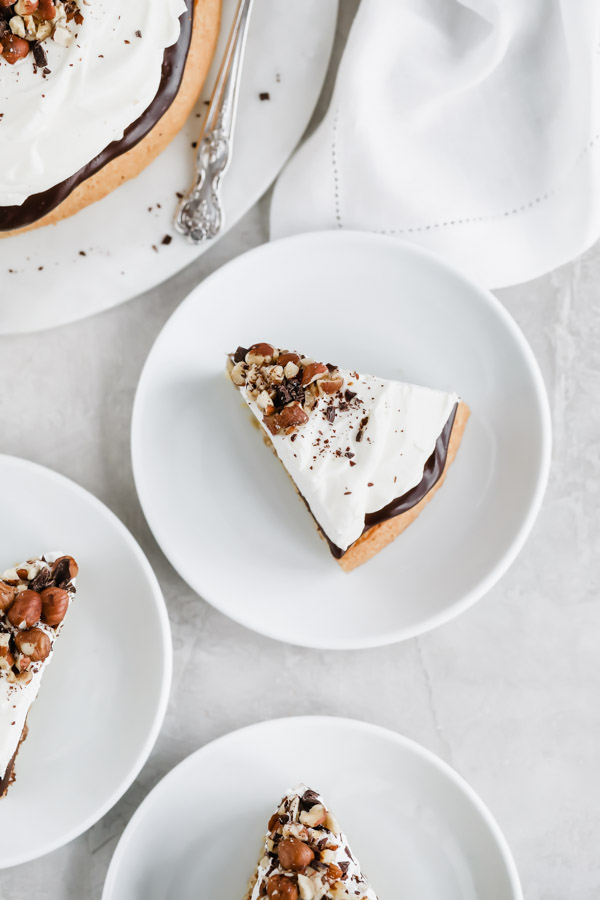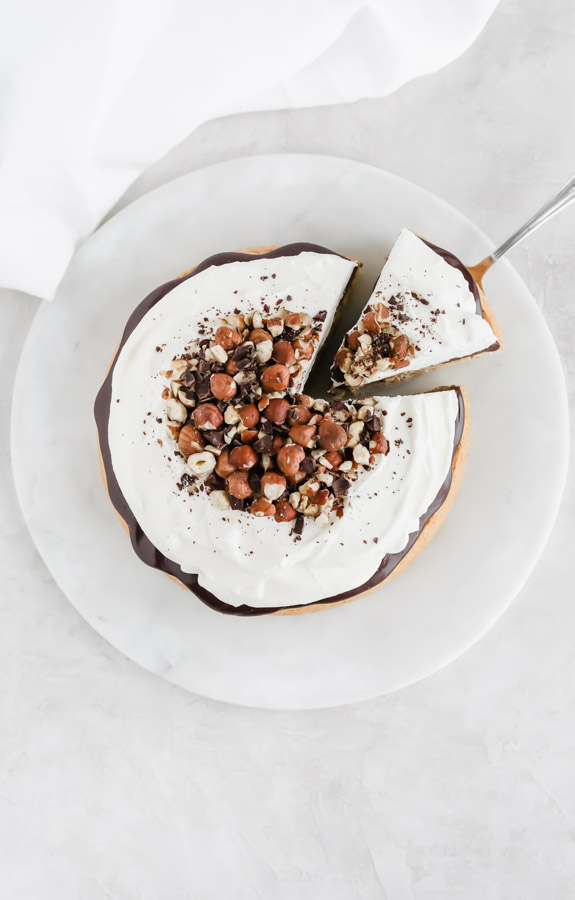 The beauty of this cake is that it's a single layer cake. No fussing around with leveling layers or spending time fretting about perfectly frosted sides. It almost feels like cheating because this cake is so simple to make but it's sooo good! The thick layer of chocolate ganache gives it just the right amount of fancy. Perfect for a dinner party or just a cozy night in when you have a hankering for a little something special.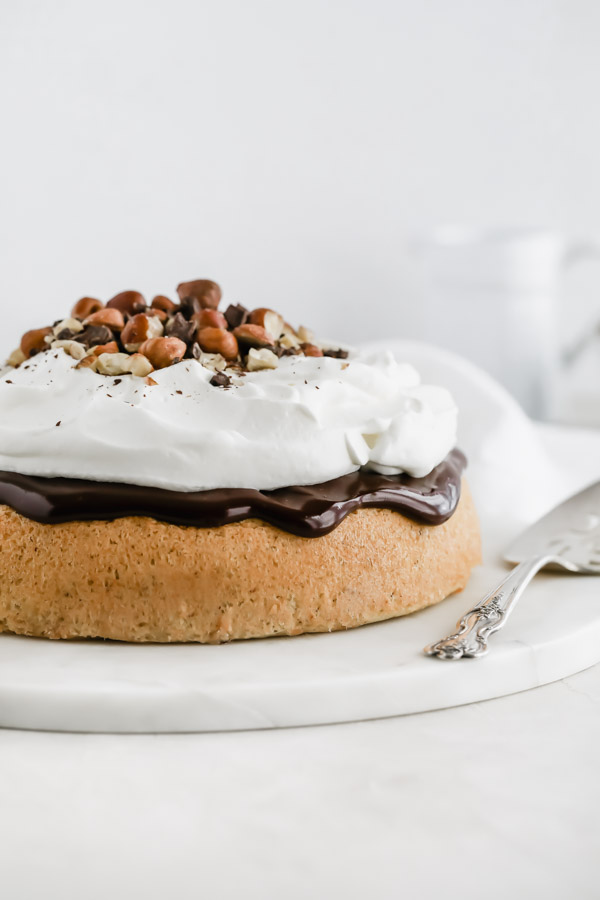 As promised, this post is no frills, no fuss, all sweet! Go make this cake people. Please excuse me while I go polish off the last slice.
Happy Baking!

*Recipe adapted from America's Test Kitchen.