Rich and fudgy gluten free peppermint mocha brownies are a delicious and festive treat for the holidays.
This post is sponsored by Simple Mills. As always, all thoughts and opinions are 100% my own. Thank you for supporting the brands that help make Browned Butter Blondie possible.
Merry almost Christmas bakers! We are down to the final days before Santa shows up ready for cookies and milk, and if you are anything like me, you have about a zillion and one balls in the air right now. Holiday dinners, end of the year class parties, cards to mail, gifts to wrap, presents to ship, garland to hang, and falalalala……the list goes on and on! If your to-do list is putting the bah-humbug in your holiday mood I've got just the thing to get you in the Christmas spirit.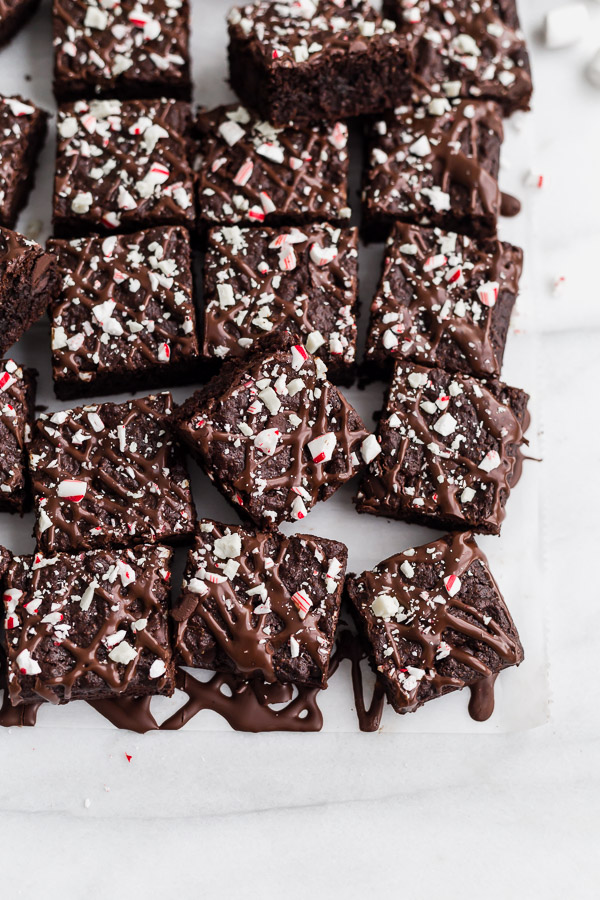 These gluten free peppermint brownies literally taste like the holidays and with their rich, ultra chocolatey flavor and fudgy texture, they are a treat that is meant to be shared. And the best part is these festive brownies start out with a box mix but you would never know it. This time of year we are all short on time but big on cravings so a box mix brownie recipe is just the ticket to a simple and delicious dessert that is sure to add a little merry to your December days. These gluten free peppermint brownies are about as fuss-free as it gets and trust me when I say there won't be a crumb left over.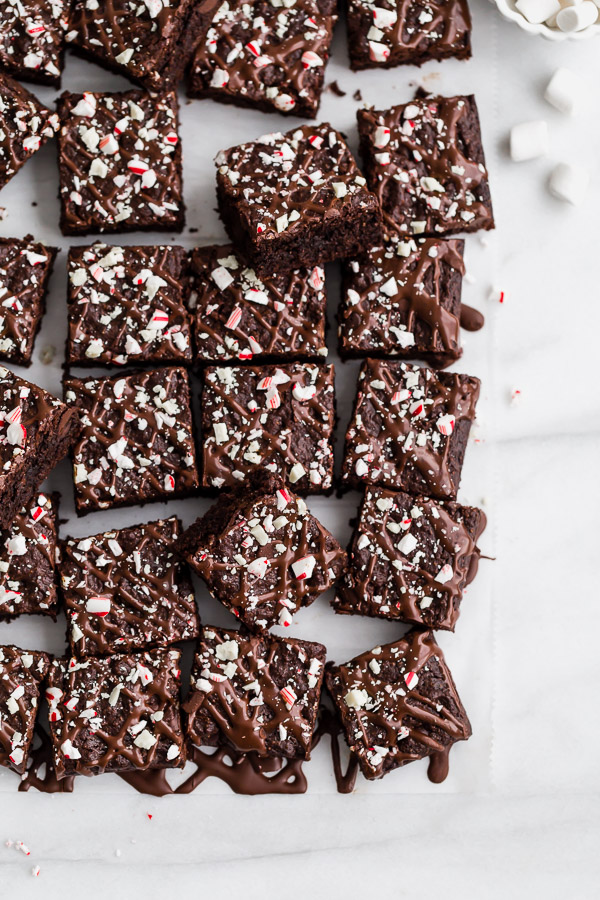 To make these brownies we start by mixing together butter, water, eggs and Simple Mill's Gluten Free Brownie Mix. This gluten free brownie mix makes deliciously fudgy brownies filled with good for you ingredients. Simple Mill's products are certified gluten free, made with nutritious almond flour, and are free from grains, corn, soy, and dairy. We've got some gluten free eaters in the fam and Simple Mills is a brand I can trust to deliver great tasting wheat free goodies. I keep my pantry stocked with their brownie mix which makes it easy to whip up a batch whenever the craving strikes.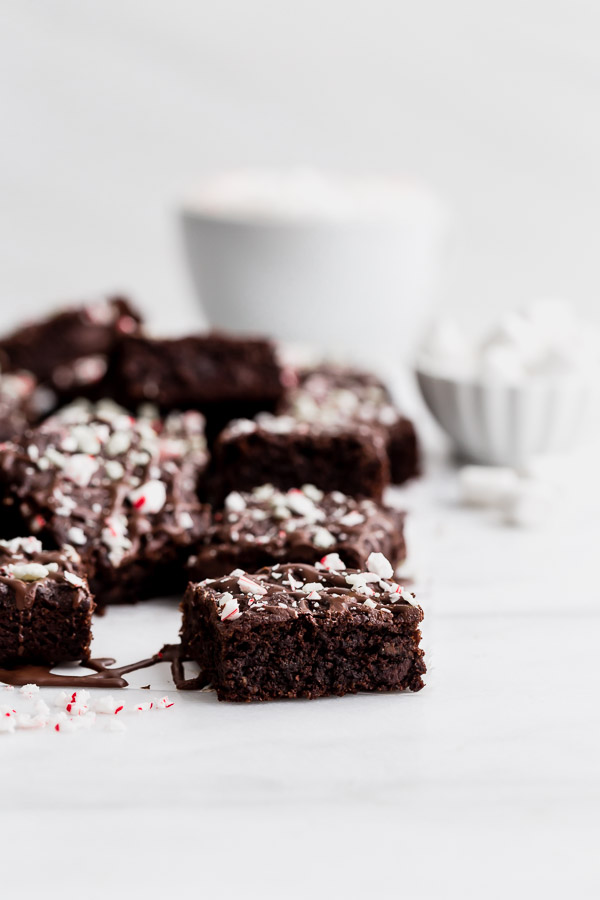 I like to kick a box mix up a notch or two because I'm extra like that. So we'll add a bit of instant espresso powder and a handful or two of chocolate chips to enhance the chocolate flavor along with a dash of peppermint extract to make these brownies extra festive.
With just one bowl and a few stirs with a wooden spoon, your brownie mix is ready to be baked. Spoon the batter in a 13 x 9 inch pan lined with parchment paper and bake in a preheated oven for about 20 minutes. Remove the brownies from the oven and then melt a bit of dark chocolate with a bit of coconut oil to drizzle over the cooled brownies. This is the fun part and your chance to let the messy baker in you run wild. A sprinkle of chopped white chocolate and crushed candy canes is the grand finale to these gluten free peppermint brownies.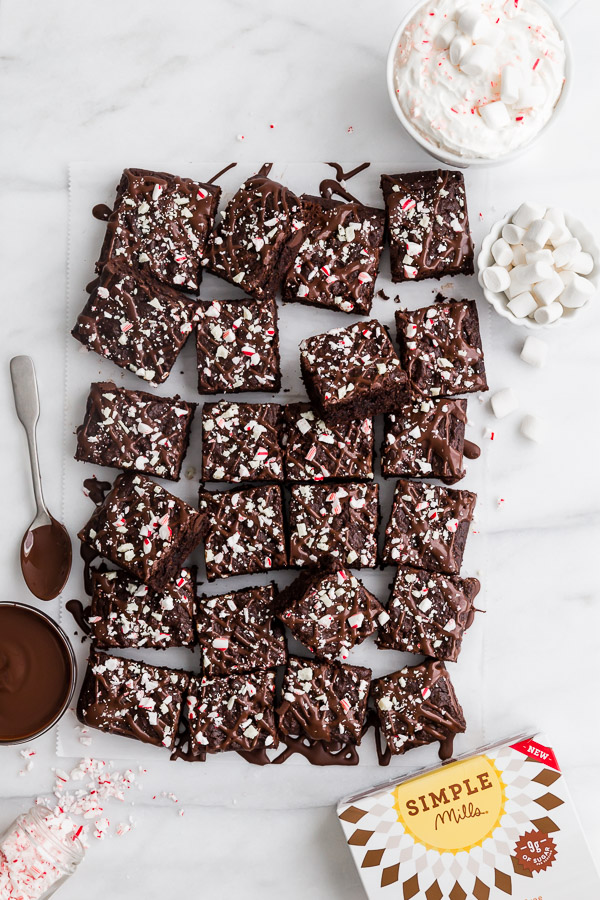 Ummm, hello. It's like a holiday party in your mouth! Chocolate and peppermint is a classic flavor pairing all December long and this treat is pure chocolate peppermint bliss!! It's not technically a cookie but I'm pretty sure that Santa wouldn't be mad if you left a few of these lying around on Christmas Eve.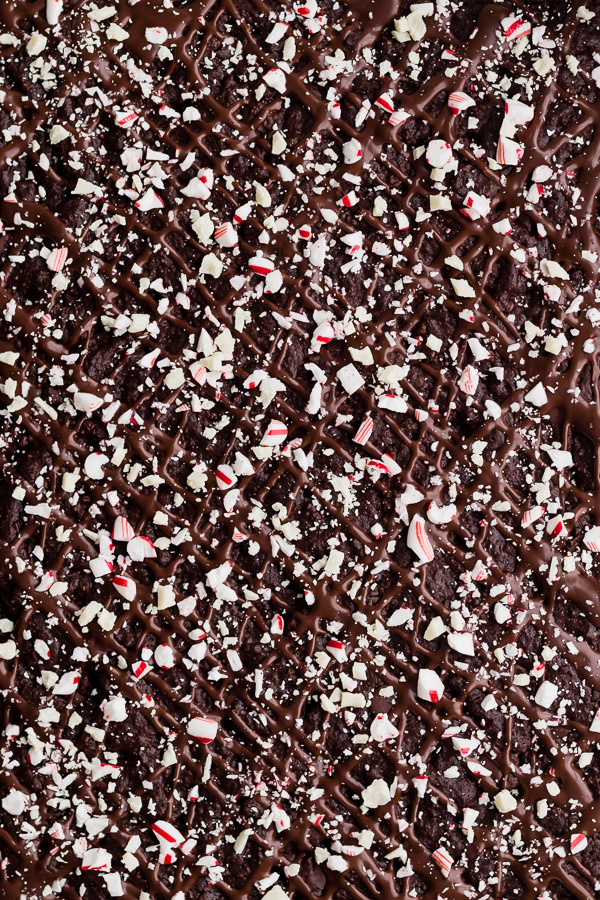 HOW TO MAKE THE BEST GLUTEN FREE BROWNIES
Add extra chocolate. For this recipe we use two boxes of Simple Mills Gluten Free Brownie Mix and basically double all of the other ingredients listed on the back of the box. The result is a thick, fudgy brownie that is borderline cake-like. Adding extra chocolate chips to the batter creates an ultra-chocolatey brownie and who says no to that?? Drizzling the tops of the brownies with melted dark chocolate is another way to up the wow factor of a boxed brownie mix.
Spike it! To enhance the flavor of the chocolate in brownies as well as chocolate cake, I like to add a dash of espresso powder to the batter. A little goes a long way so just 2-3 teaspoons will do to deliver a richer cocoa flavor in every bite. Your brownies won't taste like a cup of coffee, promise! And adding a teaspoon of peppermint extract to the batter gives these brownies the perfect punch of minty flavor that just screams holidays! Sooooo yum!!!
Watch your oven. Brownies can go from perfectly delicious to not so great in a matter of minutes. Keep an eye on your oven and when making brownies from a box always set the baking time for 8-10 minutes shorter than the directions indicate. The brownies are done when the edges are just barely set and a toothpick inserted into the center comes out with a bit of chocolate remaining. The brownies will continue to bake from the residual heat even after they are removed from the oven so don't be tempted to leave them in too long. No one likes a dry brownie. And I mean no one.
Add some crunch factor.  Adding chocolate chips inside the brownie batter is always a good idea if you ask me. And the addition of a little crunch in the form of crushed candy canes and chopped white chocolate takes these brownies over-the-top in all the best ways. Sprinkle with abandon and let the toppings set before slicing the brownies into squares.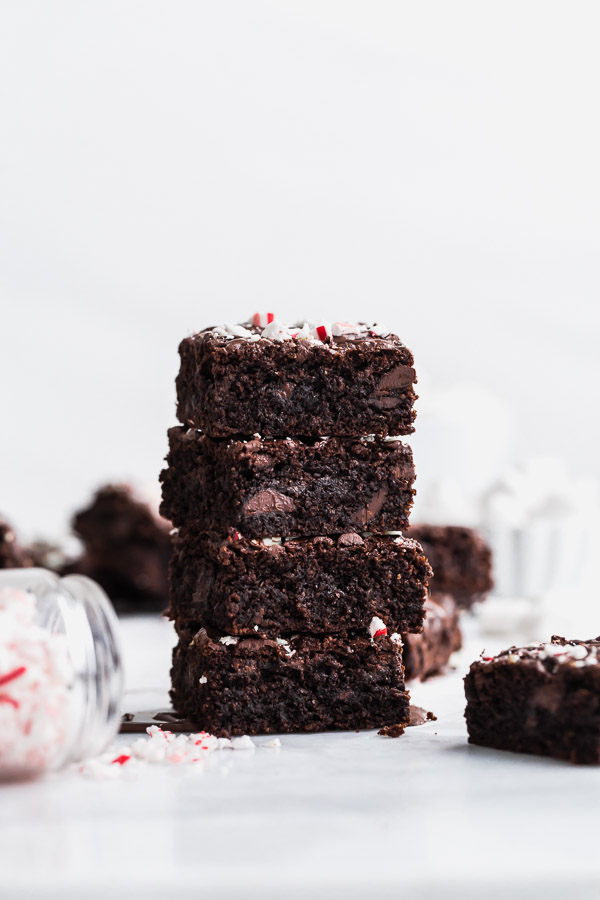 These gluten free peppermint mocha brownies are at the top of my baking list all December long.  There is nothing better than whipping up a batch of boxed brownies when only chocolate will do. And these festive brownies are the perfect dessert to feed a houseful of holiday guests…no one will know that you didn't slave away in the kitchen all day!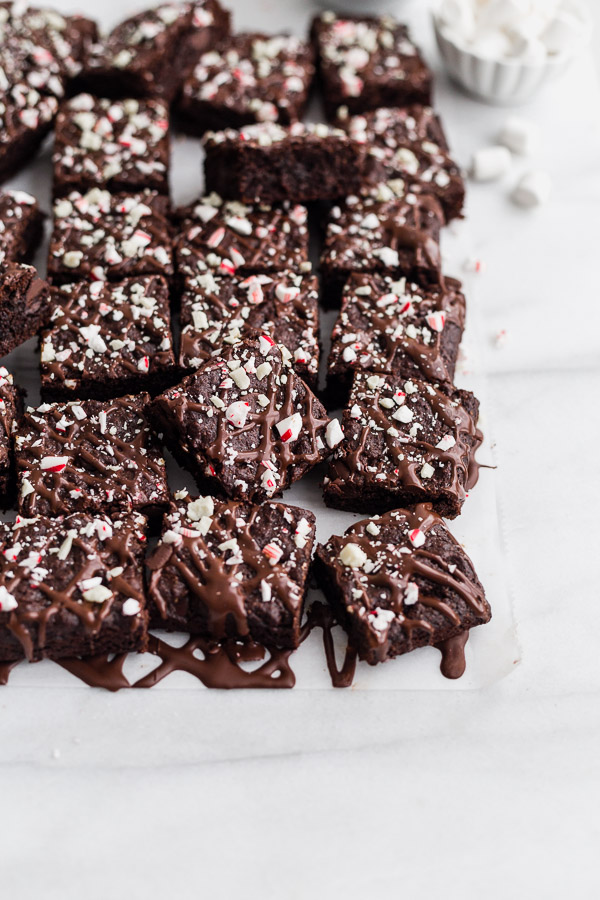 I hope you add these irresistible peppermint mocha brownies to your holiday baking list. If you make these brownies, or any other recipe from the blog, be sure to tag @brownedbutterblondie on Instagram so I can see what you are baking up in your kitchens! Now go bake brownies and be merry!
Happy baking!!
If you like these gluten free peppermint mocha brownies, you may also like:
Frosted Fudge Brownies
Frosted Fudge Brownies
Wanna-Be Brownie Cookies