A classic gluten free banana bread with a swirl of rich chocolate. This loaf is soft and tender, perfectly sweet and incredibly delicious. You'll never know it's gluten free!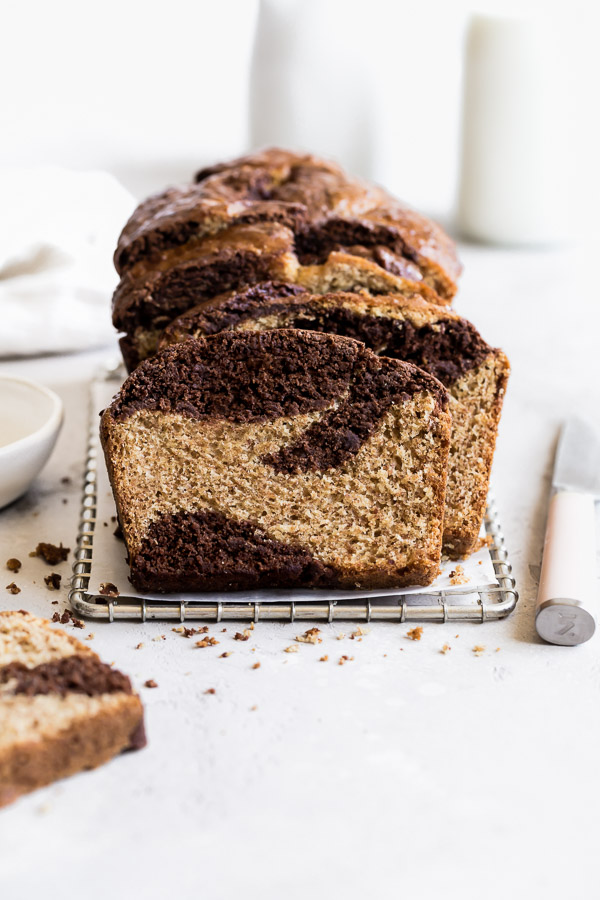 I'm going to keep today's post short and sweet because it just wouldn't be fair to keep you here when you should be stirring up a batch of this incredibly delicious marbled banana bread. Who doesn't love the smell of freshly baked banana bread in the kitchen? Pure heaven if you ask me. It's no secret that I love chocolate with banana. For proof of this, check out my Chocolate Lover's Banana Bread here. Or these Chocolate Chip Banana Oatmeal Muffins which are my favorite way to start the week. But this loaf is just so pretty that I couldn't resist adding one more chocolate-banana combo to the mix.  This loaf is soft and moist, perfectly banana-y and that beautiful chocolate swirl running through the bread gets me every time. Forget about all the other marble banana bread recipes out there because this one is the only one you need.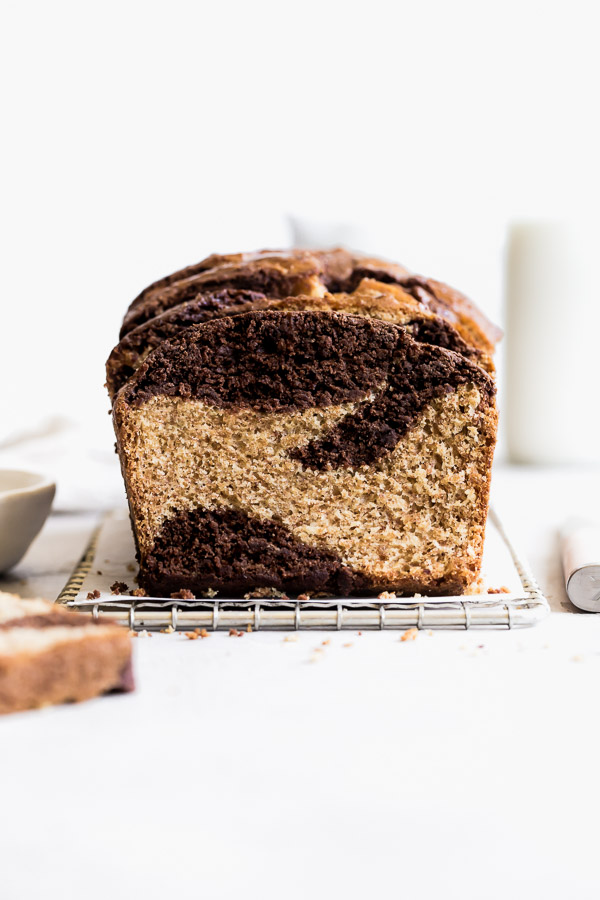 HOW TO MAKE GLUTEN FREE MARBLED BANANA BREAD
You know all those perfectly ripe bananas sitting on your counter that you had every intention of eating on Monday? And Tuesday. And again on Wednesday. Well now it's maybe Friday and you have some seriously overripe bananas hanging around that you think you might just trash altogether. Hold on just a sec. Those mushy, brown and speckled bananas are GOLD. They are the key ingredient to this easy and delicious gluten free marbled banana bread so don't toss those bad boys out just yet.
We'll pair those over ripe bananas with the usual ingredients you'd expect like buttermilk, butter, sugar and flour to make a gluten free version of a classic banana bread. Start by creaming together the butter and sugar until light and fluffy. Then we add the eggs, one at a time until fully incorporated. Next we stir in the mashed bananas, buttermilk and vanilla. After blending well we gently stir in the gluten free flour, baking soda and salt until just barely combined. It's that easy!
Here are a few tried and true tips to keep in mind to make this seriously swoon worthy banana bread:
MEASURE THOSE NANAS. The recipe calls for about 3 medium bananas but since medium means something different for everyone, you'll want to measure exactly 1 1/2 cup of mashed bananas.
DO NOT OVER MIX YOUR BATTER. I must sound like a broken record each time I remind you of this tip. But we don't want to over mix the batter and end up with a tough, dense bread. So go easy on that mixing and it's best to have a few streaks of flour remaining.
SPEAKING OF FLOUR….Be sure to scoop and level your flour when measuring it out. Too much flour will lead to a dry bread and we want to keep this loaf soft and moist with a tender crumb. Scoop, level, repeat.
WATCH YOUR OVEN. Banana bread does require a bit of baby-sitting once it's been in the oven close to an hour. Check the loaf after baking for 50 minutes by inserting a toothpick into the center of the loaf. If the center of the loaf is still wet, continue baking the bread in three to five minute intervals until the center is fully set and few crumbs remain on the toothpick test.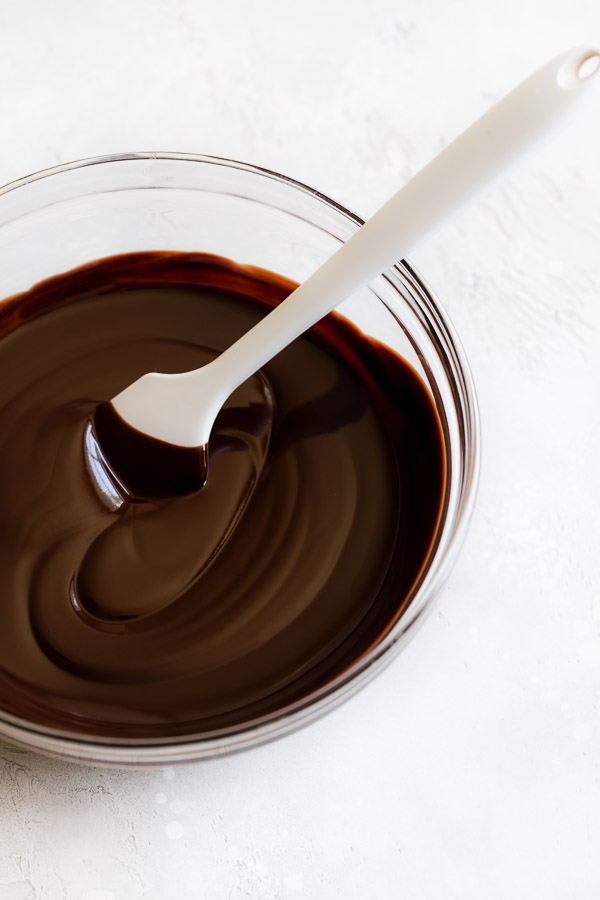 HOW TO MAKE THE PERFECT CHOCOLATE SWIRL
We can't have marbled banana bread without that signature chocolate swirl which takes this loaf to "omg, how good does that look?" status. It looks fancy, but that swoosh of chocolate running through this tender and sweet banana bread is waaayyyy easier than you think. It took me a few tries but the trick is not to over-think the technique. Less is more when it comes to the perfect swirl.
To create that fancy-ish swirl, all you need is a bit of melted chocolate and a butter knife. We combine one cup of the banana bread batter with the melted chocolate and then after alternating scoops of each batter into the loaf pan, we run the butter knife through the batter just four or five times. Be sure to reach down into the bottom of the pan a bit so the swirl runs throughout the loaf. It's actually kind of fun so if you are like me, you'll be tempted to keep on swirling but try to resist. Keep in mind though, even if you get a little crazy with your swirl, this bread will still taste amazing.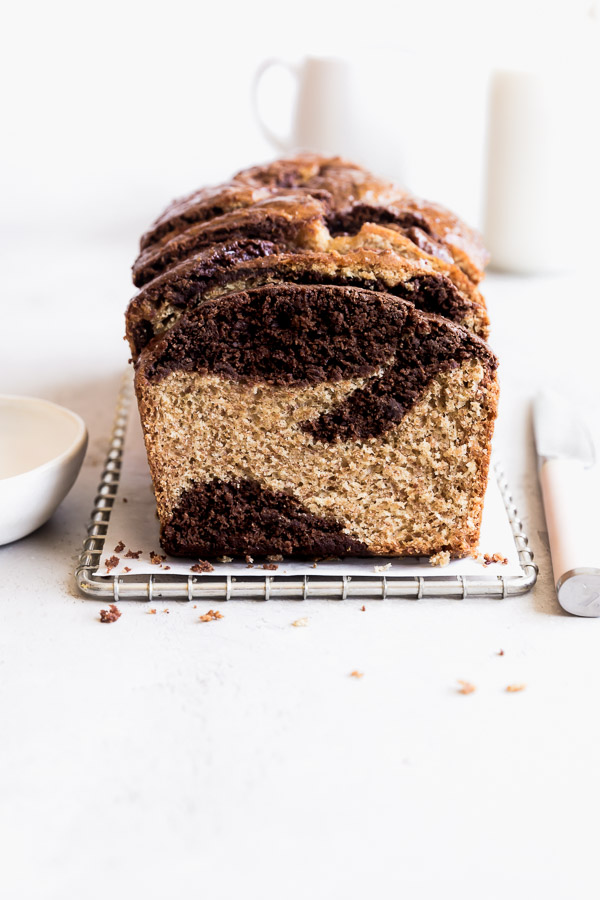 HOW TO STORE GLUTEN FREE MARBLED BANANA BREAD
Who are we kidding. This gluten free marble banana bread is far too good to last long. And honestly, gluten free baked goods are always best eaten the day of. But if you happen to have a slice or two left over or are saving the loaf to share with friends or co-workers, simply wrap the completely cooled loaf in plastic wrap and place in the fridge. Then just try not to go back for another slice {wink, wink}. This loaf also freezes beautifully so I'm always sure to have one of these stashed in the freezer for mornings on the go. Just defrost on the countertop overnight and tah-dah…breakfast is served!
If you make this recipe or any other recipe from the blog, be sure to tag @brownedbutterblondie on Instagram. I love to see what you are baking up in your kitchens! And feel free to leave me some love in the comments below. I love hearing your reviews of my recipes. Meet you back here later this week with another delicious fall recipe!

If you like this Gluten Free Marbled Banana Bread, you may also like:
Chocolate Lover's Banana Bread
Meyer Lemon Poppyseed Cake
Pumpkin Chocolate Swirl Muffins