Soft and fluffy gluten free banana cupcakes with cream cheese frosting and fresh blackberry curd. A must make springtime treat!
This post is in partnership with Bob's Red Mill. As always, all thoughts and opinions are 100% my own. Thank you for supporting the brands that help to make Browned Butter Blondie possible.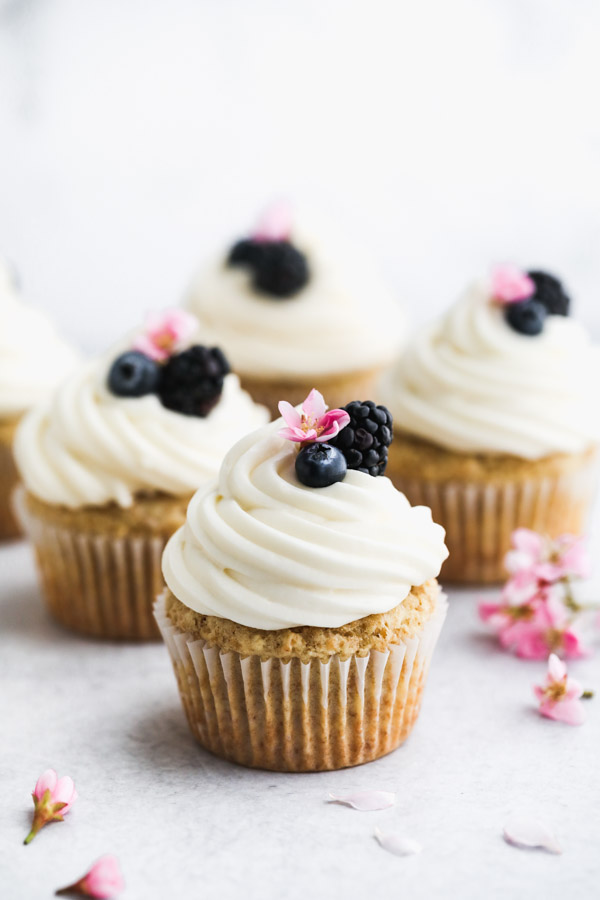 Oh yeah…it's a GOOD Friday!! Easter weekend has finally arrived and in less than forty eight hours it'll be brunch o'clock. I for one am doing a happy dance just thinking about the Sunday Funday ahead of us. And by fun I mean, family, friends and of course…food!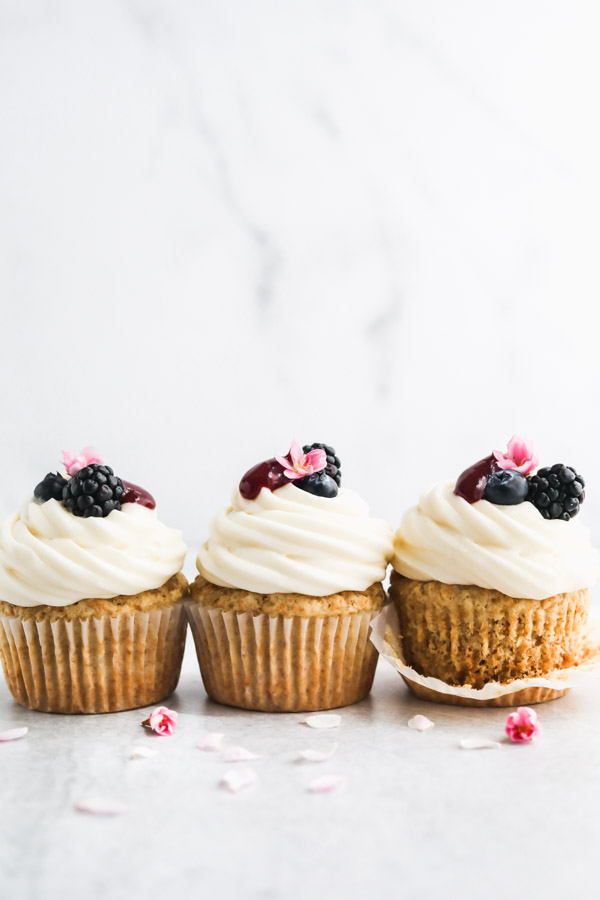 If you are hosting an Easter feast this year, or you're all signed up to tote dessert along to Aunt so-and-so's house, I've got you covered. Today I'm sharing the recipe for these cute as can be gluten free banana cupcakes with cream cheese frosting and, wait for it….blackberry curd.
Like OMG.
I can't even!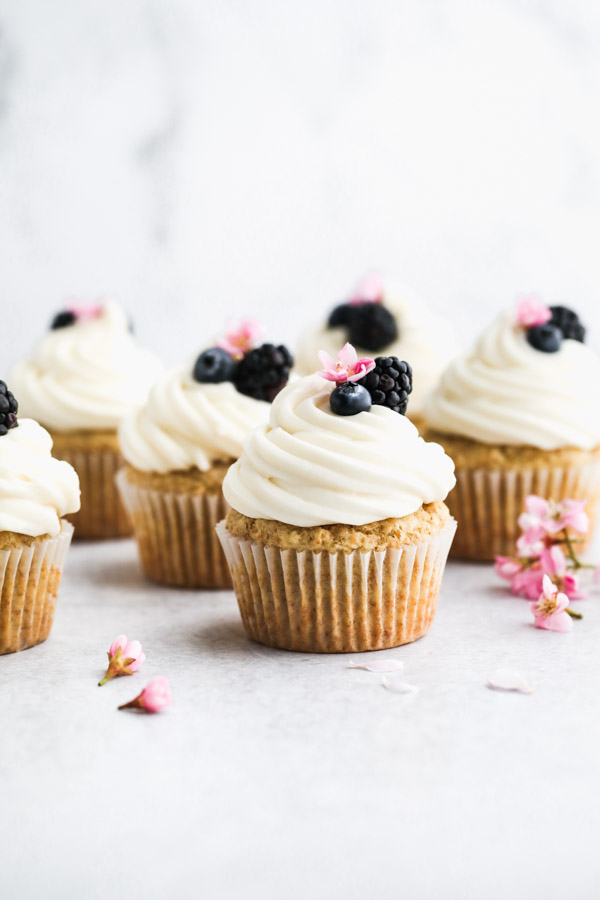 If these little cupcakes don't scream spring loud and clear, I'm not sure what does. Topped with fresh berries and a tiny blossom straight from the garden, decorating this dessert could not be easier!!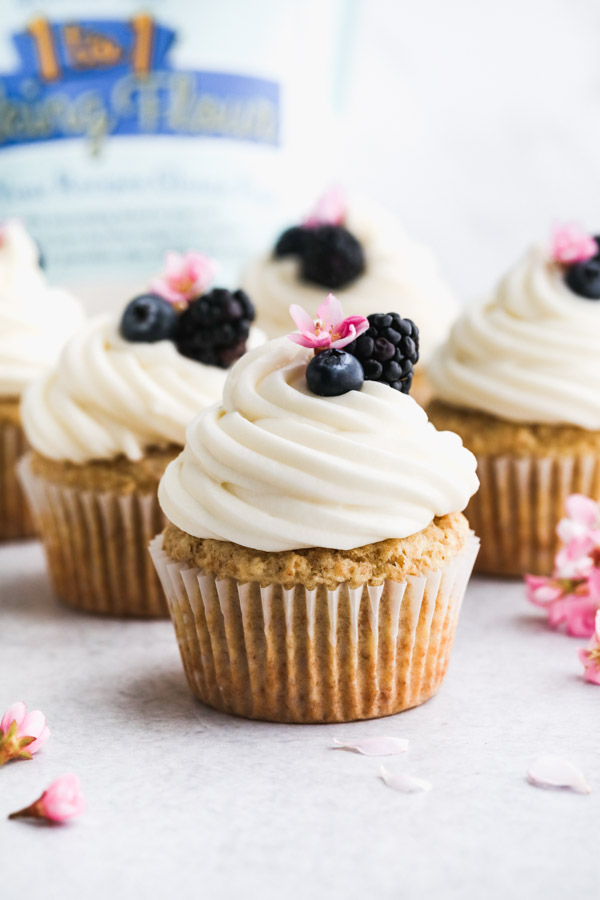 We all know that carrot cake is basically an Easter tradition, but banana bread has my foodie heart all year long. So I partnered up with Bob's Red Mill to create a Gluten Free version of my favorite banana cupcake. Topped off with that fluffy cloud of cream cheese frosting and swwooooon!!! And did I mention the blackberry curd spooned on top? I'm dreaming up all kinds of ways to use this berry curd because it's ridiculously delicious! You'll be seeing it here again on the blog, don't you worry.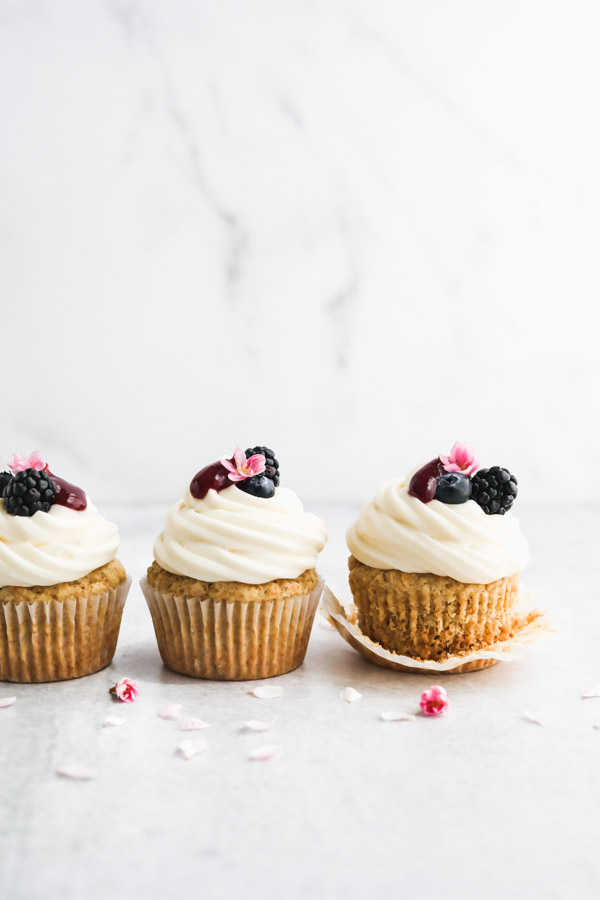 Thanks to the good people over at Bob's Red Mill, these light and fluffy cupcakes are made with their Gluten Free 1 to 1 Baking Flour. Gluten free baking has come a looonnngg way and it's thanks to quality products like Bob's Red Mill. I love that the xanthan gum is built right into the flour, which means my gluten free recipes bake up perfectly every time. Winning!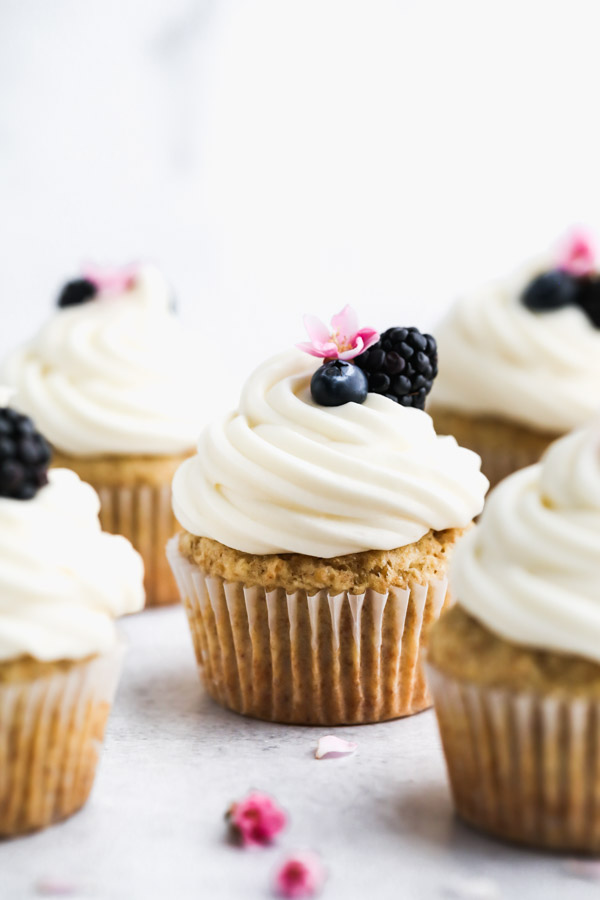 With two days left before Easter I know you've got at least one more Target run in you. So this is whatcha-gonna-do. After you pick up your last minute chocolate eggs and jelly beans for Sunday's festivities, make your way over to the produce department and scoop up some of the overripe, brown bananas. You know the ones in the back that no one wants. Grab some berries for the curd, a block of butter and cream cheese for the frosting and last but not least…get yourself the jumbo bag of Bob's Red Mill 1 to 1 Baking Flour.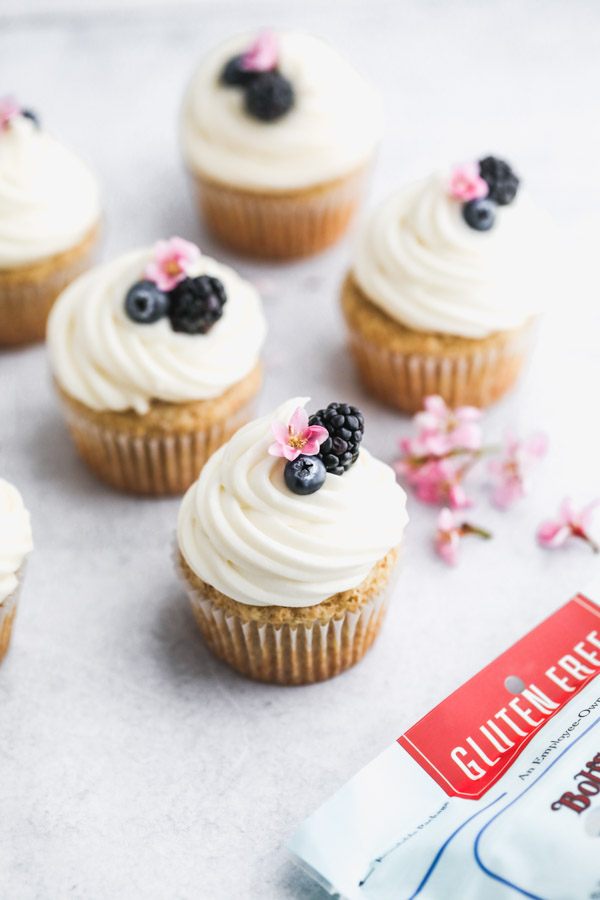 You'll be a big fan once you taste these cupcakes, trust me. Plus, we all know someone that is gluten free that would be happy to take one of these cutie patooties off your hands.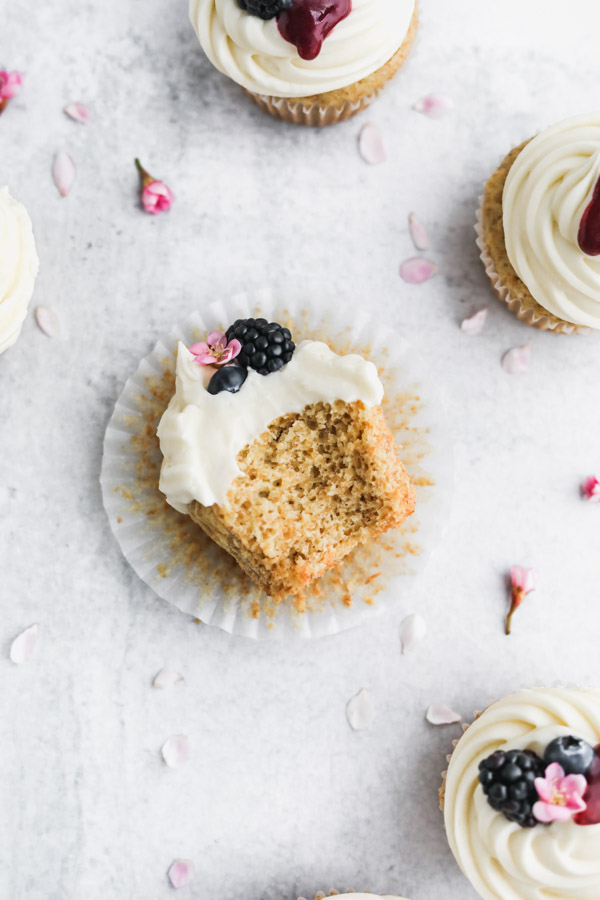 These banana cupcakes are a must-bake for spring, but these little showstoppers are especially perfect for Easter. Individual serving built right in, no plate required and kids of all ages will love 'em.
If you make these Gluten Free Cupcakes with Cream Cheese Frosting, or any other recipe from the blog, be sure to tag @brownedbutterblondie on Instagram. I love seeing what you are baking up in your kitchen! And don't forget to follow Browned Butter Blondie on Pinterest where you'll find all the latest recipe details straight from the blog.
I've got one more easy and delicious Easter recipe coming your way tomorrow so don't go far!


*Bobs Red Mill products can be found at Whole Foods, Sprouts, Target and online at www.bobsredmill.com.