A perfectly spiced gingerbread bundt cake drizzled with maple bourbon glaze. A deliciously simple and festive cake that belongs at the tippy top of your holiday baking list!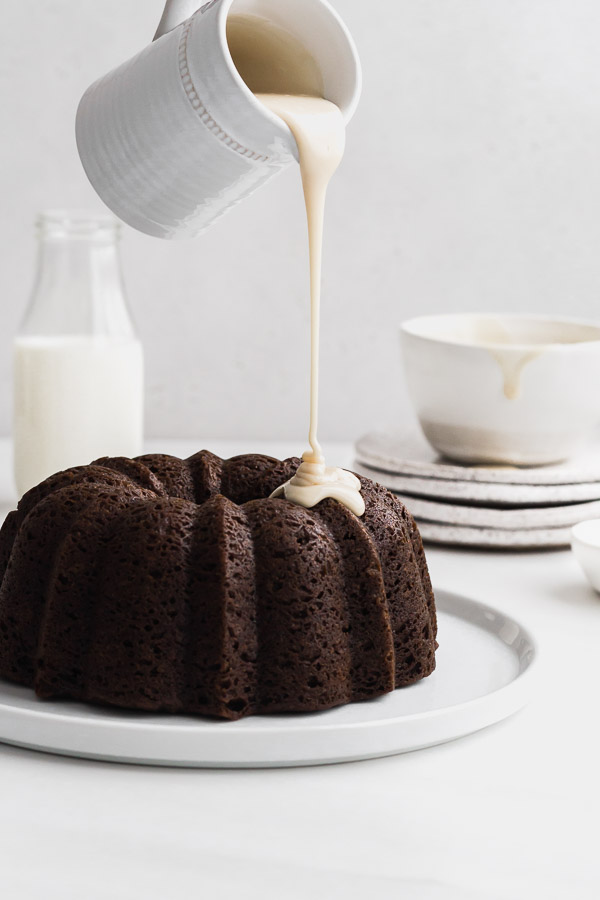 Growing up my grandparents lived just a few miles away from us. My grandmother, who we called Mama, loved to bake just as I do and she had an affinity for bundt cakes. If she came to your house for dinner or you popped over for a quick visit, you could be certain that Mama would have a freshly baked bundt cake in hand. Complete with a perfectly drizzled sugar glaze.
I remember in the springtime she would fill the center of her bundt with flowers from her backyard garden. The little pop of color from her dainty arrangement was such a delight and it always made me smile. My grandmother never made a fussy layer cake or anything with a fancy frosting, choosing instead to spread a little love and joy one bundt at a time.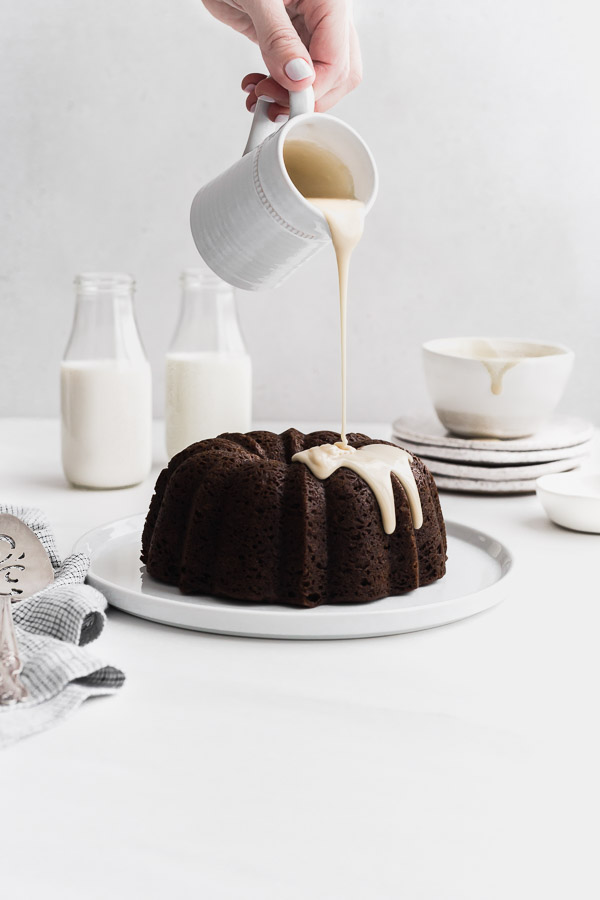 I'm pretty sure I inherited my love for the almighty, fuss-free bundt from my grandmother. I'm a girl who loves a bundt, preferably dressed up with a smooth glaze or a dusting of powdered sugar. Bundt cakes are not only embarrassing easy to make (read: no fancy frosting skills required) but they are easy to transport and make the perfect dessert to tote along to a festive holiday party. I wish I could say I made this bundt for a weekend dinner party or a holiday potluck, but nope. I was just craving cake.
Actually, I was craving gingerbread and thought about making a batch of little gingerbread people but then decided to satisfy my sweet tooth in the form of cake rather than cookies. One bite in and I knew I had made the right choice. If you love gingerbread, this cake is for you!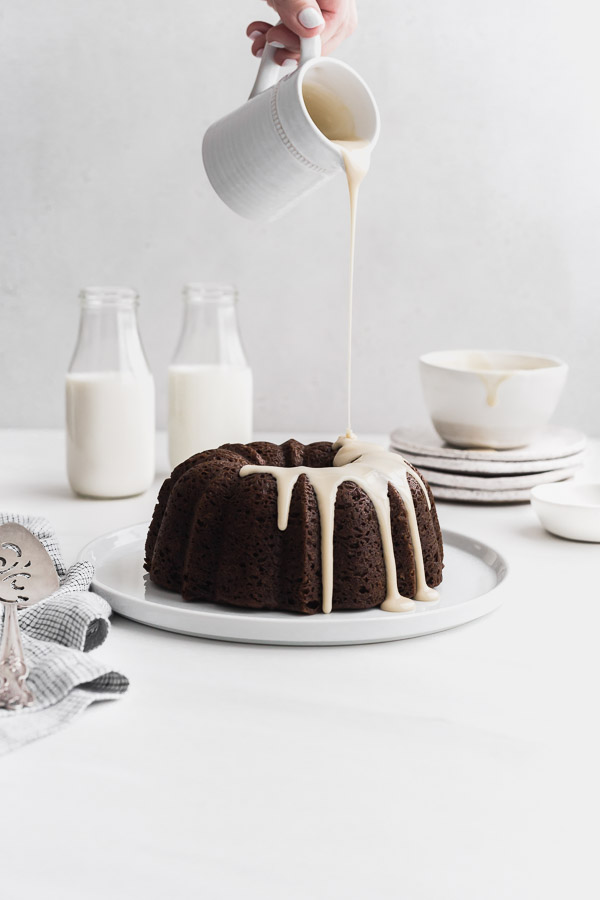 This gingerbread bundt cake is perfectly spiced with notes of ginger, cinnamon, nutmeg and cloves. It's bursting with warm holiday flavors that will make you wonder why you aren't making gingerbread cake all year long. Like why isn't gingerbread in July a thing? The texture of this cake is dense and ultra moist thanks to the addition of the buttermilk and sour cream. And don't even get me started on the maple bourbon glaze. Yes, you heard that right. MAPLE. BOURBON. GLAZE. It's the perfect match for this spiced cake and this silky smooth glaze could not be any easier to whip up. Just add the ingredients to a bowl, whisk together, and drizzle away! Easy and delicious…it's a win, win!!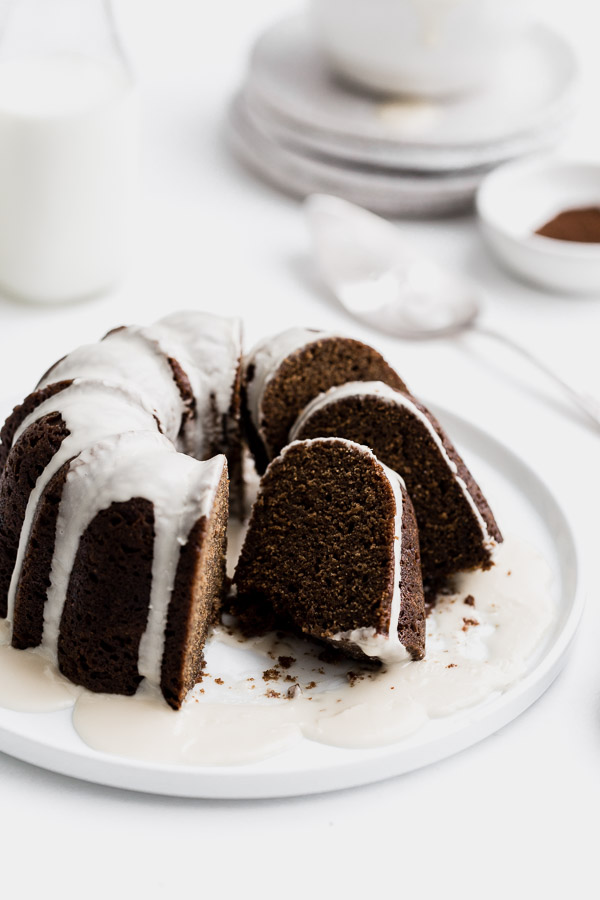 WHY YOU NEED THIS CAKE ON YOUR HOLIDAY BAKING LIST
Everyone loves a bundt cake. I may be bundt cake's number one fan but I'm pretty certain everyone else loves them just as much. They are easy to make, delicious to eat and beautiful to fresh from the oven. Top your glazed bundt off with a few sprigs of rosemary and some fresh cranberries and you even have a show-stopping centerpiece for your holiday table!
Spice cake is the best cake. Sorry chocolate. I'll love you forever, but gosh, do I ever love a warm spice cake filled with flavors of ginger, allspice, nutmeg and cinnamon on a cozy winter night. The best!
The texture is everything. This gingerbread cake is on the dense side but the texture is soft and super moist which is just how cake should be. One bite and you'll fall in love. Good luck resisting that second slice!
Did you hear MAPLE BOURBON GLAZE?? I'm only mildly embarrassed to admit on the internet that I ate this maple bourbon glaze by the spoonful once the cake was drizzled. It's just that good. I could say the bourbon is optional, but don't the holidays call for a little boozy cake? I say YES!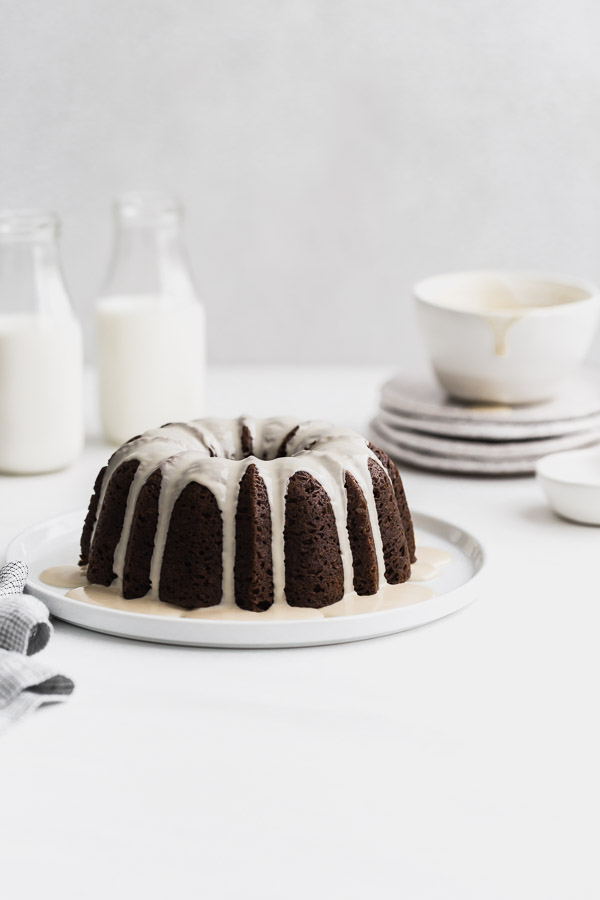 HOW TO MAKE THE BEST BUNDT CAKE
Prep your bundt pan. To ensure your cake releases easily from the pan after baking, be sure you generously grease the pan with non-stick spray. I prefer that over melted butter as the butter can get a bit "gunky" and ruin the outside texture of your bundt cake. Pro-tip: grease your bundt pan just before you pour the batter in, not before you mix your ingredients. This helps to prevent all of the non-stick spray from pooling in the bottom of the pan. I love this simple bundt cake design for easy removal.
Don't over mix your batter. Follow this rule bakers and your bundt will thank you. Mix the dry ingredients in to the wet ingredients until a few streaks of flour remain and stop there.
Cool the cake completely. We've all had that moment when all we want to do is pour on the glaze, cut a big slice and dig in to that freshly baked bundt cake with a fat fork. But then the drizzles and drips slide right off the cake and it's all a hot mess. Delicious, but messy nonetheless. Wait for your cake to cool completely (I generally wait 90 minutes to two hours) before glazing your cake for best results.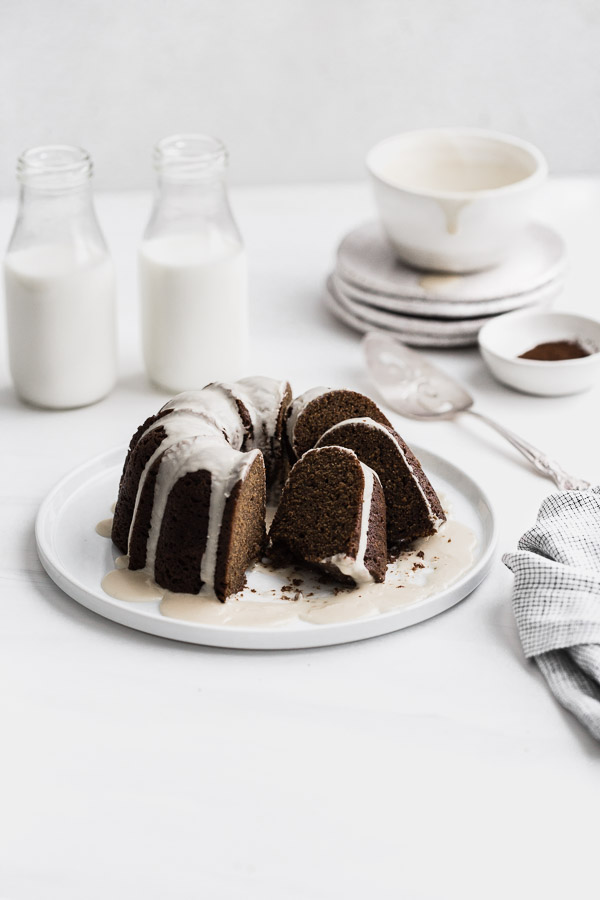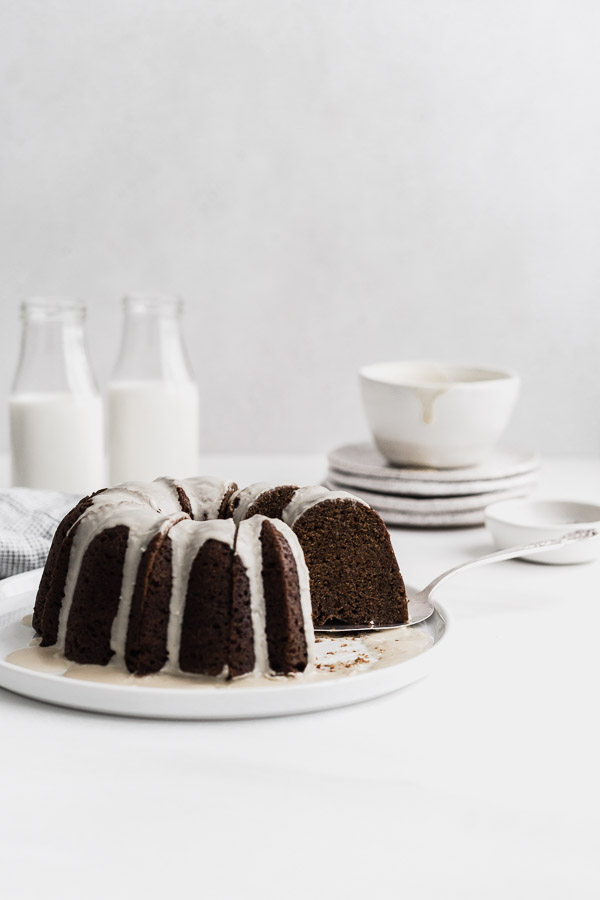 I hope you'll add this gingerbread bundt cake to the tippy top of your holiday baking list. Everyone in my house gave this cake rave reviews…including my non-cake-loving hubby who declared it was positively delicious. Now that is a ringing endorsement! If you make this cake, or any other recipe from the blog, be sure to tag @brownedbutterblondie on Instagram. I love to see what you're baking in your kitchens!! Meet you back here next time with another holiday recipe you and your family will love.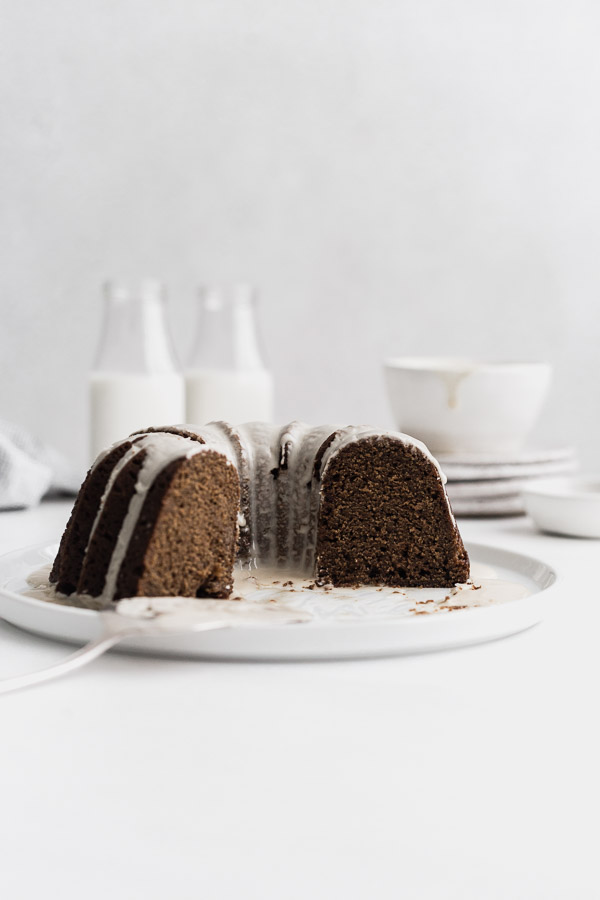 Happy baking!

If you like this gingerbread bundt cake with maple bourbon glaze, you may also like:
Gingerbread Cupcakes with Maple Buttercream
Hazelnut Chai Spice Cake with Browned Butter Glaze
Gluten Free Double Chocolate Bundt Cake