A buttery vanilla cake dotted with rainbow sprinkles and topped with a sweet vanilla glaze. This funfetti pound cake is perfect for all of your cake eating occasions!
FUNFETTI POUND CAKE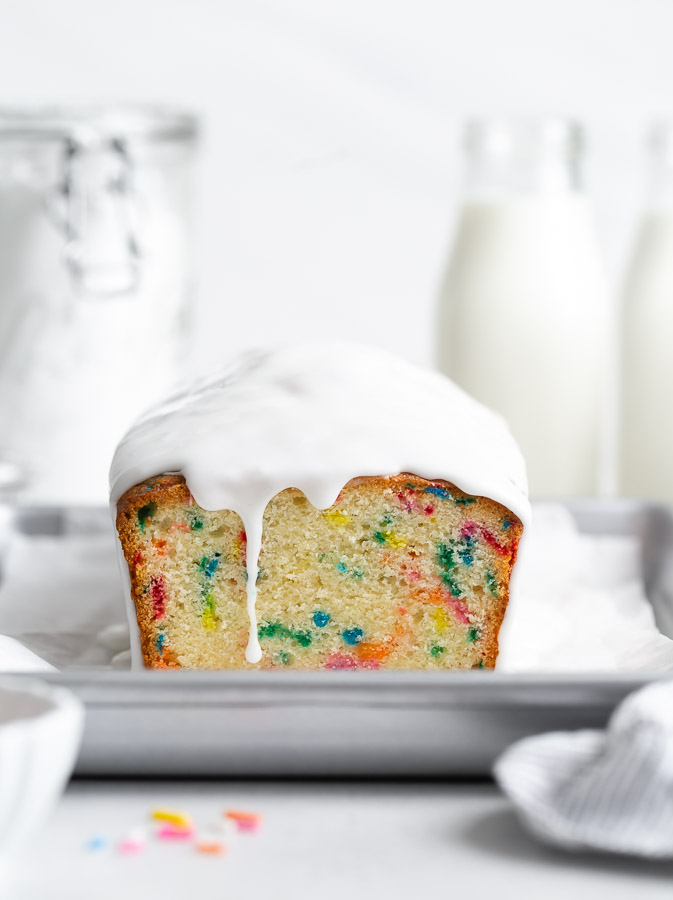 Happy Friday bakers! We are living large today and going all out to celebrate the beginning of the weekend. Get excited friends because this super fun and festive funfetti cake is going make your day. If you are not a fan of rainbow sprinkles (who are those people anyway??), this cake is not for you. I for one am always here for a cake that feels like a party and this simple and unbelievably delicious funfetti pound cake is exactly that.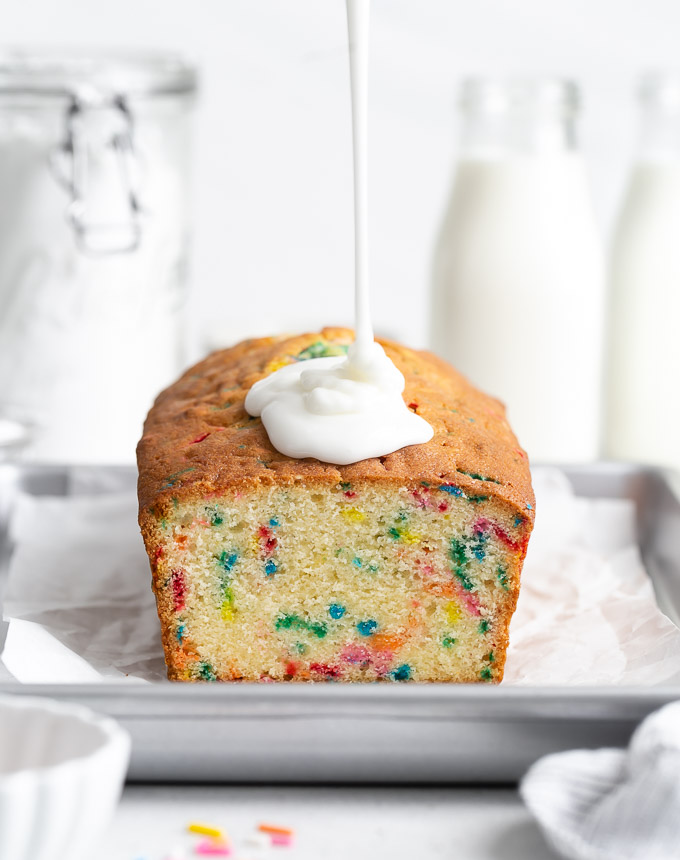 This buttery vanilla pound cake has a delightfully delicious crumb texture that is packed full of colorful rainbow sprinkles. What's not to love? If Friday were a dessert, this would be it. It's fun, easy going, and puts everyone in a good mood. Your weekend definitely needs this cake and I can't wait to tell you how to make it.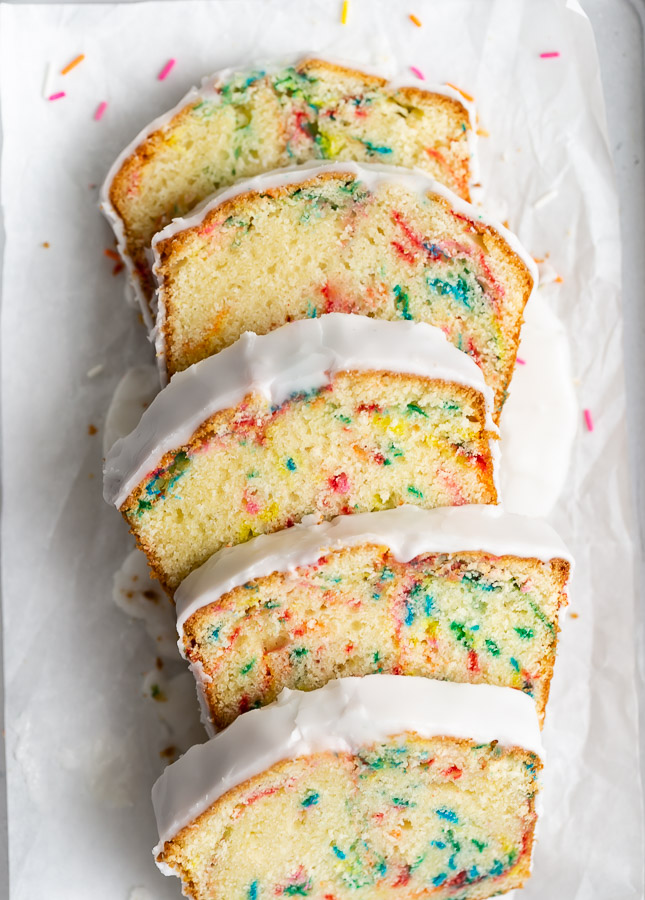 THINGS YOU NEED FOR FUNFETTI POUND CAKE
Butter. Make sure your butter is room temperature so that it incorporates well with the other ingredients for a smooth batter. I like to leave the butter out overnight for best results.
Sugar. If you can get your hands on it, use superfine sugar rather than regular sugar.
Eggs. Just like the butter, your eggs should be room temperature.
Flour. This recipe calls for 1/2 all purpose flour and 1/2 cake flour. Cake flour is lighter than all-purpose flour which helps create a light crumb texture. If you don't have cake flour in your pantry, make your own by measuring out 1 cup of all-purpose flour and then remove 2 tablespoons. Add in 2 tablespoons of cornstarch and whisk to combine. Tah-dah! Cake flour!!
Baking powder. Just a little bit of leavener gives the cake texture and rise. Check your expiration dates to be sure it's fresh.
Vanilla. Use a high quality vanilla extract for the very best flavor. I love this one from Rodelle.
Rainbow sprinkles. The recipe calls for one cup of rainbow sprinkles. If you prefer a cake that is less sweet, reduce the amount of sprinkles. Any sprinkle mix will work but avoid using nonpareils as the color will bleed into the batter while baking.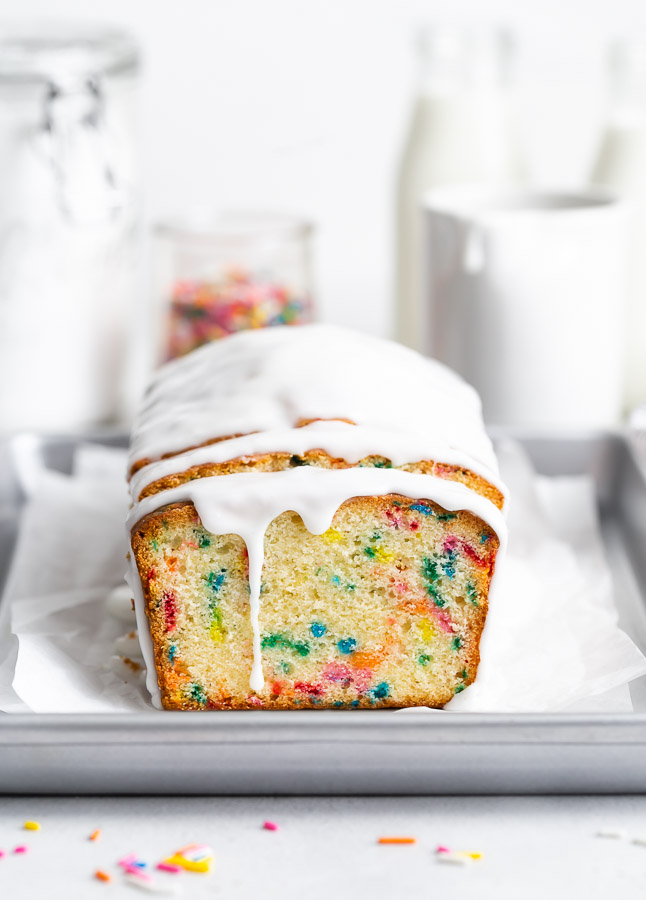 TIPS FOR THE BEST POUND CAKE
Use room temperature ingredients. Cold butter and eggs don't mix well with room temperature flour and sugars. For a perfectly baked cake, it's so important that you butter, eggs, milk and yogurt are all at room temperature before you mix the batter.
Do not over mix. Pound cake has a tight crumb and can easily bake up too dense if the batter is overworked. Once you add in the flour, mix only until just combined.
It's all in the sprinkles. Sprinkle cakes are my favorite because they are so fun and festive. It pays to be picky about your sprinkles so be sure to use a mix that won't bleed into the batter. I love these and I also find the simple rainbow jimmies from the grocery store work nicely.
Do not over bake. Keep an eye on your oven friends. This pound cake can go from perfectly baked to super dry in a matter of minutes. Baking times will vary from oven to oven but you'll want to begin checking the cake for doneness around the 55 minute mark. A toothpick inserted into the center of the cake should come out mostly clean. If the cake is browning too quickly on top, tent it with a large piece of aluminum foil.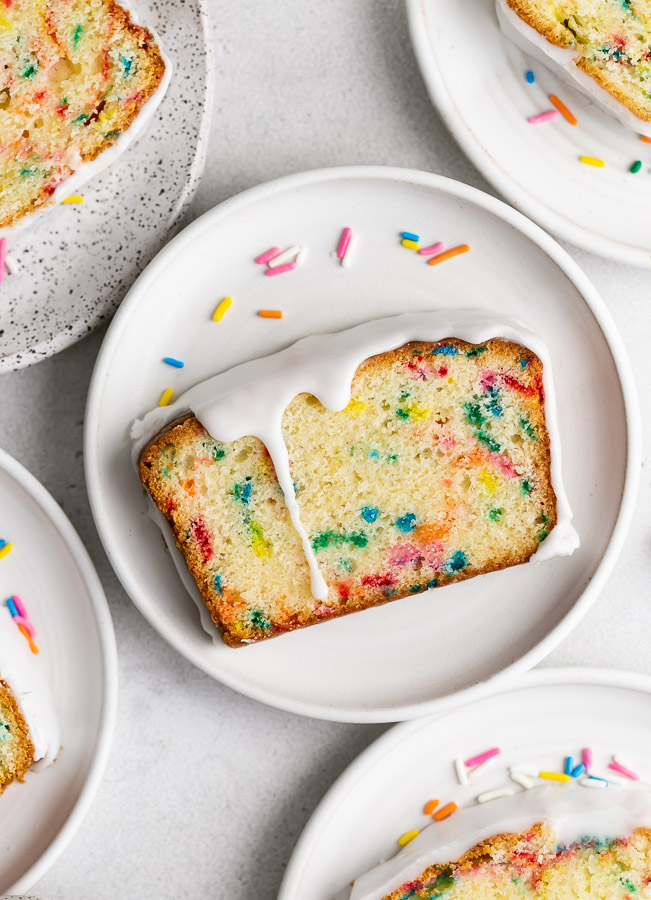 HOW TO MAKE THE PERFECT VANILLA GLAZE
This sprinkle stuffed cake is delicious all on its own, but it's made even sweeter with the addition of a simple vanilla glaze. Here's a few tips to whip up a silky smooth glaze in no time.
Sift the sugar. I'm not usually one to sell you on sifting (#lazybaker) but sifting is a must for a silky smooth glaze. The extra 60 seconds it takes to sift the sugar is so worth it.
Use whole milk or heavy cream. Use whatever you have on hand – I reach for the whole milk 9 times out of 10 when it comes to this simple vanilla glaze. Keep in mind that the glaze is very forgiving. If you add too much milk you can easily correct with an extra bit of confectioner's sugar and vice versa.
Thicken with Greek yogurt. To keep this pretty glaze from sinking straight into the cake I like to add a tablespoon or two of Greek yogurt. It thickens up the glaze perfectly and you won't even know it's there. Greek yogurt is my favorite secret ingredient!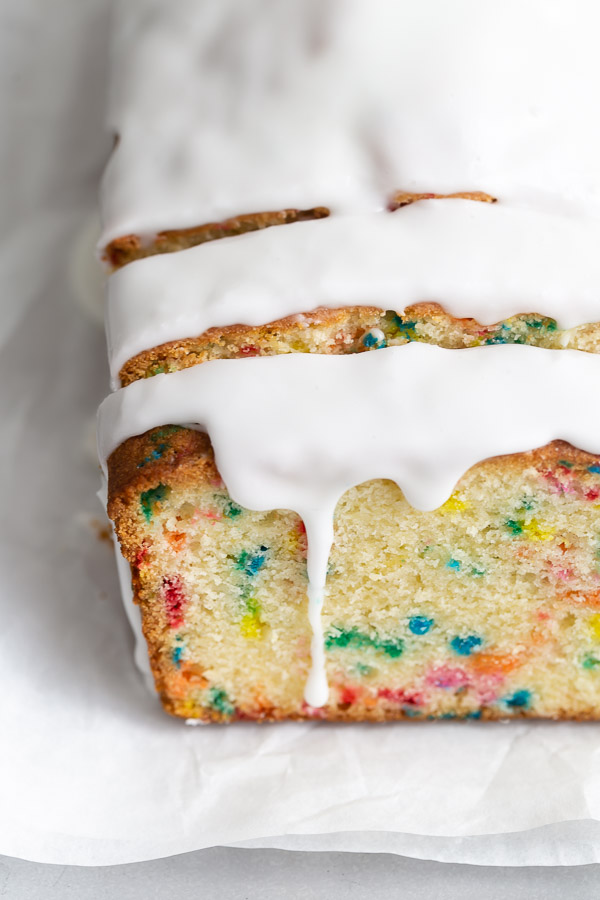 HOW TO STORE FUNFETTI POUND CAKE
I promise you this sprinkle stuffed pound cake won't last a day on your kitchen counter. Everyone in my house always comes back for a second slice. If you do have a few slices left over, cover them tightly and store at room temperature. Do not store this cake in the refrigerator as it will dry out quickly. This cake freezes beautifully although I suggest freezing it whole before adding the glaze. Simply defrost the cake at room temperature and then glaze just before serving.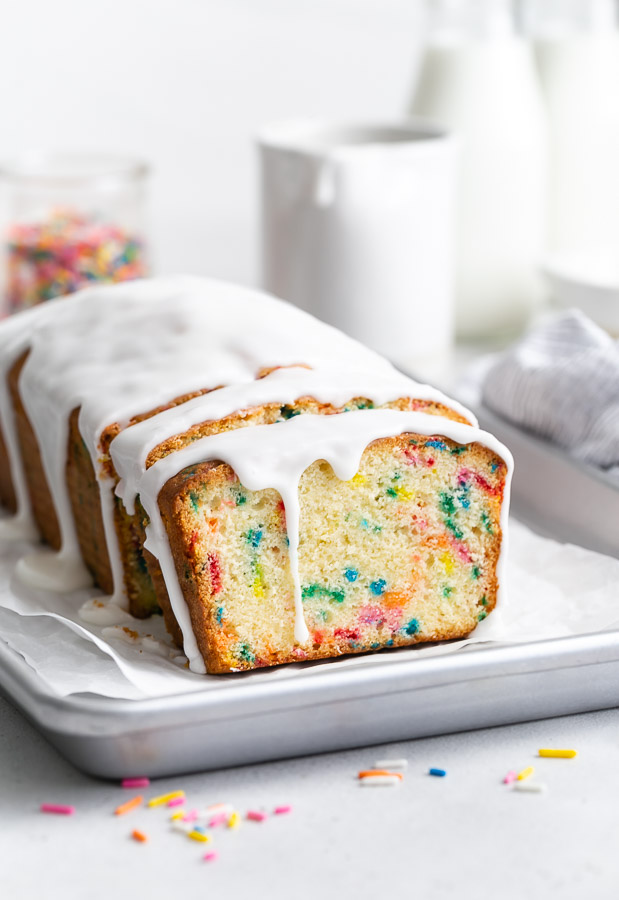 I hope you'll try this funfetti pound cake for your next cake eating occasion. Better yet, I say you make today a party and bake this cake! It's nothing fancy but it sure is fun!!
Happy baking!
If you love this Funfetti Pound Cake, you'll also love:
Easy Funfetti Sugar Cookies
Classic Vanilla Pound Cake
Glazed Old Fashioned Donut Cake
Frosted Sugar Cookie Bundt Cake