These rich and buttery Easter candy blondies are easy to make in less than an hour with no fancy equipment. Topped with pretty pastel candies, they make the perfect treat for your springtime celebrations.
Easter Candy Blondies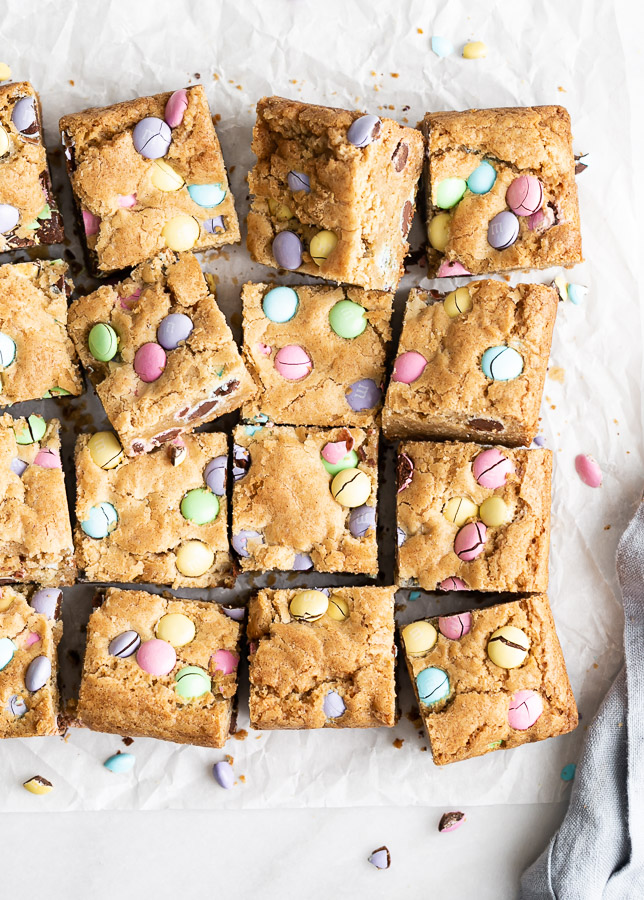 Hi, hello, howareya??? It's been a minute since I've posted here and fingers crossed you'll accept these extra thick and buttery blondies along with my sincerest apologies for my absence. I've missed you friends and I am so excited to share what I've been working on behind the scenes. More on that later, but for now, let's talk about blondies. If you are looking for a super last minute dessert option for your Easter buffet, I've got just the thing for you. These pastel speckled blondies are nothing fancy, but what they lack in tricky technique they make up for in rich, buttery, chewy deliciousness.  In case you hadn't noticed, I kind of have a thing for blondies. With their crispy, caramelized edges and gooey insides, there's nothing not to love about a good blondie. Let's get right to it.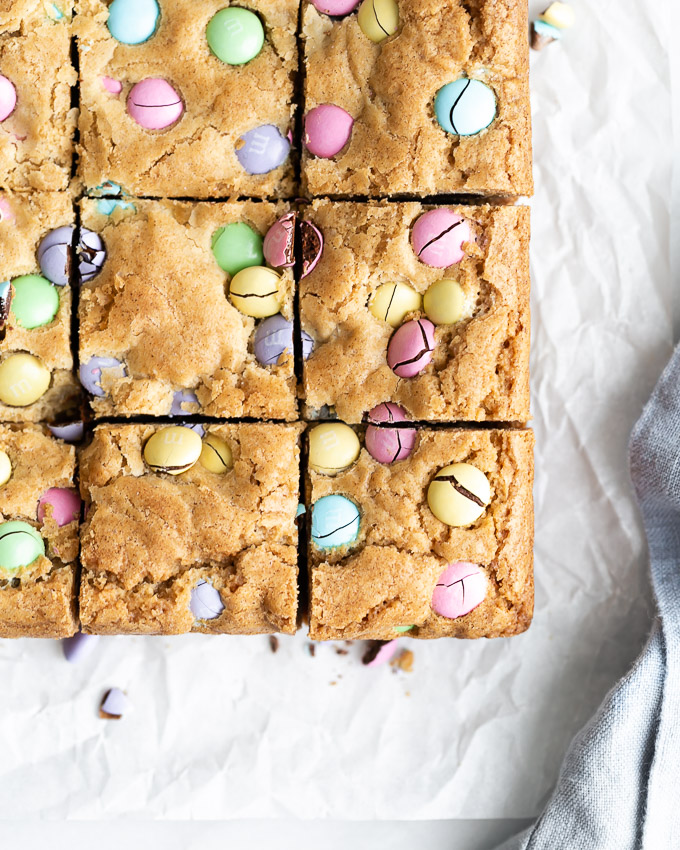 WHY ARE THESE BLONDIES SO GOOD?
I've got three words for you. No. Mixer. Required. I love a quick and easy dessert that I can whip up on a whim without breaking out all the big equipment. All you need to make these delectable blondies is a couple of bowls, a whisk and a wooden spoon. These blondies are almost too easy to make. It's no wonder they are on repeat in our kitchen. Just stir the wet ingredients together, add in the dry and bake! That's it!! There are no special baking skills required. If you can melt butter, you can make these blondies. They're always a crowd pleaser and you can swap out the candies for whatever treats you have on hand. Honestly, you really have no excuse NOT to make these blondies!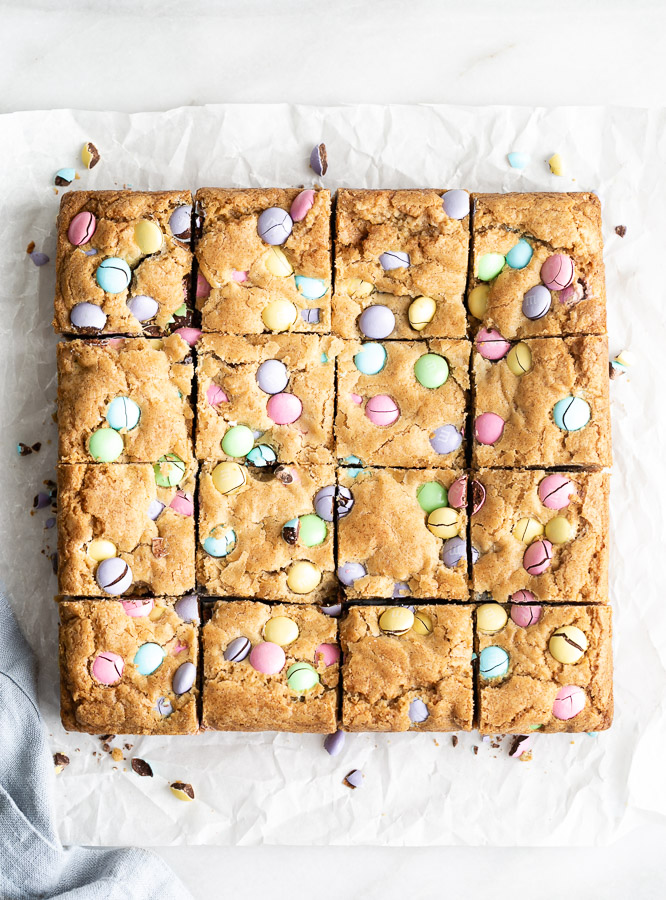 INGREDIENTS YOU NEED FOR EASTER CANDY BLONDIES
These blondies are the perfect last minute treat and they come together in minutes with just a short list of pantry staples. Add a handful of Easter candy in pretty pastel colors and you've got a fun and festive treat that all of your honey bunnies will love! Here's what you'll need….
Flour. This recipe calls for both all-purpose flour and bread flour. I love the extra chew that bread flour lends to these blondies but if you only have all purpose on hand, don't sweat it.
Butter. I like to stick with unsalted butter so that I can control the amount of salt in the recipe. And be sure to cool the butter according to the recipe directions or you might risk curdling the eggs. If you're in a hurry, pop the melted butter in the fridge for a few minutes to speed things up.
Eggs. Just two eggs, lightly beaten is all you need for thick, chewy blondies. The eggs should be at room temperature. If you forget to set the eggs out in advance, just place them in a bowl of warm water for 10 minutes and you're good to go.
Sugar. We'll use both light brown sugar and granulated sugar for sweetness and texture. Feel free to use dark brown sugar in place of the lighter version of that's what you have on hand.
Vanilla. Because blondies are made with so few ingredients, every ingredient counts. For the very best flavor, always use a high quality vanilla extract. I love this one from Rodelle.
Baking powder.  Just a dash helps make these blondies extra thicckkk!
Salt. A heaping teaspoon of kosher salt helps balance the sweetness from the sugar and chocolate candies.
Easter M&M candies. Peeps! Save this recipe for your leftover Easter candy. Pretty pastel candies make these blondies extra cute. For a little crunch in every bite, mix some into the batter and sprinkle the remainder on top just before baking.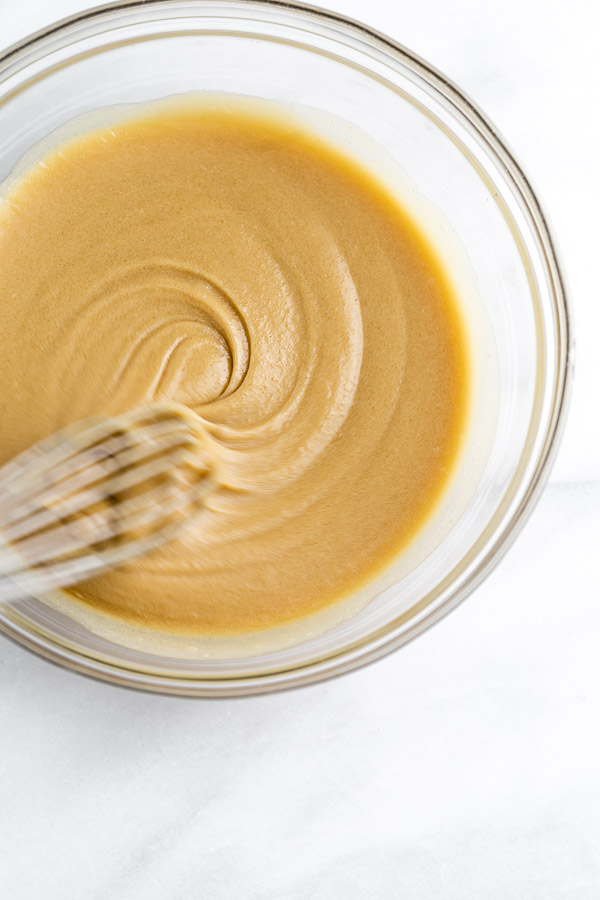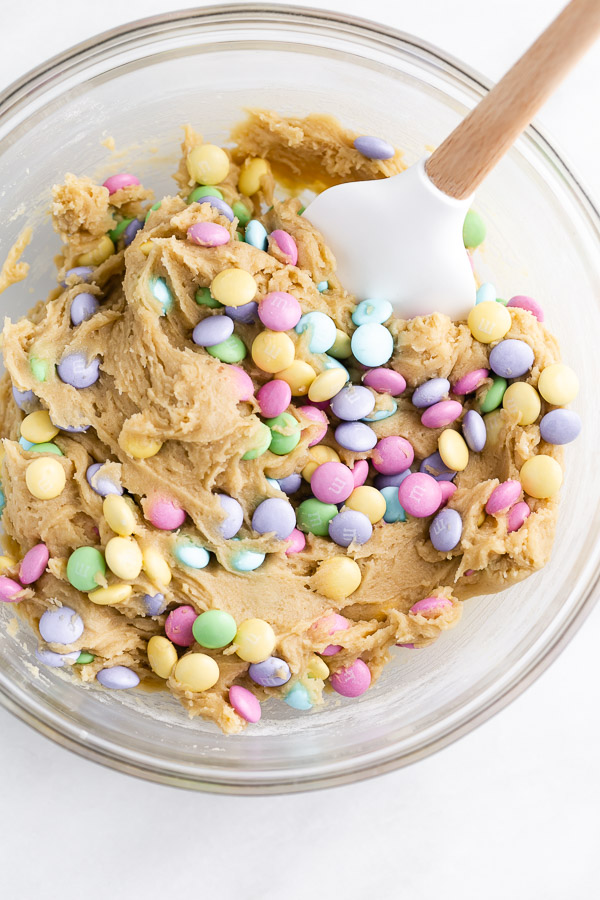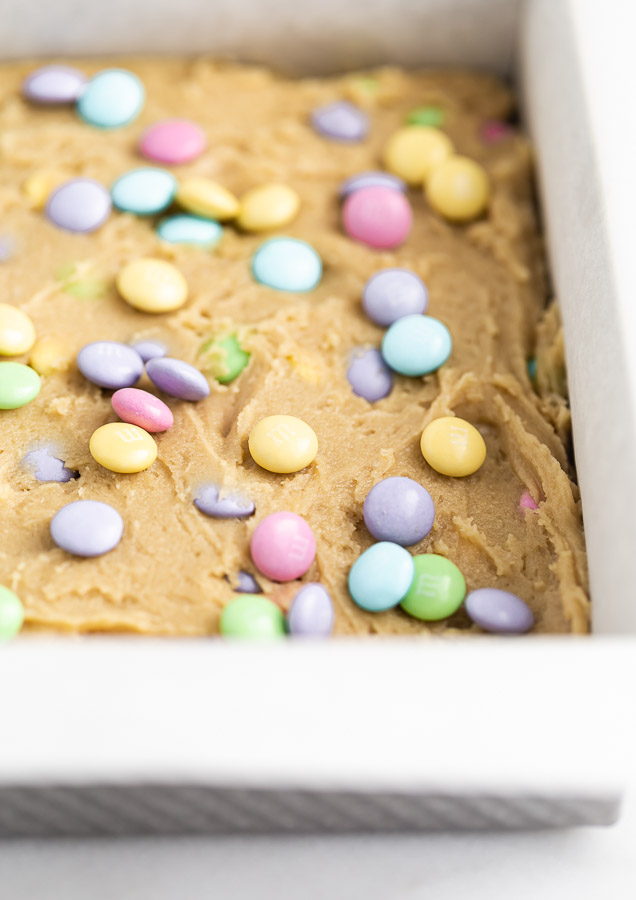 HOW TO MAKE THE BEST BLONDIES
Blondies, like homemade brownies, are meant to be soft and gooey on the inside with crisp, chewy edges. They are crazy simple to make and they're almost impossible to mess up. There are a few universal truths when it comes to blondies. Follow these tips and you'll be golden.
Let the butter cool. This recipes starts with melted butter which is always a bonus. No need to let it sit out to reach room temperature. You will need to wait for the butter to cool off a bit once it's melted. I give you permission to take a 20-minute cat nap while you wait.
Do not over mix the batter. Over mixing can stimulate too much gluten to form which creates a dense, dry blondie. Once you add the dry ingredients, keep the stirring to a minimum and resist the urge to continue mixing. A few streaks of flour remaining is perfect!
Line the pan with parchment. This tip makes your life so much easier when it comes time to cut the blondies. Just pull up on the parchment for an easy release from the pan. Works like a charm every time!
Do not over bake. Blondies should always be slight under baked. The end.
Cool completely before slicing. Listen, if you want crisp, sharp edges you'll need to cool the blondies completely before slicing. But if you want to eat these blondies warm straight out of the pan, I totally get it. Soft, warm, gooey blondies are the best and that's just facts.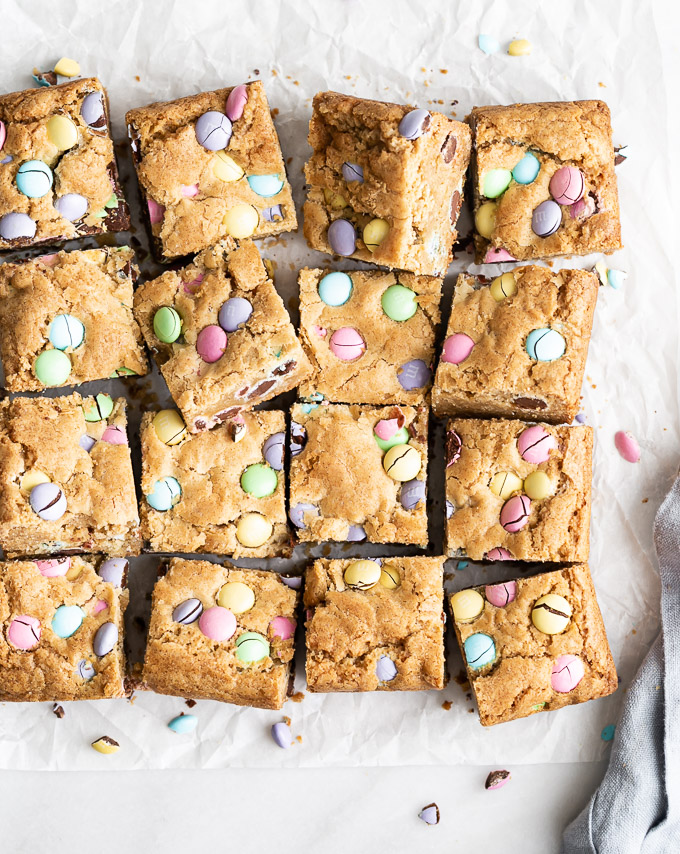 LET'S TALK SWAPS
These blondies are full of soft, buttery, chewy deliciousness in every bite and the beauty of this recipe is that you can swap out the chocolate candies for whatever you have on hand. There are no rules so throw in whatever tempts your sweet tooth. Here's a few of my faves…..
Peanut M&M's
Malted Chocolate Eggs
Mini Reese's Peanut Butter Cups
Rolos
Mini Cadbury Chocolate Eggs
White Chocolate Chips
Your favorite nuts!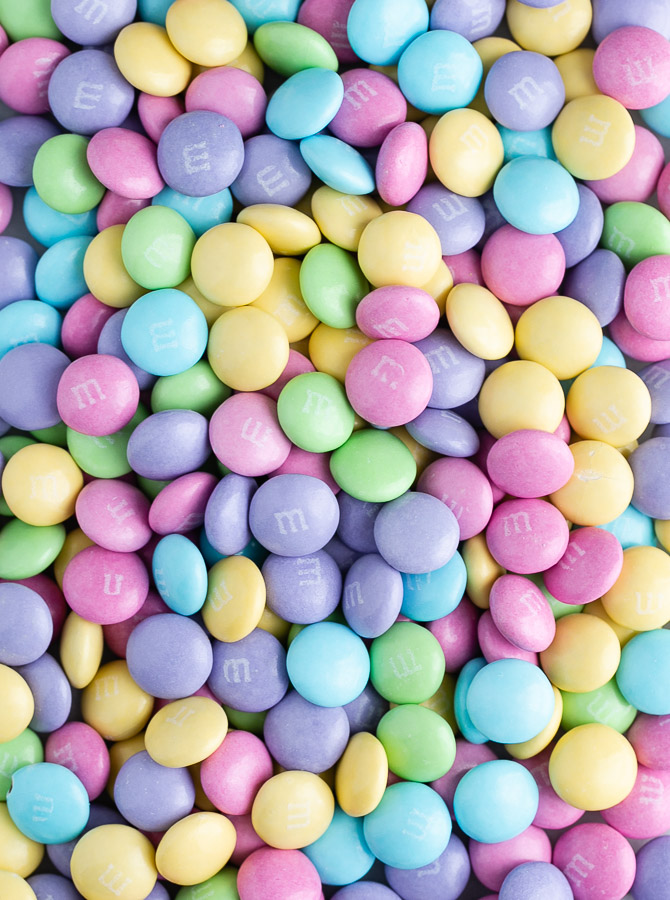 CAN I MAKE THESE BLONDIES GLUTEN FREE?
You definitely can make these Easter candy blondies with your favorite gluten free flour blend. Keep in mind that the results may be slightly less chewy and more dry. Keep an eye on your oven and be sure to under bake the blondies by as much as 5 minutes to prevent them from drying out. Gluten free blondies will not stash soft and chewy as long as traditional ones, so tightly wrap any left overs and send them off to your freezer stash sooner than later.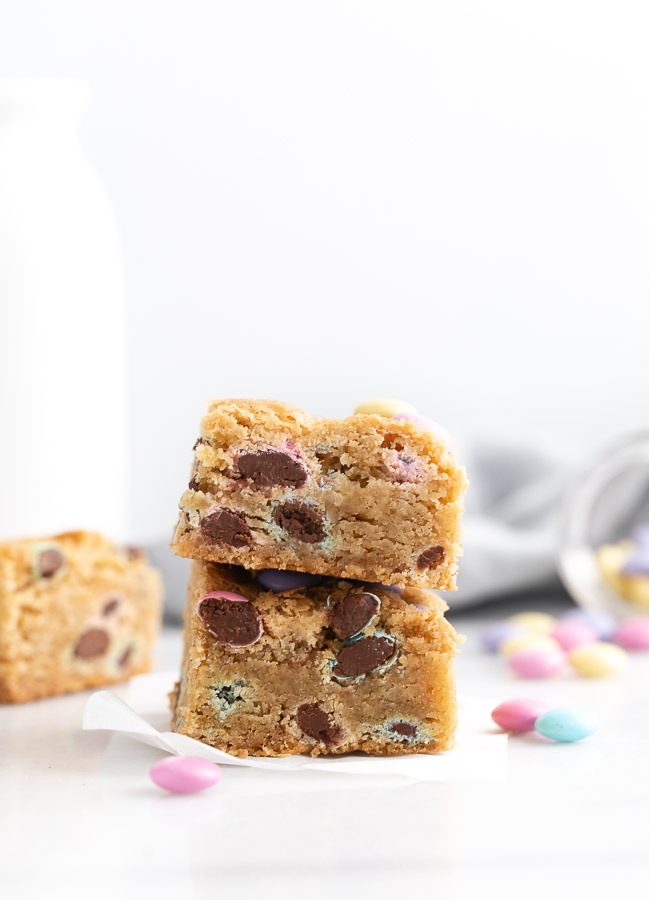 HOW TO STORE EASTER CANDY BLONDIES
Good luck not eating every last square of these buttery blondies right out of the pan. If you do have any left, call me and I'll be right over!! You can also stash away any leftovers in the freezer. Tightly wrap them in plastic wrap and then seal in a plastic freezer bag for maximum freshness. Defrost the squares at room temperature for a quick and delicious treat when the craving strikes.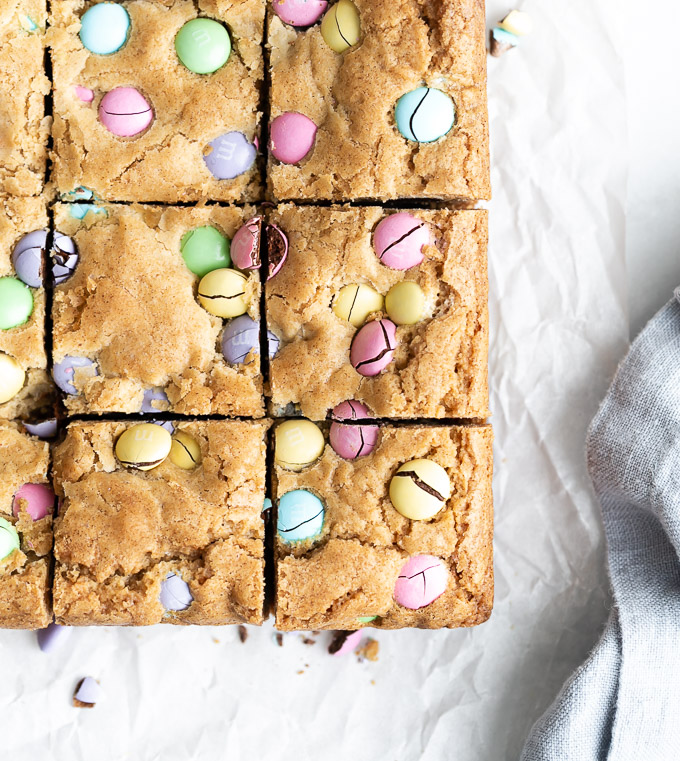 If you love blondies half as much as I do {which is a LOT}, I promise you're going to love these Easter candy blondies. Now hop to it and go make some blondies!
Happy baking! xx