A rich, perfectly moist and super chocolately muffin that bakes up in under thirty minutes. These double chocolate espresso muffins are the perfect wake up call any day of the week.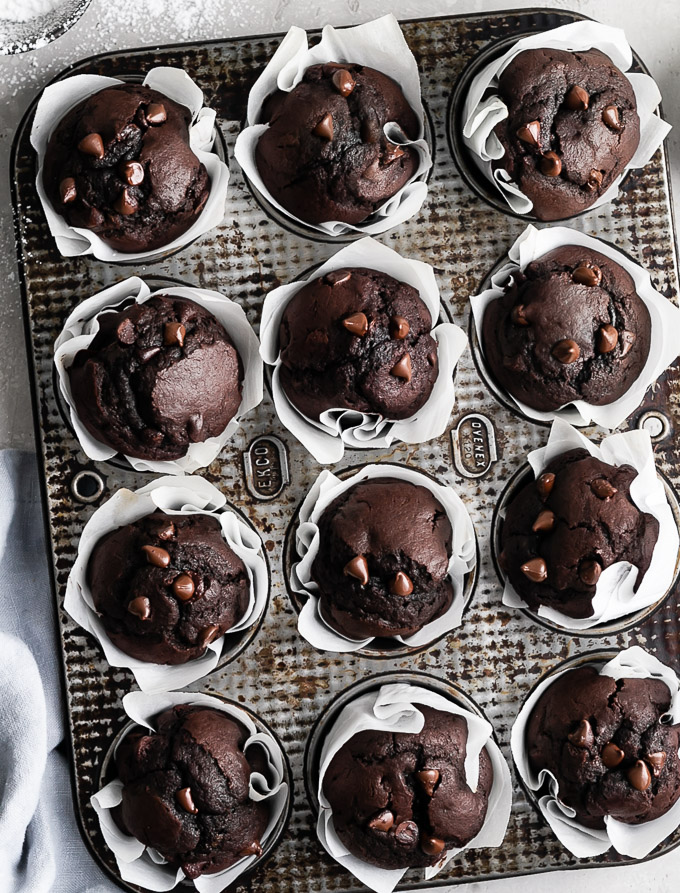 Happy February friends! I'm back with another better than ever recipe that I originally wrote just after New Years way back in 2019. Since the start of the year I've been digging deep into the archives and reshooting images of your favorite recipes here on the blog….it's a bit like taking a walk down memory lane. Also a little like finding old photos of yourself from the early 90's. You know, the ones you want to hide in an old shoebox and only look at once a decade. All kidding aside, these double chocolate espresso muffins remain one of the most viewed recipes on my site and they were long overdue for a fresh new look. Given how many eyeballs have been on these muffins since they made their debut, it's clear we all agree that chocolate for breakfast is the best way to start the day. If you haven't made these muffins yet – the time is now.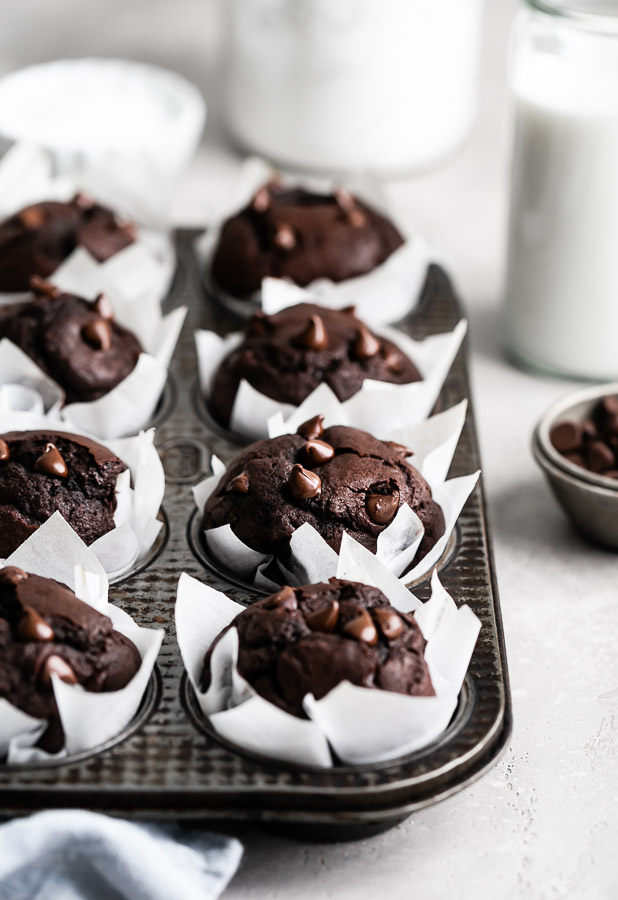 Whether you're a coffee drinker or not, these muffins are sure to be your new favorite jump start to any day ending in a "y". Rich and decadent, this grab-and-go breakfast is loaded with heaps of chocolate and the perfect hint of espresso that puts these muffins in a league of their own. They're moist as all get-out and I highly recommend a tall glass of almond milk or a even a latte to savor alongside this dreamy chocolate goodness. These dark and decadent muffins could easily double as a cupcake so be sure to file this recipe under breakfast that doubles as dessert.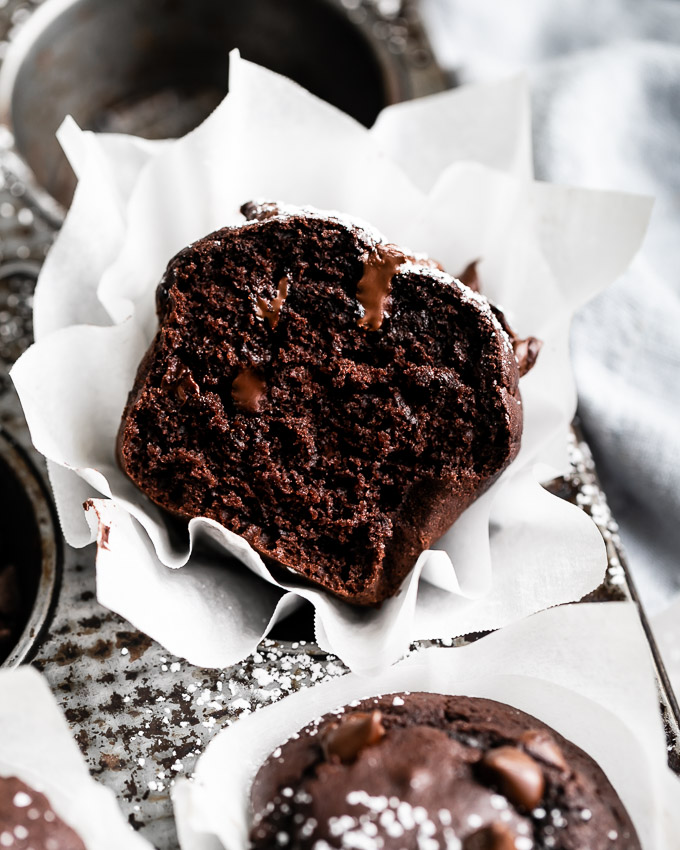 Why are these muffins so good?
If the words double chocolate espresso muffins don't send your sweet tooth swooning, let me list a few more redeeming qualities about these totally irresistable muffins. Not only are they made with just 8 simple ingredients, but you can whip up the batter in under 10 minutes without even breaking out a mixer. Just thirty minutes and a muffin pan stand between you and a warm batch of these rich and chocolatey muffins. Did someone say chocolate for breakfast? Umm, yes please. They have a soft, cakey interior, ever so slightly crispy tops, and are chock full of melty chocolate goodness. As if that's not enough to write home about, you'll be happy to know these muffins freeze beautifully which makes them perfect for hurried mornings on the go. If you need a reason to get up and outta bed in the morning, look no further!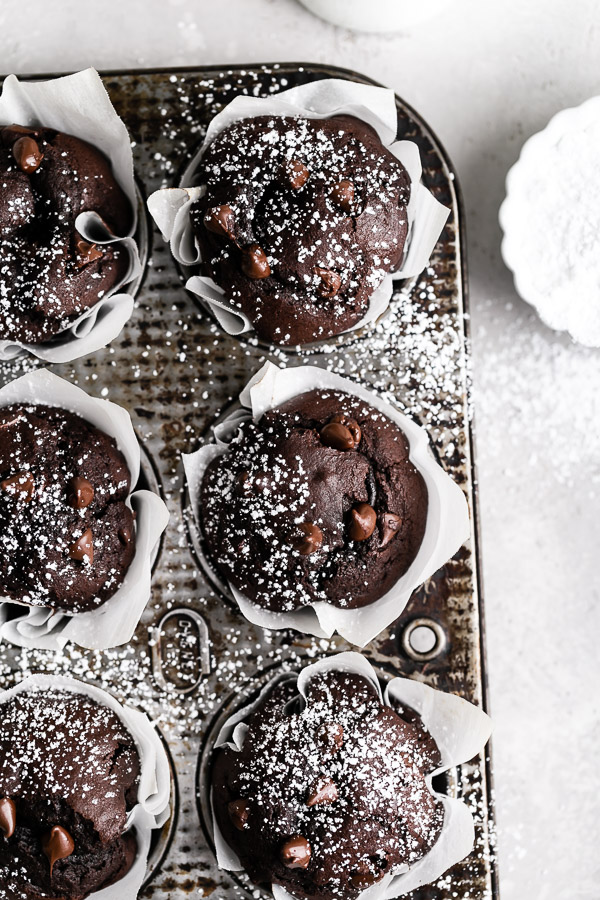 Ingredients for double chocolate espresso muffins
These ultra chocolatey muffins come together easily with just a few basic ingredients. You can break out the big mixer or just use a couple of bowls and a whisk. Either way, these muffins bake up perfectly every time. Here's what you need to make these best ever chocolate muffins:
Flour
Chocolate
Butter
Sugar
Eggs
Buttermilk
Espresso
Vanilla
Salt
Tips for the best muffins
Don't skip the espresso. I tested these muffins every which way and I'm here to tell you that a hint of espresso makes these muffins really shine. Strongly brewed coffee works in a pinch so feel free to substitute. The espresso works to enhance the flavor of the chocolate but your muffins will not taste like a cup of coffee. Promise.
Do not over mix the batter. Muffin batter needs a light hand so don't expect to get much of an arm workout here. Keep the mixing to a minimum and only stir in the dry ingredients until barely incorporated. Too much mixing leads to tough, dense muffins. A few streaks of flour remaining is a-okay!
Make your own muffin liners. I'm all about making homemade treats look extra fancy. To make your muffins look like they're straight out of the neighborhood bakery, all you need is a few sheets of plain parchment paper and a pair of scissors. Simply cut squares of parchment (I use 5″ squares), offset two squares and press them into the muffin pan cavities using a skinny juice glass or small aluminum can. When the batter is ready, fill the muffin liners over the top of the muffin pan just a bit and your muffins will rise up nice and tall. It's that easy!
Spread the muffins out. To get those towering, perfectly domed muffin tops, only fill every other cavity in the muffin pan. If space allows in your oven, use two muffin pans and bake 6 muffins in each pan. This gives the muffins room to rise and helps create those drool-worthy bakery style muffin tops.
Bake at a high temperature. If you've never been able to get those picture perfect rounded muffin tops, give this tip a go. Bake the muffins at 425 degrees for the first 5 minutes. Then, without opening the oven door, reduce the temperature to 350 degrees for the remainder of the baking cycle. Once the muffins are baked, turn off the oven and pull the oven rack out slightly, leaving the muffin pans on the rack for 5-10 minutes. This helps prevent the muffins from falling from rapid temperature changes.
Do not over bake. These muffins are meant to be rich and fudgy with a light and fluffy texture so it's important not to over bake them. The muffins are done if the tops spring back when lightly touched and a toothpick inserted into the center of the muffins comes out clean with just a few crumbs remaining. For an extra chocolatey muffin, under bake them just a smidge and place a few chocolate chips on the top of each muffin immediately after turning off the oven. The more chocolate, the better I always say!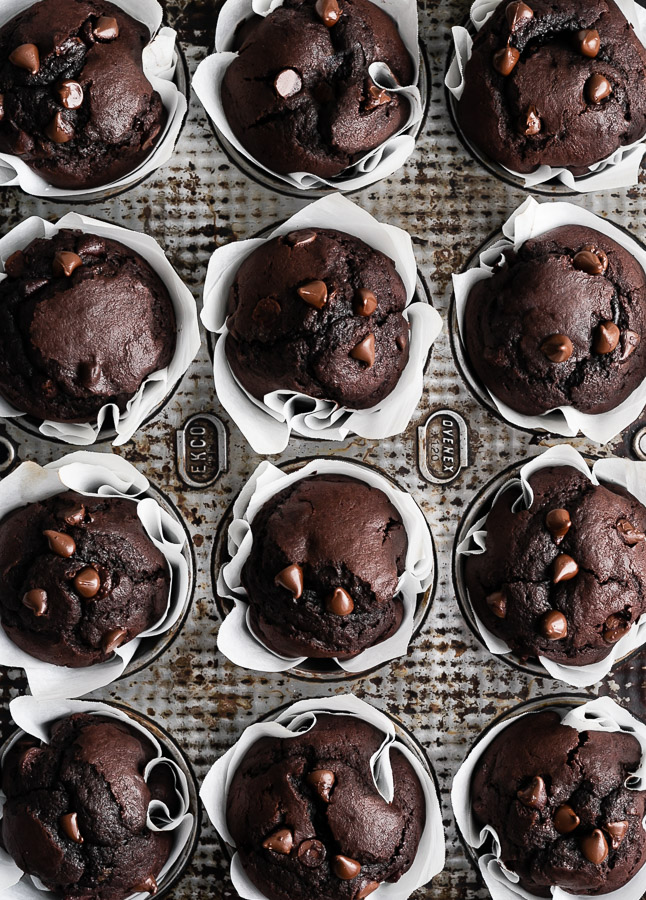 Can I make these muffins gluten free?
Yes! Gluten free muffins are easy to make with a simple swap for your favorite g-free flour. Just check that the flour blend contains xanthum gum for best results. Gluten free muffins sometimes get a bad rap for being on the dry side, but the buttermilk in this recipe helps to keep the muffins moist and fresh for days. Keep them tightly covered and reheat them in a warm oven or 10 seconds in the microwave before serving.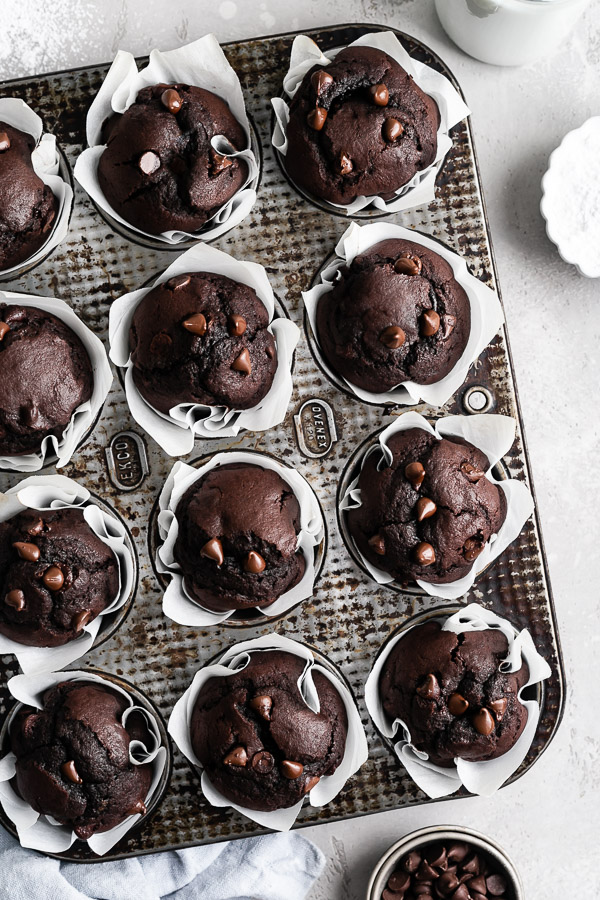 Don't let this recipe get away bakers. It's by far one of my favorites because no one can be mad about chocolate for breakfast. Add a dusting of powdered sugar and it's a picture perfect wake up call. My kids aren't coffee fans of course but they love, love these double chocolate espresso muffins. They're a real treat and this baker mamma loves that I can make a dozen to last the whole week. Pro tip: make two batches and thank me later.
Happy baking!