Chocolate mocha cream pie is made with a rich, creamy and ultra chocolately filling paired with a crunchy chocolate crust and a cloud of fluffy whipped cream. An easy and delcious, almost no-bake pie perfect for any occassion!


Happy Friday bakers!! We've made it through yet another week, and that my friends, is something worth celebrating. I like to deliver a little something sweet to your inbox on Fridays as often as I can just in case you are looking for a little inspiration for a weekend baking project. Plus, our month long chocolate party here on the blog is ending in just two short days and I promised you this chocolate lover's pie. And I always keep my promises.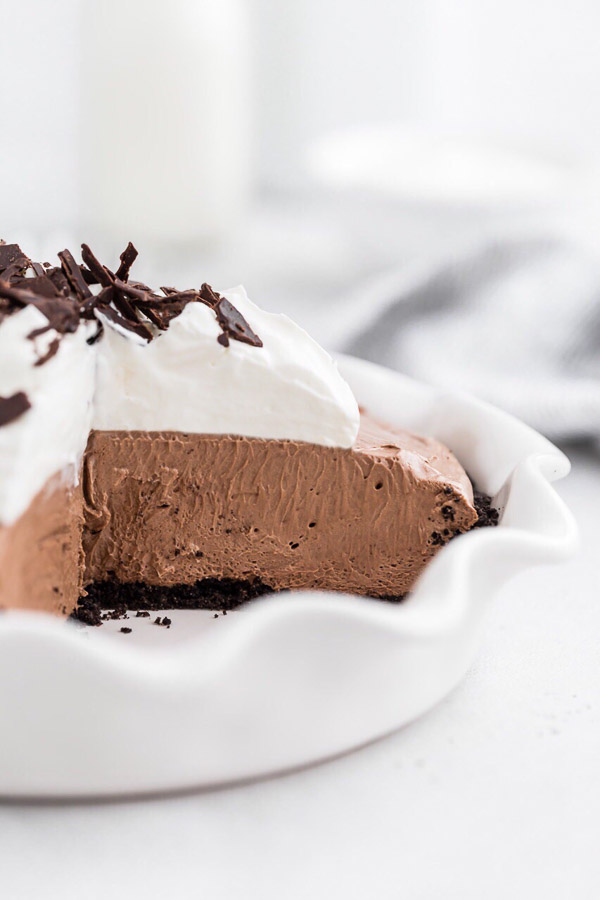 Today's post is short and sweet. I know, I know. I say that every time and then I ramble on and on and on. But our fam is getting set to take off for a long weekend getaway in the sun and sand which means I've got a very long to-do list that seems to be growing longer by the minute. In true getting-out-of-town-is-hard-to-do fashion, I'm currently ignoring my to do list in hopes that it will just magically disappear. So in today's installment of what should be called The Procrasti-Baker Blog, we're talking all about this dreamy chocolate mocha cream pie that really needs to be added to your list of to-dos.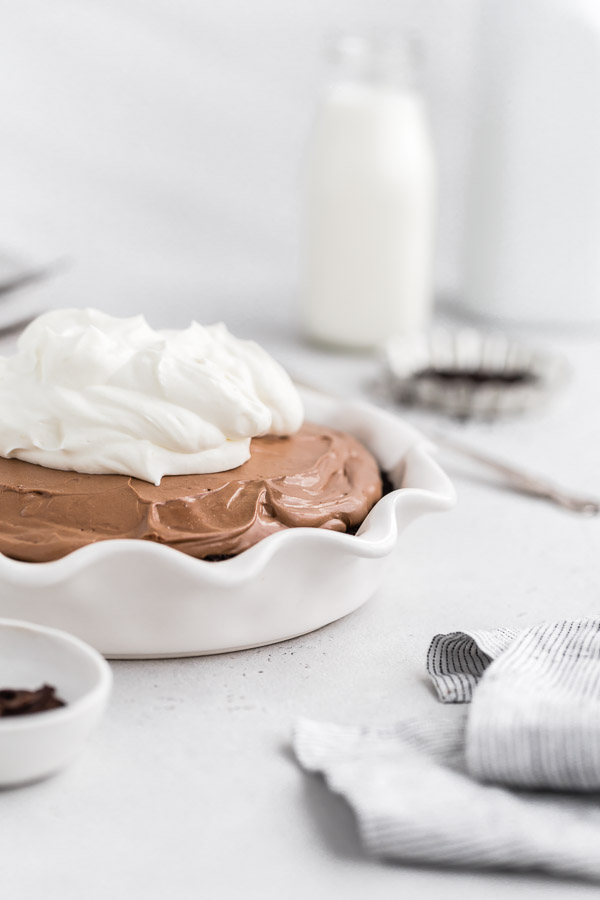 If this isn't the dreamiest vision of pie you ever did see, then I'm not sure we are looking at the same thing. This delicious twist on the classic french silk pie has a crunchy chocolate cookie crust, a silky smooth mocha chocolate filling and is topped off with a cloud of freshly whipped cream. It has just the slightest hint of mocha flavor thanks to a tad bit of espresso. Don't worry if you aren't a coffee dessert lover…it's just a smidge of flavor that went completely undetected by anyone in my household under the age of sixteen. The flavor is unreal and the texture is ah-mazing!! Honestly, words don't do this chocolate mocha cream pie justice….you just have to try a slice of this heaven to see for yourself.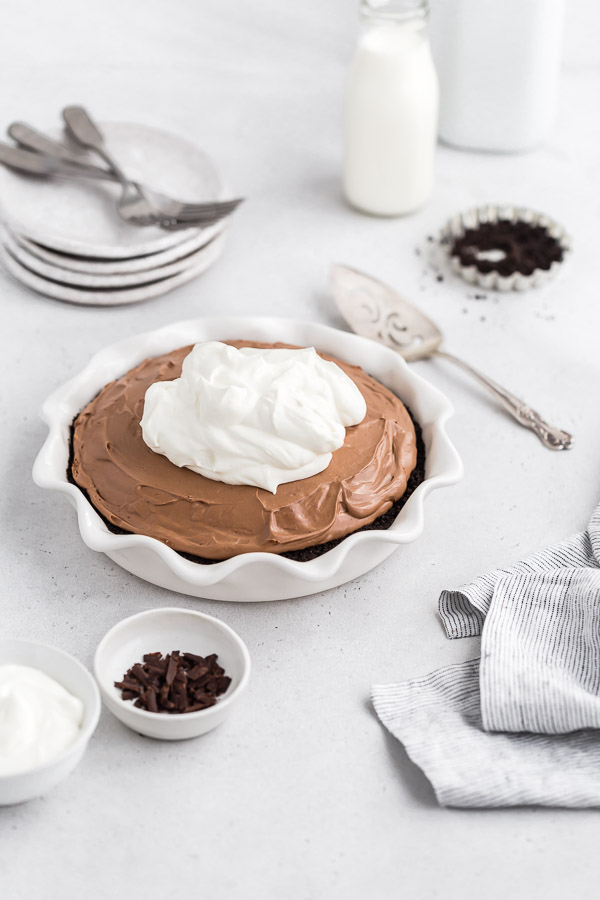 To make this pie we start with the crust. And by crust I mean that extra thiicckkk layer of crunchy, chocolatey goodness made from yep, you guessed it. Oreos! Have you ever met a pie you didn't like with an Oreo crust? I mean, the more chocolate we can stuff into a pie the better, right?? Now you could totally go out and buy a ready made crust from the store which is perfectly a-okay in my book. But ladies and gentleman, this crust could not be easier to make with just two ingredients. Yep. All you need is a bag of Oreos and a few tablespoons of butter. And if crushing up Oreos isn't the best kind of free therapy, I'm not sure what is.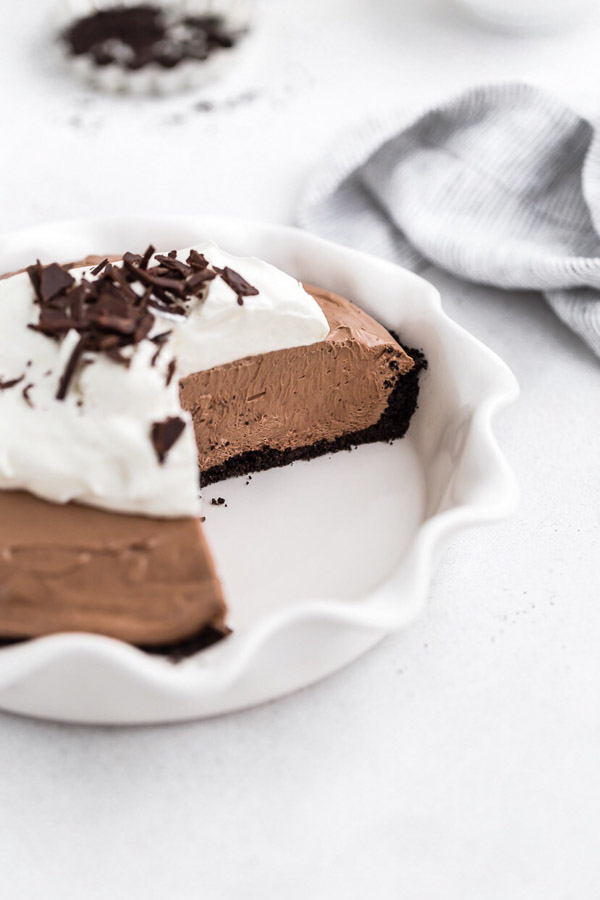 The thing I love most about this chocolate mocha cream pie, aside from all that chocolatey, ultra fluffy goodness, is that it's practically a no-bake recipe. All you need is a scant ten minutes in the oven to firm up the crust. That's it. Couldn't be easier. Once the crust is baked, set it aside to cool completely while you mix up the filling.
We start by whisking together the eggs and sugar over medium heat until the mixture is thick and creamy. You'll need a reliable instant read thermometer for this step, check out this one that I use constantly in my kitchen. Once the mixture is thickened, we stir in the melted chocolate, vanilla and espresso powder. Allow this to cool a bit, stirring every so often. Next we beat the butter until light and fluffy before adding the cooled chocolate mixture and beating for a full 5 minutes until light and silky.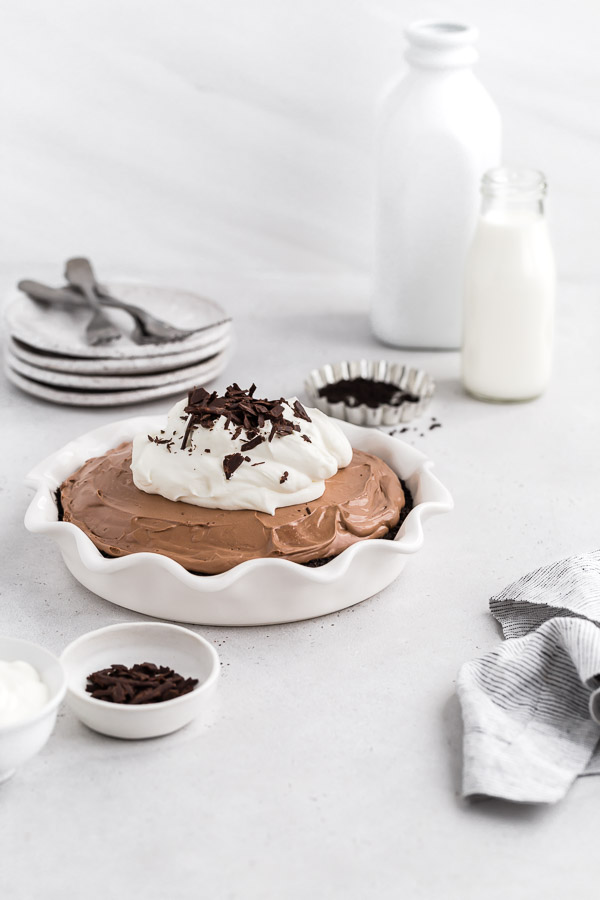 The last step is to whip the cream until it just barely reaches stiff peak form. Don't be tempted to over whip your heavy cream. We are going for silky smooth, light as air fluff factor here. Now comes my favorite part. Folding the whipping cream into the chocolate mixture. Go easy on the mixing and be sure to fold from the bottom up and around the bowl, turning the bowl as you go. Once the whipping cream is fully incorporated, you'll pour the ultra fluffy filling over the Oreo crust and top with more heavy whipping cream. You know, cuz more is more. I kinda of like the look of naked pie, that puffy cloud of whipping cream is just heaven in a pie dish. But you can garnish the top with chocolate shavings, cookie crumbs, or mini chocolate chips. The sky's the limit!
TIPS FOR MAKING THE BEST CHOCOLATE MOCHA CREAM PIE
There are several extra steps and a few extra bowls to wash in the making of this recipe. But please don't let that deter you…it's SO worth it!
This recipe is short on baking time but big on chill time so be sure to plan ahead and allow for ample chill time before serving. I recommend reading through the recipe once or twice before beginning.
If you prefer a milder, less sweet flavor, you can substitute bittersweet chocolate for the semi-sweet chocolate.
When whipping the heavy cream, use a hand held mixer rather than a stand mixer. Whipping cream can be challenging as it can go from perfectly whipped to perfectly curdled in a hot second. I like to turn off the mixer once the peaks reach soft peak stage and whisk it by hand until it's perfectly fluffy and holds its shape.
To cut the pie, use a large, sharp knife to cut into the chilled pie. Run the knife under warm water and wipe with a dish towel between each slice for best results.
Happy weekend and happy pie making bakers!

If you love this chocolate mocha cream pie, you'll also love:
Chocolate Hazelnut Tart
Chocolate Lover's Cheesecake
Dark Chocolate Mousse Cake