A rich and fudgy double chocolate banana bread that is the perfect balance of chocolate and banana. What breakfast dreams are made of!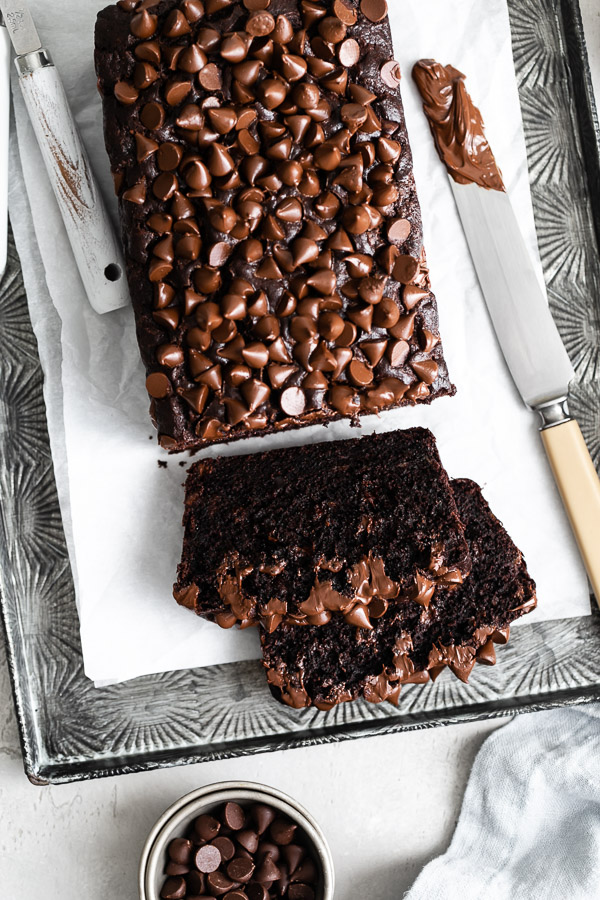 I'm pretty sure I was a monkey in my past life because I loooveeee bananas!! Like I'm bananas for bananas! I have one nearly every morning for breakfast and it's been a habit for as long as I can remember. Good thing they are chock full of potassium and lots of other good for you nutrients. I know, I know. You're thinking this banana bread looks pretty darn rich and fudgy and surely she doesn't eat this for breakfast. Let's get one thing straight. This is breakfast food. Don't try to convince me otherwise.
It's made with three whole bananas which is fruit and fruit counts as breakfast. Also, there's a generous dollop of greek yogurt in the recipe so if you really think about it, it's basically health food.
Okay, maybe that's a bit of a stretch. But at the very least you can file this recipe under my favorite category…"breakfast that doubles as dessert".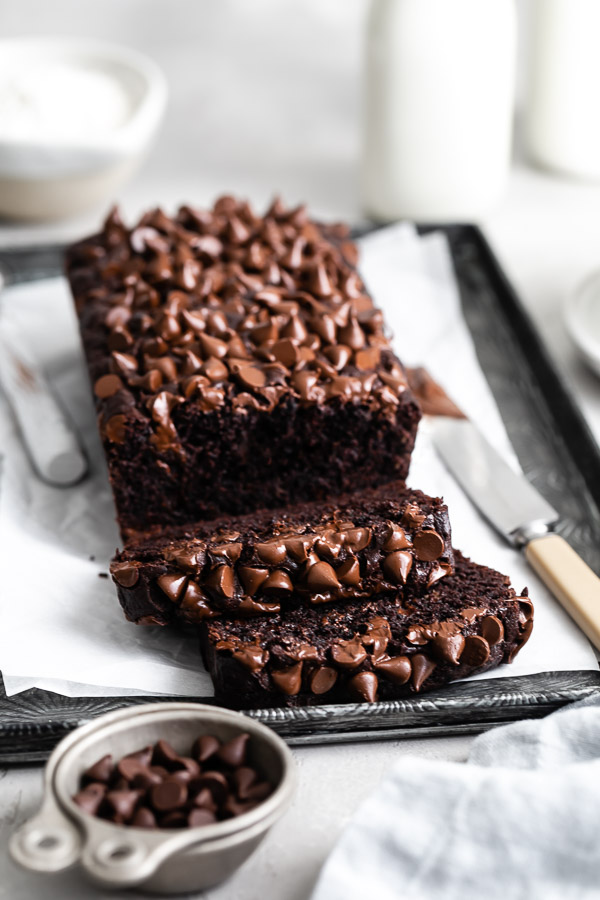 Why is this banana bread so good?
This chocolate lover's banana bread is the perfect balance of banana and chocolate. Leave it to me to use not one, but two, kinds of chocolate in this recipe because I'm extra like that. It's loaded with dark Dutch process cocoa powder and chocolate chips because more is better when it comes to chocolate.
This banana bread is soft, fudgy and perfectly chocolatey. It literally melts in your mouth. I use butter and greek yogurt to guarantee a next-level ultra moist texture that will have you reaching for a second slice every time. It's just that good!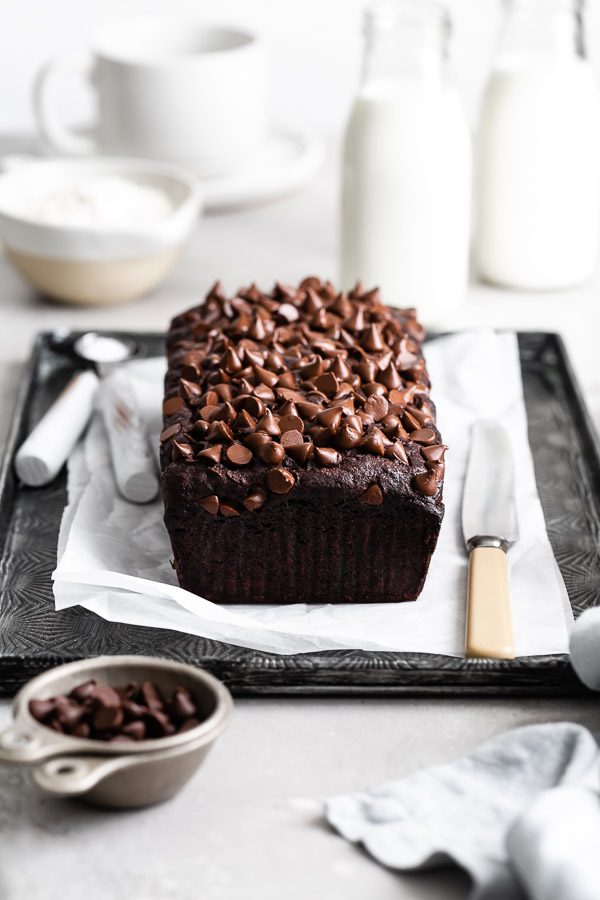 Things you need to make the best ever chocolate banana bread
Butter
Sugar
Eggs
Flour
Bananas
Cocoa powder
Greek yogurt
Baking powder and baking soda
Vanilla
Chocolate chips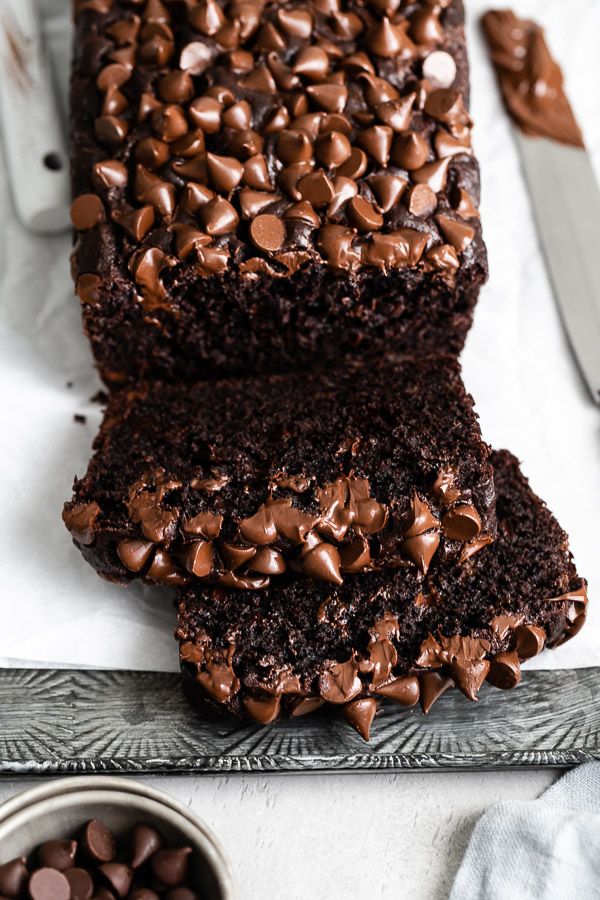 How to make the best banana bread
After a few attempts at making this bread, I finally got the recipe just right. I'm like Goldilocks when it comes to my banana bread. It can't be mushy. Not too banana-y. It definitely can't be dry. And it better not be bland. This chocolate lover's banana bread is none of those things and the following tried and true tips will guarantee you a banana bread worth waking up for.
Mash those bananas and mash them again. I am all in for plenty of sweet banana flavor in my banana bread but I'm not a big fan of chunks of banana in my banana bread. So to get that smooth texture with no lumps, mash those very ripe bananas until they resemble the consistency of baby food. Yep, just like the pureed stuff straight from the jar. You'll get all of the great banana flavor without any weird, unappetizing lumps of fruit hiding out in your bread.
Full fat greek yogurt is a must. Using yogurt in the recipe gives the bread added moisture and paired with the mashed banana, makes the texture of this bread something else. If you don't have full fat greek yogurt, you can substitute sour cream.
Butter is better! Butter gives the bread a richer flavor and a slightly denser texture than vegetable oil. I prefer butter over oil in the vast majority of my recipes and this chocolate lover's banana bread is no exception. Be sure to cool the butter slighty before mixing your batter.
Chocolate matters. This recipe calls for special dark Dutch process cocoa powder and a heaping cupful of chocolate chips. The Dutch process cocoa powder gives the bread a rich, deep chocolate flavor. I don't recommend using regular unsweetened cocoa powder. It just won't be the same and then you've wasted those perfectly brown bananas you worked so hard to ripen. I use semi-sweet chocolate chips in the batter and then sprinkle extra chips on top of the loaf before baking. My life motto definitely applies to this recipe….when in doubt, add more chocolate.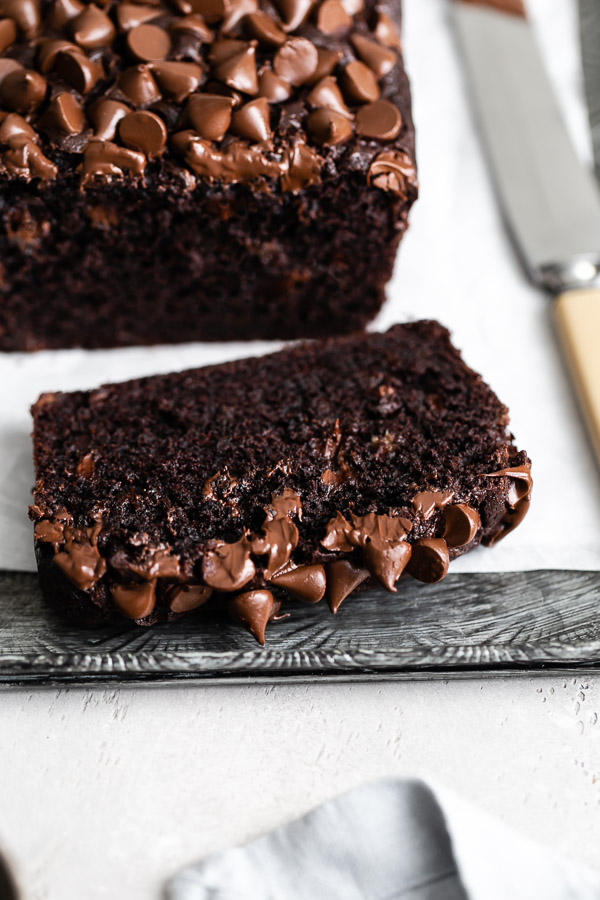 This chocolate lover's banana bread is pure bliss straight from the oven. But I will say it's might be even better the next day. I tested this theory and the bread holds it's moisture but also gets a bit more dense and fudgy as it sits overnight. Pro tip: make two loaves so you have plenty of leftovers for the second day. You'll be glad you did.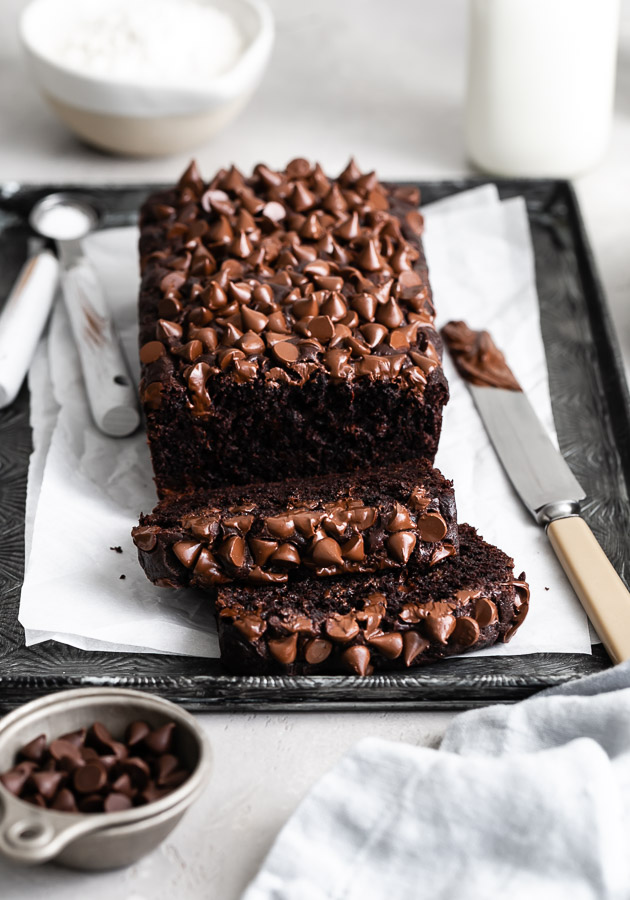 Can I freeze banana bread?
True story: I was testing this banana bread for the first time just before leaving for a ten day vacation. So I tightly wrapped the left over slices and threw them in the freezer and couldn't have been happier to find the freezer stash waiting for me after a twelve hour flight and a nine hour time difference. This slice of heaven is exactly what I needed! Moral of the story….it freezes well. Scratch that. It freezes perfectly!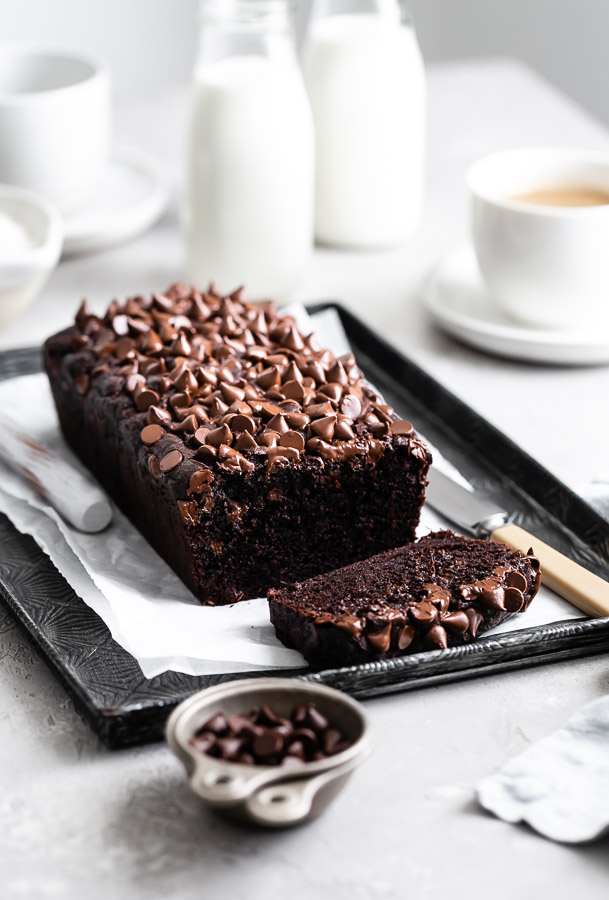 If you really want to take this banana bread up another notch, feel free to add nuts, coconut flakes, or even peanut butter chocolate chips. You can't go wrong with this banana bread. The possibilities are endless!
Happy baking!
If you love this Chocolate Lover's Banana Bread, check out these easy and delicious recipes:
Easy Chocolate Chip Banana Bread
Cinnamon Chocolate Chip Pull Apart Bread
Meyer Lemon Poppy Seed Cake
Easy Coconut Loaf Cake
The Best Chocolate Pound Cake