The very best carrot cake cupcakes I've ever had! Perfectly light and fluffy and topped with a dreamy swirl of luscious brown butter cream cheese frosting. Perfect for any occasion!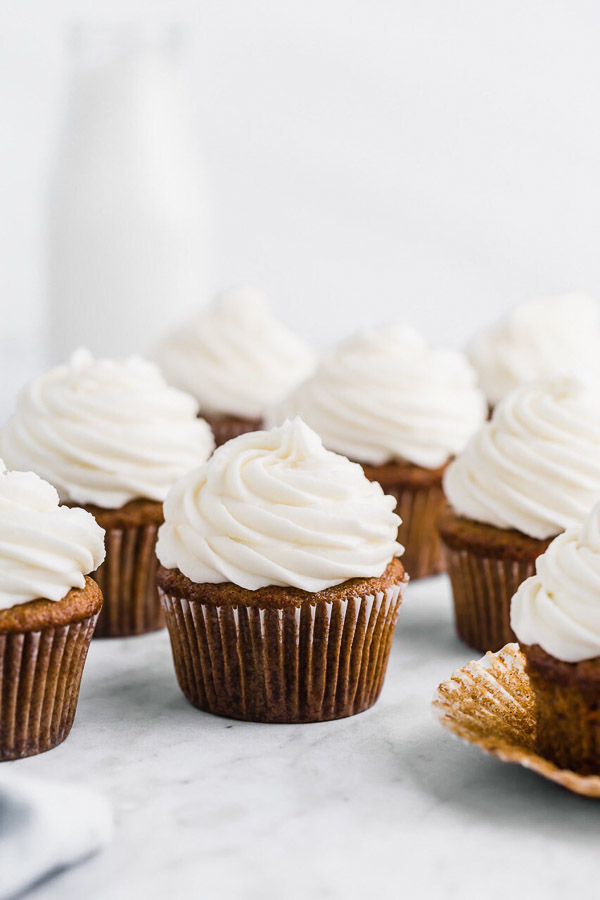 Classic carrot cake is one of my very favorite desserts. But the truth is I'm a bit like Goldilocks when it comes to my carrot cake. It can't be too heavy on the spices, absolutely no pineapple allowed, and don't even think about putting raisins in my cake. Not the biggest fan of walnuts in carrot cake either. Oh, and it better not be dry. I know, I know…. I'm super picky when it comes to carrot cake. But lucky for you, I've created the most perfect carrot cake cupcakes that exceed my very high carrot cake standards.
No doubt about it, these carrot cake cupcakes are THE BEST!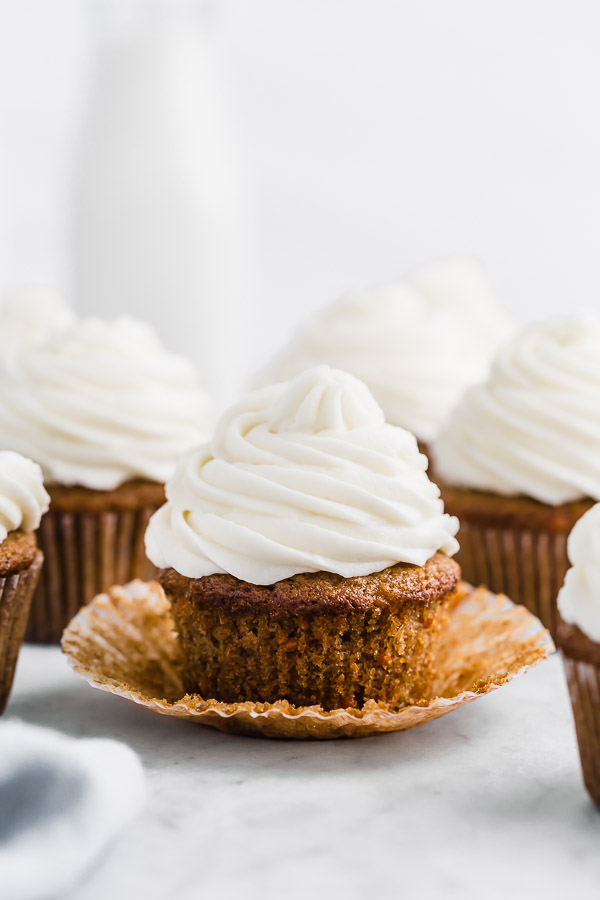 HOW TO MAKE THE BEST CARROT CAKE CUPCAKES
Use room temperature ingredients. Alway use room temperature butter, eggs and yogurt to ensure your cake batter isn't lumpy and the ingredients incorporate well. This allows for even baking and the perfect texture. For best results, take your ingredients out of the fridge about an hour before mixing up the batter.
It's all about that crumb. This carrot cake bakes up light and fluffy, but dense enough to hold a heaping swirl of that luscious cream cheese frosting. It's all thanks to the oil and greek yogurt we use in the batter which helps to make this carrot cake extra moist. The cake stays fresh longer and these cupcakes taste even better the next day after the flavors have a chance to settle in. For the best texture, grate the carrots on your own with a box grater. If you are a lazy baker like me sometimes it's fine to use pre-shredded carrots from a bag. Just be sure to chop them up into fine bits before adding to the batter.
Don't over mix. Or over fill. Or over bake! Cake batter needs a light hand so do not be tempted to over mix the batter. This simple batter comes together with just two bowls and a wooden spoon. No fancy mixer required. When folding in the dry ingredients and carrots, only mix until a few streaks of flour remain. Fill your cupcake liners 2/3 of the way so they don't spill over the sides when baking. And no one likes a dry cupcake so be sure to keep an eye on your oven and take the cupcakes out when a toothpick inserted into the center comes out clean or with a few crumbs remaining.
Cool completely before frosting. There's no way around this one folks. You must cool your cupcakes completely before topping with a hefty swirl of that delicious brown butter cream cheese frosting. If you're in a rush, cool the cupcakes for 10 minutes on a wire rack and then pop them in the fridge for 10 more minutes.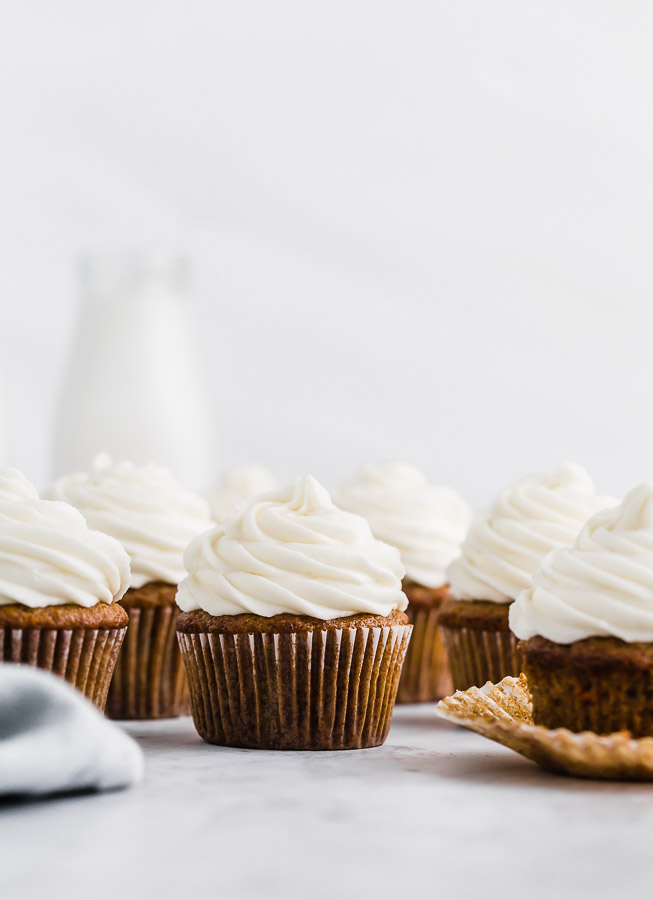 HOW TO MAKE BROWN BUTTER
Brown butter just so happens to be one of my favorite ingredients and I like to use it any chance I get. If you ask me, brown butter pretty much belongs in everything. Like these Brown Butter Brownies for instance. And I go nuts for these Brown Butter Chocolate Chip Blondies. OMG. SO GOOD! Brown butter heightens the flavor of both sweet and savory goodies and adds a complexity and richness that you just can't get with regular butter. I won't bore you with all the science-y details, but basically we are toasting the milk solids found in butter until they are a rich, golden brown. If you haven't made brown butter before, don't you worry. You've come to the right place. To make brown butter, all you need is a saucepan, a spoon, and butter of course!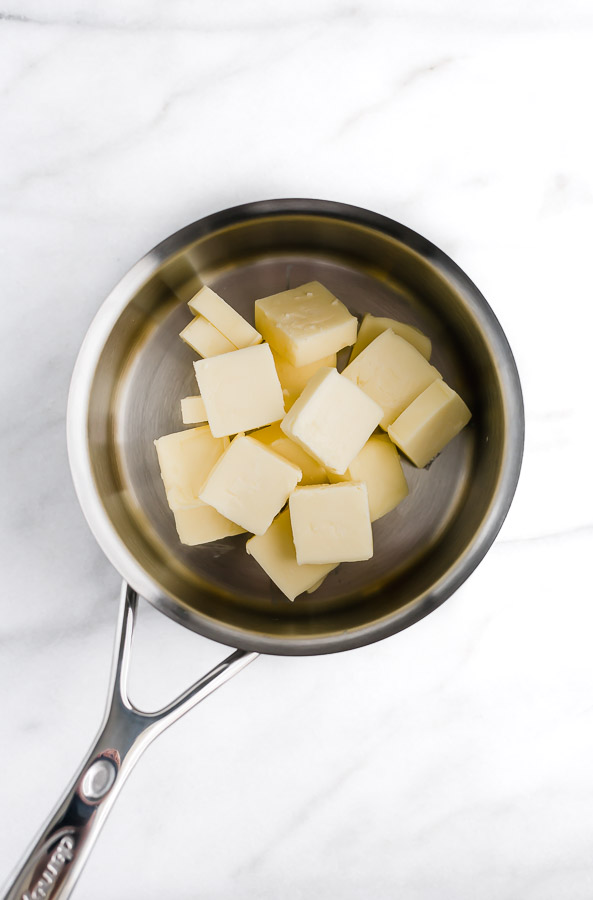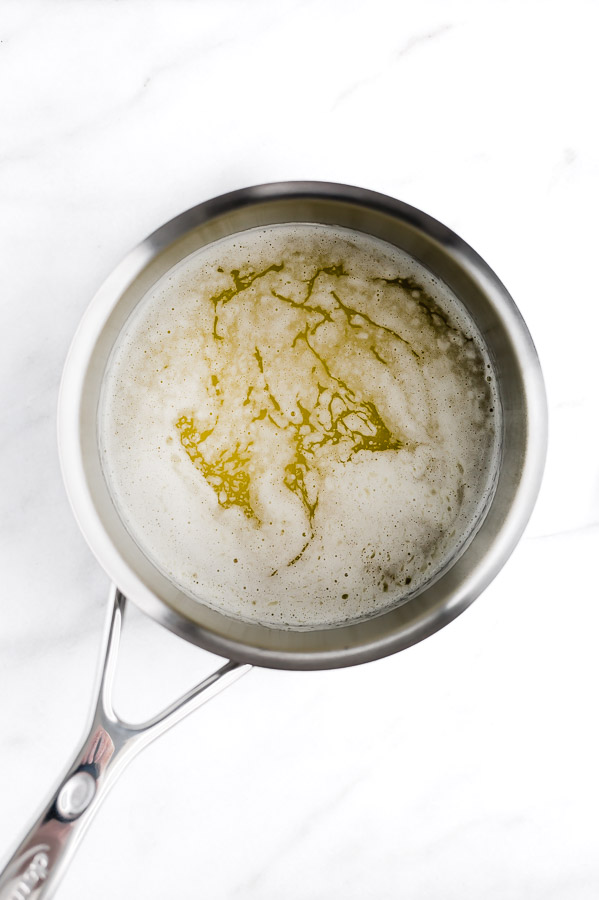 Pro-tip of the day: It's best to use a light colored pan so that you can see the butter browning right before your eyes. It will be difficult to see the color if using a dark bottom pan and you'll risk burning the butter. We start by melting the butter in a saucepan over medium heat. Stir occasionally until it's completely melted. As the butter melts it will start to foam and you'll want to stir a bit more frequently while keeping an eye on the pan at all times. The butter can go from a light golden brown to totally burnt in no time so the pan does require a little babysitting. As the butter foams and bubbles it will make a low crackling sound. Keep stirring and watch for golden brown bits to form in the bottom of the pan.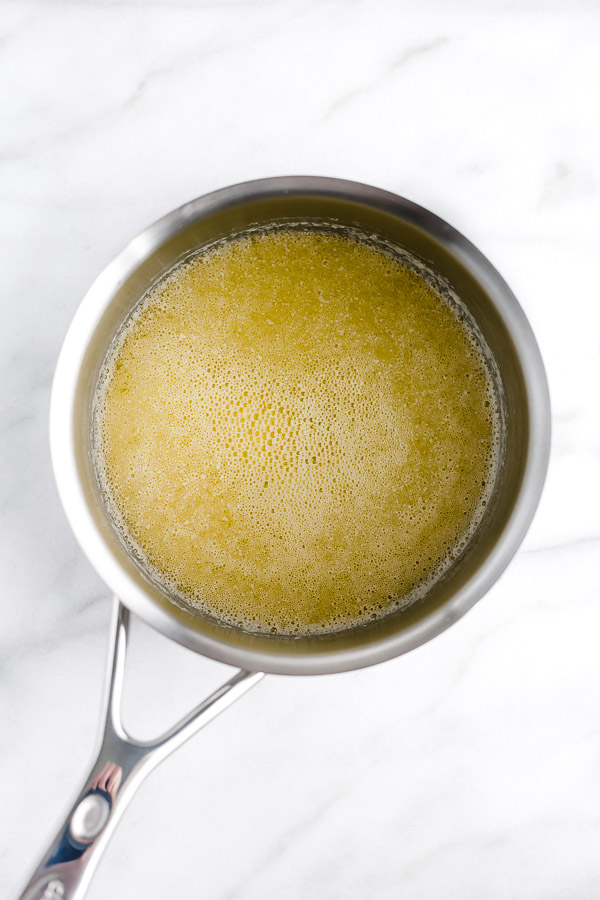 .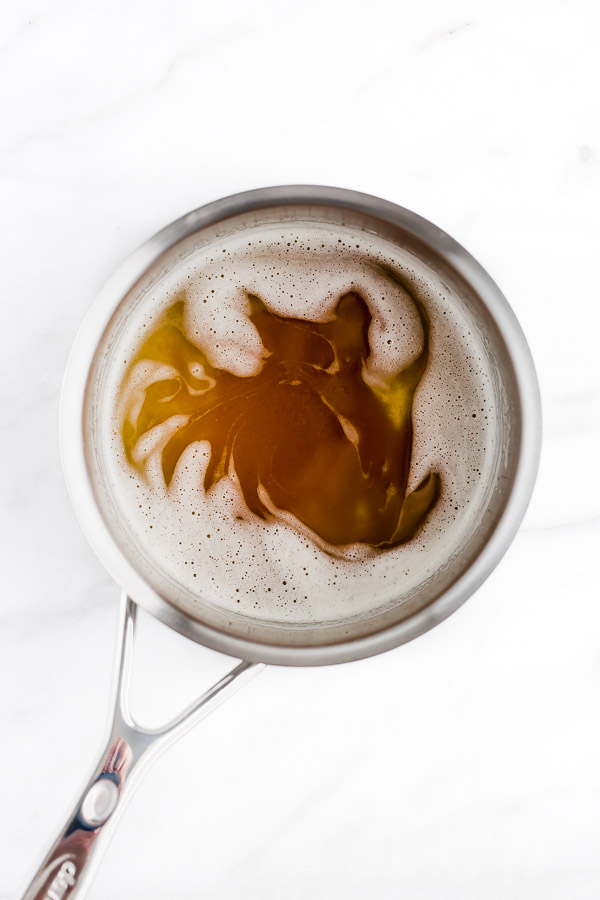 Once the butter turns a beautiful, toasty brown color the crackling sound will stop and you'll be left with a toasted, nutty aroma that is heavenly. You're looking for a golden brown, amber hue. The little bits of brown butter at the bottom of the pan will grow darker the longer you leave the pan over the heat. Once the butter is browned, remove it from the heat and carefully transfer the hot butter to a bowl. It's that easy and the whole process takes just 5-ish minutes. I'm telling you, this stuff is GOLD!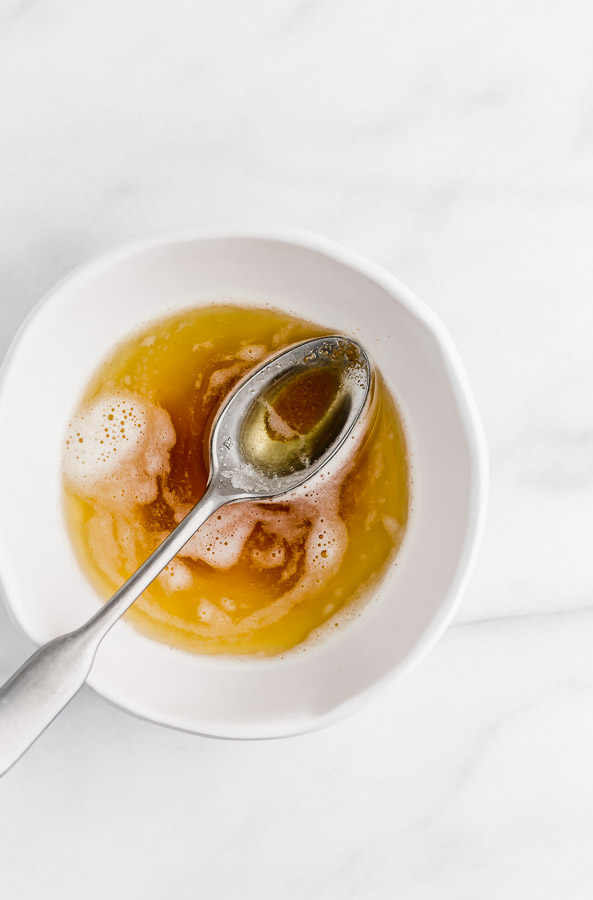 Some recipes, like this one for cream cheese frosting, call for the brown butter to be strained and cooled. Simple pour the butter through a fine mesh strainer into a bowl and discard the browned bits. Pop the hot butter into the fridge for an hour or so until it is chilled and begins to solidify. Then use it in your recipe as you would use softened butter.
This recipe for a classic cream cheese frosting is leveled up big time by the addition of the brown butter. It's lick-from-the-spoon worthy and something tells me you'll never make cream cheese frosting any other way again. For the very best, silky smooth cream cheese frosting follow the simple steps below.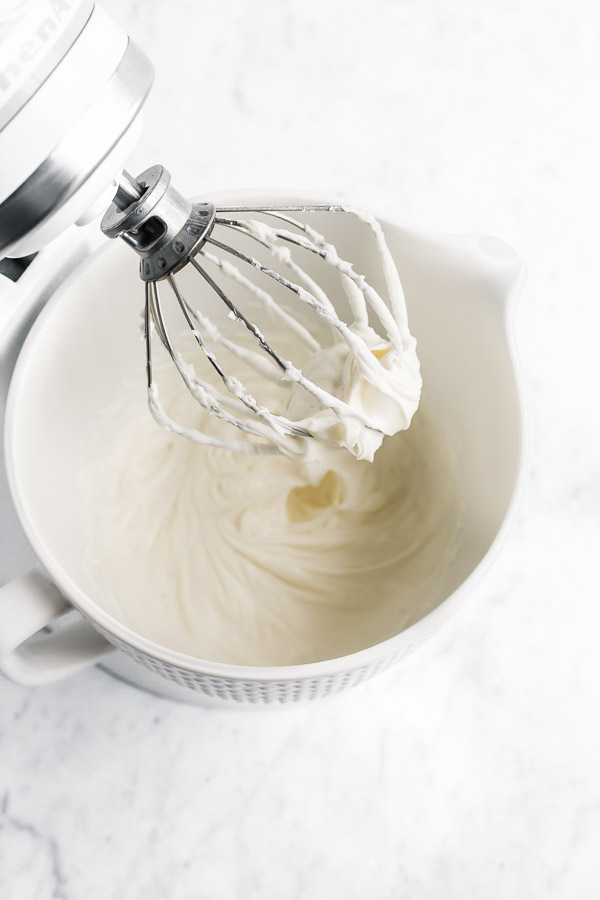 TIPS FOR THE BEST BROWN BUTTER CREAM CHEESE FROSTING
Use cold, softened brown butter. Hot melted butter won't work in this recipe so be sure you've chilled your brown butter long enough for it to reach a semi-solid state. An hour in the fridge should do it. I like to brown the butter and place it in the fridge to chill while I make the cupcakes so it's ready to use when it's time to mix the frosting.
Always use room temperature cream cheese. Rock hard cream cheese doesn't mix well so be sure to leave your cream cheese out on the counter for at least an hour before mixing your frosting. If you are in a hurry, cut the cream cheese up into smaller pieces and microwave for just 10 seconds at a time at 50% heat. We want the cream cheese softened, not melted.
Sift your sugar. For the very best silky smooth cream cheese frosting, I highly recommend sifting the confectioner's sugar. No one likes a lumpy, bumpy frosting and the extra step is totally worth it. The frosting will whip up like a dream and it will be easy to pipe into beautiful swirls on top of our cupcakes.
Whip it good. For the fluffiest, creamiest frosting, beat the cream cheese and brown butter together for a good 2 minutes until fully incorporated. And once you've added the sugar and vanilla, beat the frosting on high speed until light and fluffy. If you make your frosting in advance and it begins to stiffen up as it sits, simply whip it again in the mixer to bring back that silky smooth texture before decorating your cupcakes.


If you've read this far, you deserve a cupcake! But seriously, I'm not going to keep you around here one second longer because you've got cupcakes to make. I just know you're going to fall head over heals for these ridiculously delicious carrot cake cupcakes with brown butter cream cheese frosting. They are perfectly spiced with the most tender crumb and that luscious frosting is definitely something to write home about. These best ever carrot cake cupcakes are at the tippy top of my baking list for Easter Sunday and I hope you'll bake a batch to share with your love bunnies too.
Happy baking!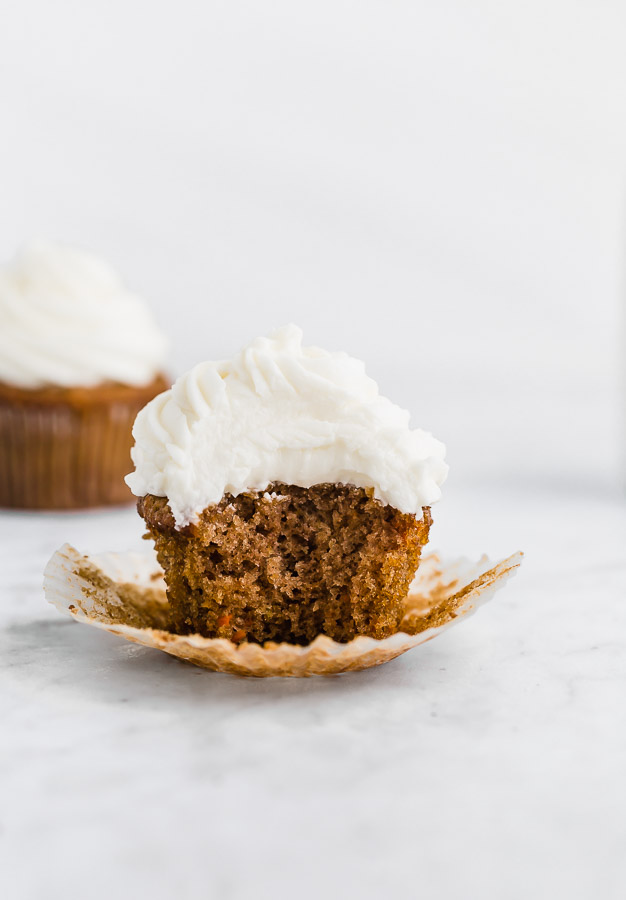 If you like these Carrot Cake Cupcakes with Brown Butter Cream Cheese Frosting, you'll also like:
Gluten Free Banana Cupcakes with Cream Cheese Frosting
15 Easy and Delicious Easter Desserts
Healthy{ish} Carrot Cake Muffins