The ultimate crispy, chewy, sweet and salty cookie. Made with homemade caramel popcorn, this irresistible cookie has all the things you want in a perfect treat.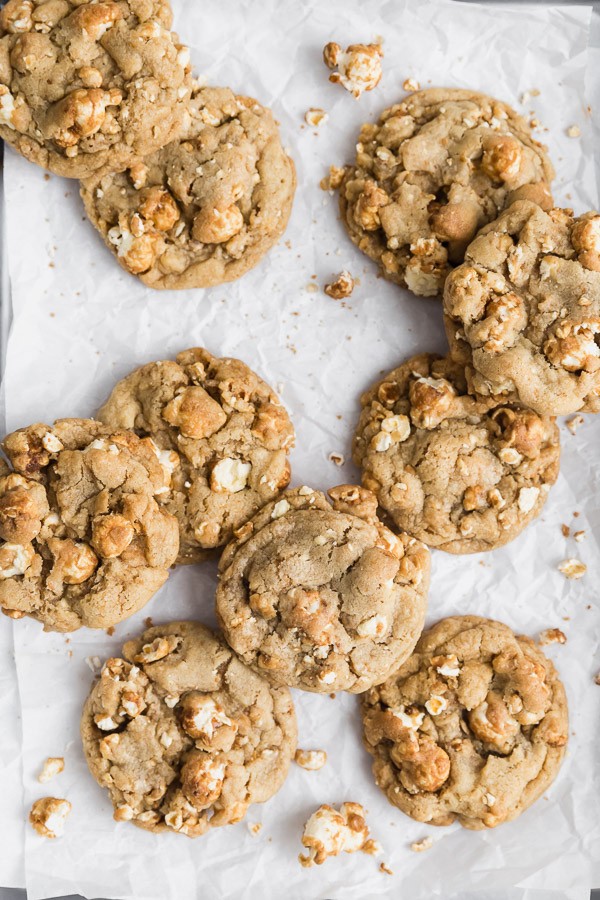 Just when you thought cookie season was over…I'm baaaccckk with another winning recipe that you never knew you needed. Not even kidding when I say you haven't lived until you've tasted one of these totally irresistible, ridiculously delicious, salty-meets-sweet caramel popcorn cookies. Yep. You heard that right. Caramel. Popcorn. Cookies.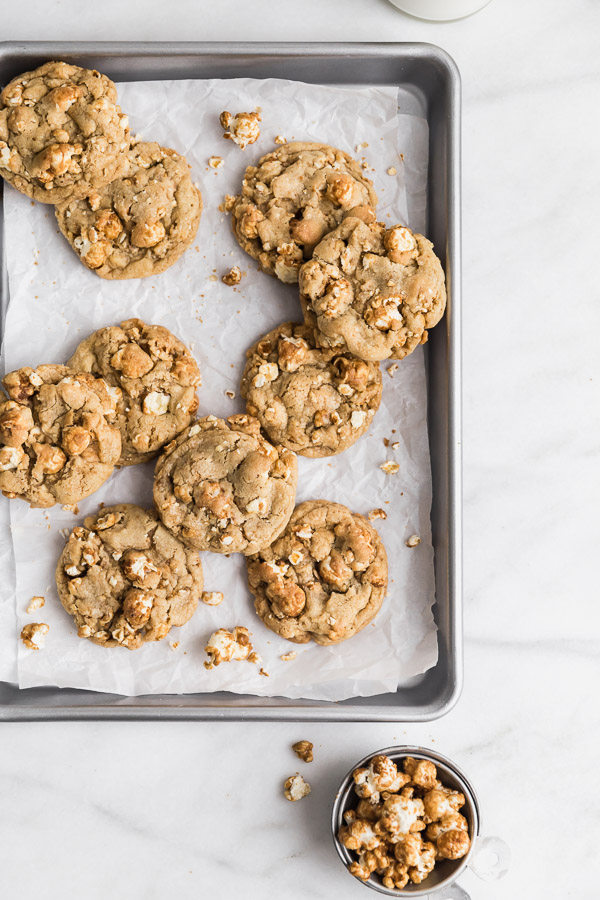 These cookies are seriously over the moon delicious and we have master baker Joanne Chang to thank for them. Ever since I first eyed this recipe in Joanne Chang's new cookbook, Pastry Love, I've been wondering to myself, "now why didn't I think of that?".  This recipe actually comes from one of Joanne's pastry chefs who took caramel popcorn, one of my favorite childhood treats, and plopped it into a buttery, brown sugar cookie. How brilliant is that??
That's one smart cookie if you ask me.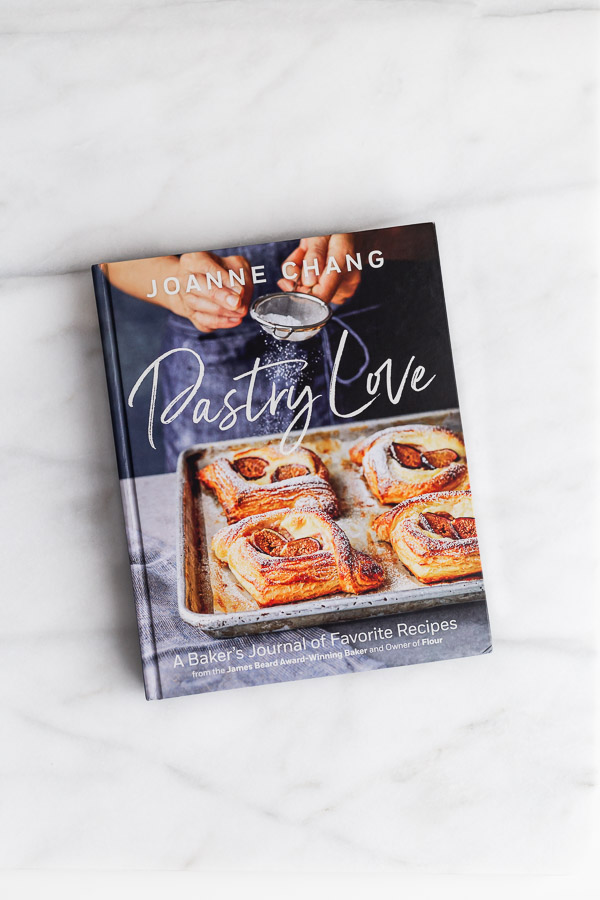 Joanne Chang is a James Beard Award Winning Baker and owner of Flour Bakery. This is her fifth cookbook and let me tell you….it is a baker's dream! Filled with beautiful, delectable pastries, Joanne offers up her tried and true tips for the home baker. Each recipe is written so clearly that even first time croissant makers will succeed. Joanne's book reads more like a journal than a cookbook and her passion for baking shines through with every detail. This baker's guide features a long list delicious treats you can't wait to bake and share and the stunning photography makes you want to run to the kitchen, tie on an apron, and get baking!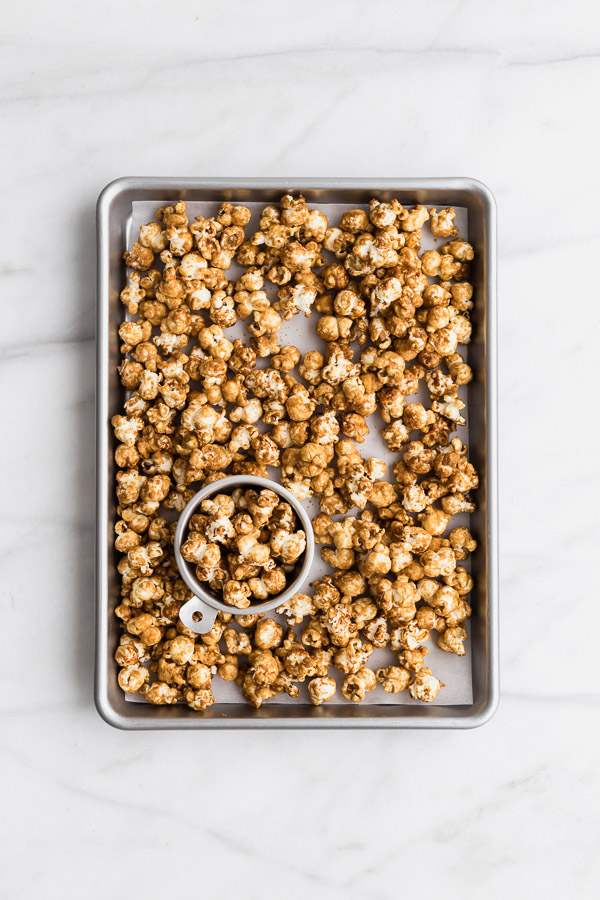 One look at this book and you'll see why I had a heck of time deciding which recipe to bake first. With drool-worthy recipes like Nutella Babka, Malted Chocolate Cake and Lemon Cream Tart, I was swooning with the turn of each and every page. But ultimately I settled on these caramel popcorn cookies because they were a) relatively quick to make and b) caramel + popcorn + cookies = OMG!!
Seriously. These are the greatest thing since sliced bread. No joke.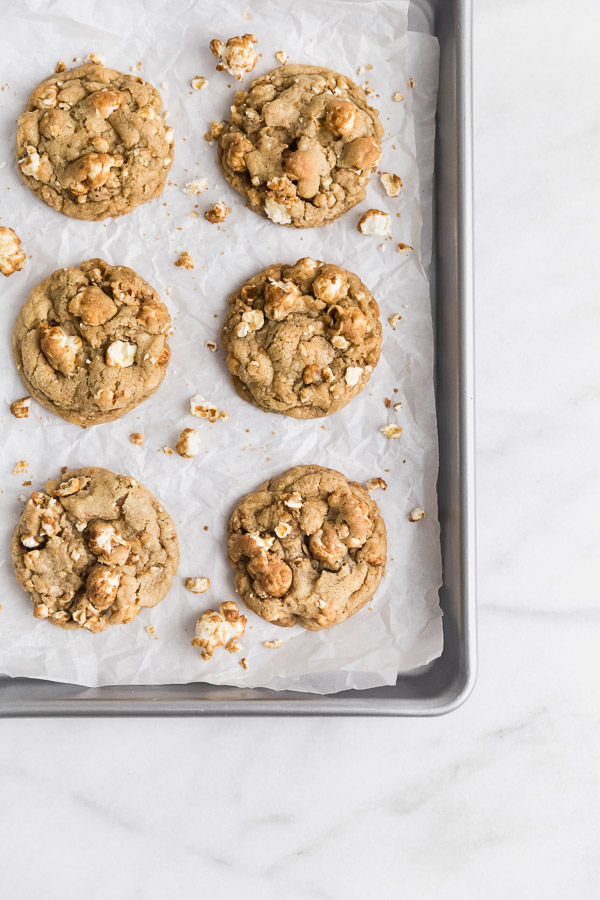 HOW TO MAKE THE BEST CARAMEL POPCORN COOKIES
Homemade popcorn is key. Sure, you can save some time and pick up a bag of store bought popcorn. But fresh is best so I say make your own. Popping your own kernels takes mere minutes and it's totally worth it. Warning: this caramel popcorn is highly addictive so be sure to hide it from yourself while it's cooling so you have enough left over for the cookies. The struggle is real!
Use room temperature butter and eggs. This should be rule numero uno, but you know the drill by now. For best results, be sure your butter is nice and soft, but not melted.
Under bake the cookies. The directions for this recipe call for 12-15 minutes of baking time. I like a soft, slightly chewy cookie over a crunchy, super crispy cookie. To achieve that melt in your mouth texture, simply under bake the cookies by a couple of minutes. They'll be perfectly soft and they're even dreamier the next day if you can believe it!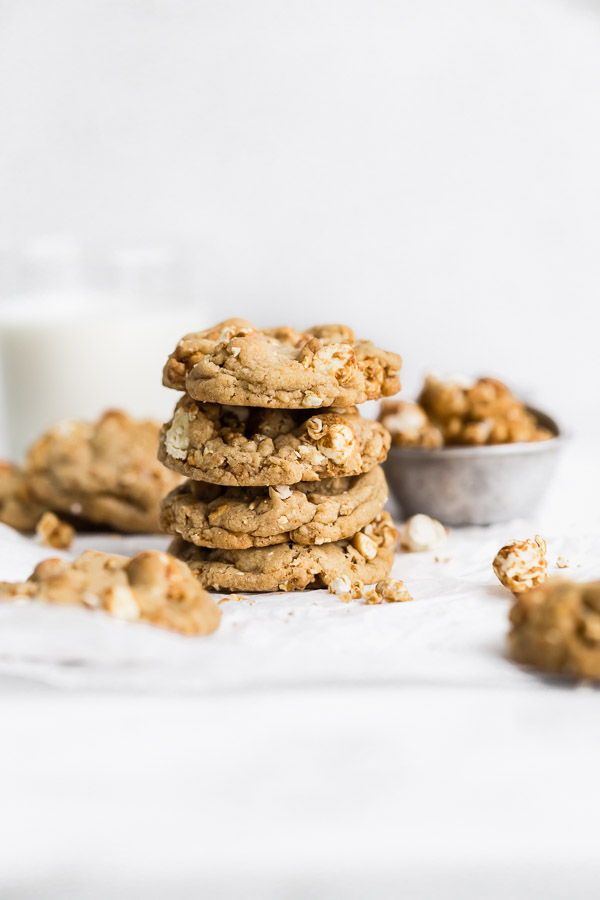 Caramel popcorn and cookies are a total match made in heaven and I'm thinking these cookies are the perfect treat for movie night. I'm going to sign off to make another batch because there isn't a single morsel left over from the first round –  they're just that good!!
Happy Baking!


Find Pastry Love, by Joanne Chang, on my list of Ten Best Cookbooks for Holiday Gifts. Pastry Love is available for purchase here. Thank you to Dart Frogg Communications and Houghton Mifflin Harcourt for the advance copy.
If you like these Caramel Popcorn Cookies, you may also like:
Brown Butter Chocolate Chunk Toffee Cookies
Jumbo Everything Cookies
Classic Chocolate Chip Cookies & Five Tips for Perfect Cookies Every Time