BROWNIE COOKIE SANDWICHES WITH COOKIE DOUGH BUTTERCREAM
These brownie cookie sandwiches are rich and fudgy and stuffed with swirls of light and fluffy cookie dough buttercream. Betcha can't have just one!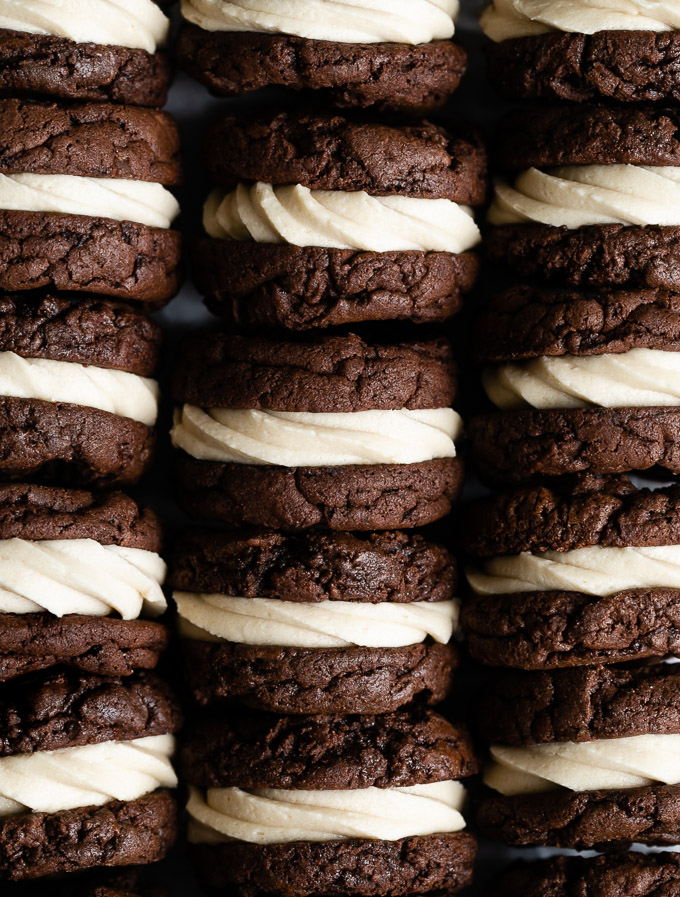 Happy Friday friends! It's BEEN. A. WEEK. Here's hoping you've got a full forty eight hours of rest and relaxation ahead of you. I fully intended on showing up here today with a new recipe for a light, refreshing dessert chock full of blueberries or lemons or something or other brimming with spring like flavor. This is not that. There's plenty of time for strawberry sorbets and lemon liners, but right now I can't stop thinking about these brownie cookie sandwiches stuffed with cookie dough buttercream. Thank goodness chocolate knows no season because I don't think there will ever be time that I won't welcome another delicious chocolate dessert into my repertoire of recipes. Chocolate is here to stay my friends and I cannot wait to tell you all about these brownie cookie sandwiches. If you're that person that can't ever decide between a cookie and a brownie, you're definitely going to want to keep reading.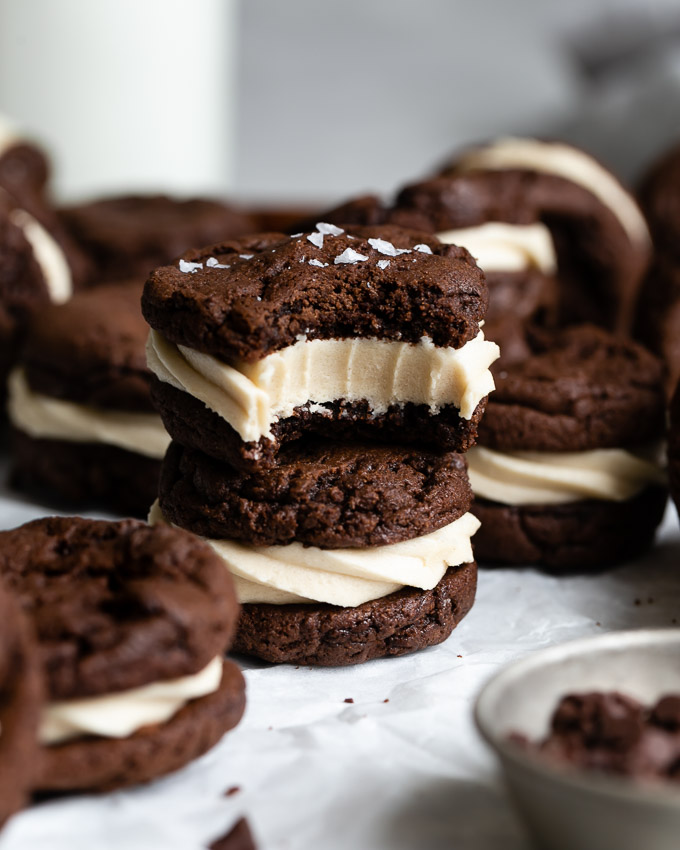 It's no secret that I love a cookie. Second only to a good chocolate chip cookie is a decadent, fudgy brownie. Both are solid choices when you're in need of a sure thing. Today's recipe is a heavenly mash up of my two favorite things. Two rich, ultra fudgy brownie cookies are married together with a swirl of light and fluffy cookie dough buttercream.  This cookie confection has zero shame. It's the kind of super extra dessert that might feel a little too over-the-top to some, but for me, it's everything that's good in this world. I have a feeling you're going to love these dark and delicious stuffed cookie sandwiches just as much as I do and I can't wait to tell you how to make them.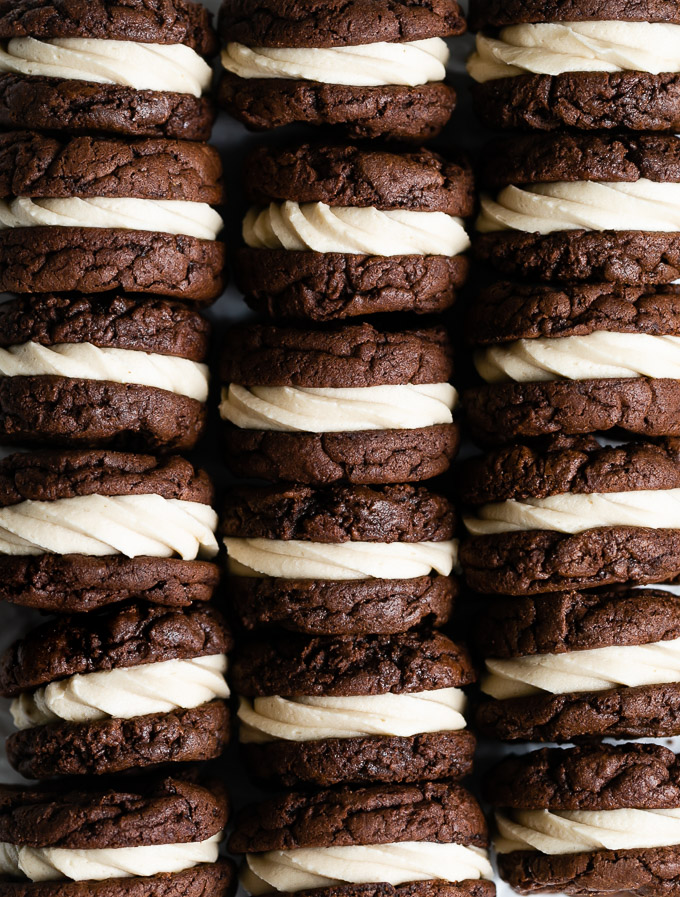 INGREDIENTS YOU NEED FOR BROWNIE COOKIE SANDWICHES
These decadent brownie cookie sandwiches have weekend baking project written all over them! They're dangerously delicious and so easy to make with just a few pantry staples. Here's what you'll need to whip up both the cookies and a seriously swoon worthy cookie dough buttercream:
Chocolate
Butter
Flour
Cocoa powder
Sugar
Eggs
Baking powder
Heavy cream
Vanilla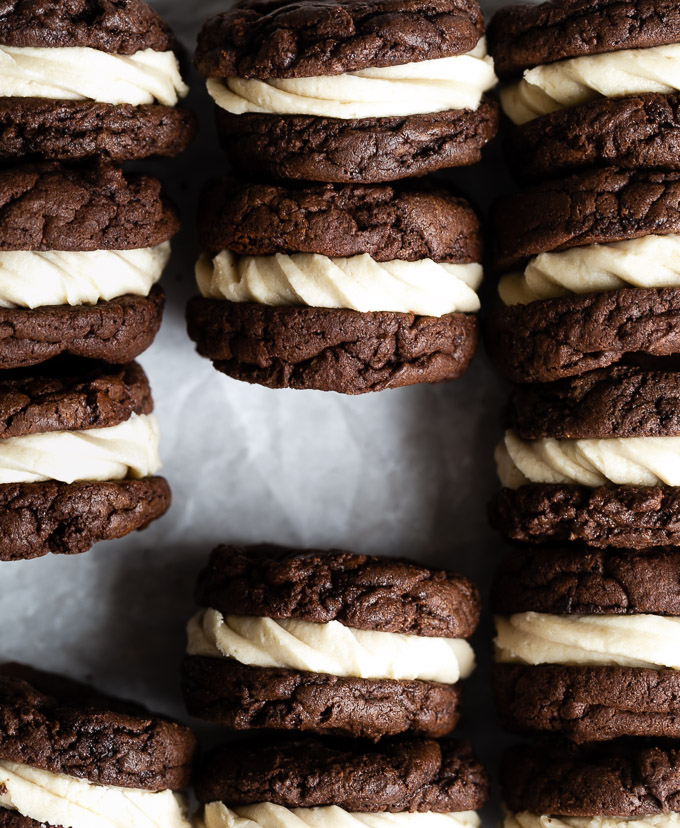 HOW TO HEAT TREAT FLOUR
If you've never heat treated flour before, don't worry, it's really easy to do at home and just takes a few extra minutes. Usually flour is baked into a recipe and not eaten raw but raw flour can carry harmful bacteria if it is not heat treated first. To treat the flour used in the cookie dough buttercream, simply spread the flour out onto a large baking sheet and bake at 300°F for 5-8 minutes. Use 1/2 cup more than the recipe calls for to be sure you have enough. Give it a stir every two minutes or so and continue checking until the flour reaches 165° F. You can use a digital kitchen thermometer to check the temperature. Measure out the amount of flour you need for the recipe and set aside to cool completely before mixing it into the cookie dough buttercream. If you're in a hurry (and who isn't??), you can pop the flour in the fridge to speed up the chilling process. I keep a container of heat treated flour in my pantry so it's always handy when I want to mix up a flour based frosting or a batch of edible cookie dough.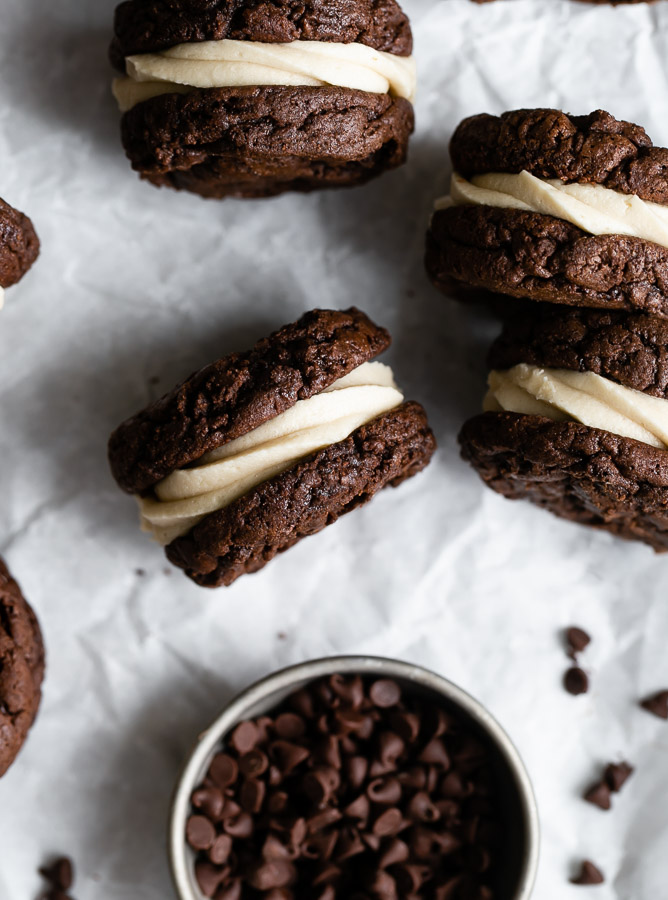 HOW TO MAKE PERFECT BROWNIE COOKIE SANDWICHES
If you're looking for a fun day in the kitchen, look no further than these dark and decadent cookie sandwiches. Sure, this recipe will require a few extra dishes that need washing but I think you'll find the result is totally worth it. Cookie sandwiches are one of my favorite things to bake  – and eat! Follow the helpful tips and tricks below for perfectly stuffed cookies.
Use high quality chocolate. I LOVE a good brownie cookie because they taste just like your favorite fudgy brownie but in cookie form. These cookies are made with just a handful of ingredients so for the very best flavor be sure to use high quality chocolate and cocoa powder. I love using Ghirardelli 60% Bittersweet Chocolate Chips and Rodelle Organic Baking Cocoa. Don't forget to sift the cocoa powder!
Weigh the dough for uniform cookies. Not gonna lie. I'm pretty type A about my cookie sandwiches. It's a bit like a puzzle finding two perfect halves to make a whole and I could get lost in that task for hours. Pro-tip: If you love perfectly uniform cookie sandwiches as much as I do, weigh the cookie dough scoops before baking. That way the tops and bottoms will bake up the same size for the perfect match!
Under bake the cookies slightly. You'd have to be living under a rock to not know that brownies are best when ever so slightly under baked. Those rich, chocolatey, fudgy centers and chewy exteriors are everything. These brownie cookie are no different. Bake them just until the edges are set and the tops are puffed up but still slightly gooey. No two ovens are the same so if you aren't sure about the baking time, try baking off just 2 or 3 cookies to get the timing right before you bake the whole batch.
Go heavy on the buttercream. These brownie cookie sandwiches are crazy delicious but it's the cookie dough buttercream that takes them to the next level. It tastes just like actual cookie dough and honestly, I could eat the whole bowl straight from a spoon. I'm warning you…it's dangerous! If you aren't in the mood for cookies, this buttercream would be amazing on your favorite chocolate sheet cake or swirled on top of cupcakes.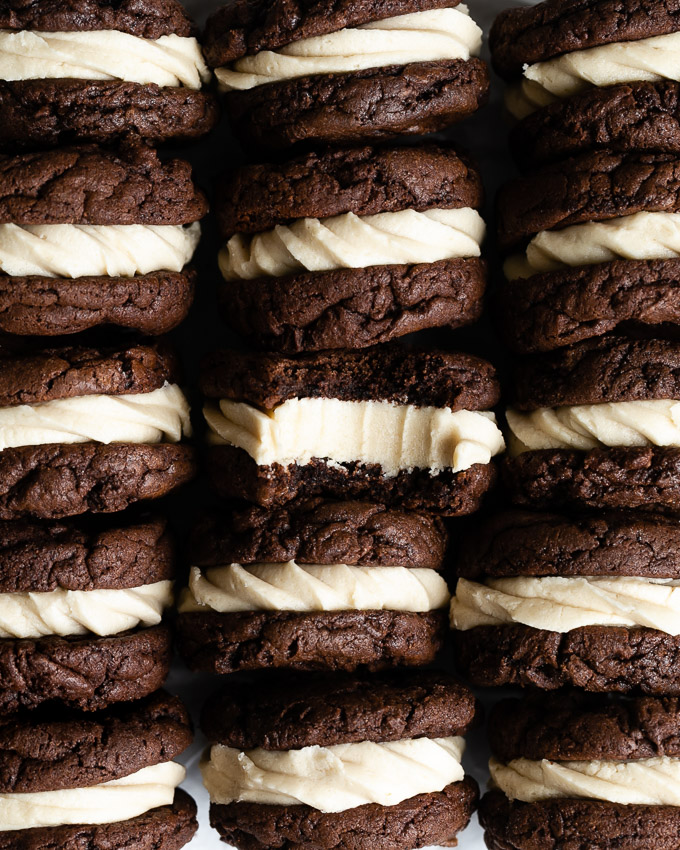 Here's to the weekend! I sincerely hope you find time to whip up a batch of these cookie sandwiches. I just know you're going to love them and I can't wait to hear what you think!
Happy baking!
If you love these Brownie Cookie Sandwiches with Cookie Dough Buttercream, you'll also love:
Peppermint Mocha Cookie Sandwiches
Dark Chocolate Raspberry Cookie Sandwiches
Wanna-Be Brownie Cookies
Brownie Mint Chip Ice Cream Sandwiches
Brookie Ice Cream Sandwiches