This post is sponsored by Taylor & Colledge. As always, all opinions and thoughts are 100% my own. Thank you for supporting the brands that help make Browned Butter Blondie possible.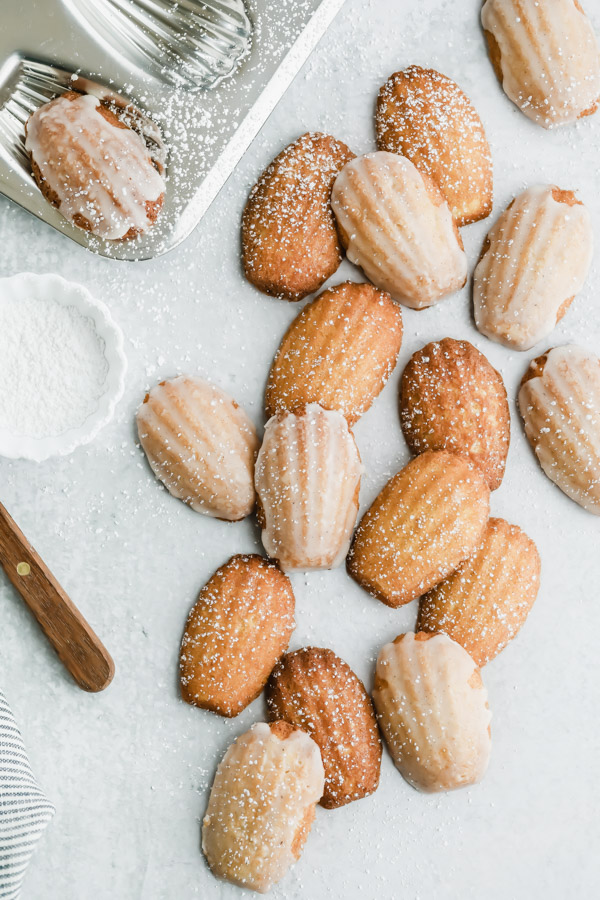 This Valentine's Day we were on an airplane most of the day traveling home from a fabulous week in snow-packed Deer Valley. We were all a bit tired from the ski trip so our happy heart day dinner consisted of take out picked up by yours truly and a fresh made batch of chocolate chip cookies. I have zero complaints but it's the perfect excuse to postpone our Valentine's Day celebration until the weekend.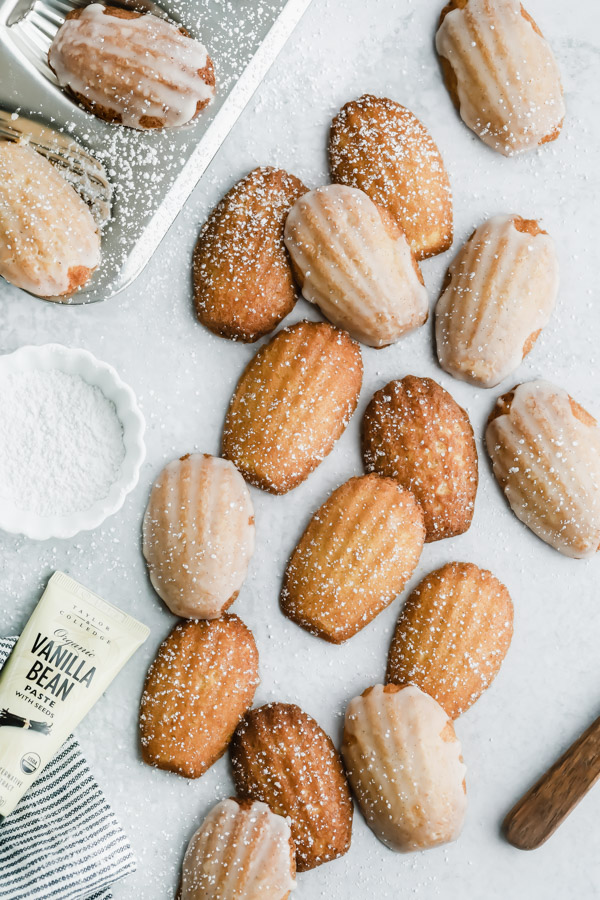 Nothing says I love you quite like baking something sweet for someone you love. In the spirit of keeping the love flowing even after February 14th has come and gone, I spent yesterday afternoon baking up my husband's favorite cookie of all time. The classic madeleine. It's almost a misnomer to call this cookie a cookie as it's one of those treats that walks a fine line between cake and cookie. Is there anything better?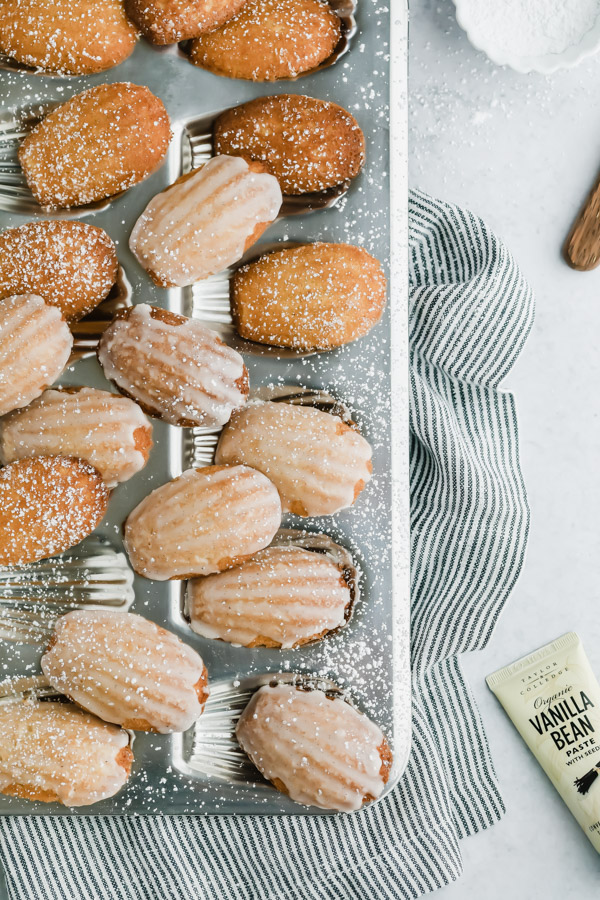 My husband adores these cookies and by the looks of the empty cookie plate, so does the rest of my household. I've made madeleines many times before but this time I decided to kick things up a notch and use browned butter and vanilla bean paste to really enhance that classic madeleine flavor. We all know that browned butter makes everything better so don't think twice about skipping this step. Using a quality vanilla bean paste like this one from Taylor & Colledge is also key to the I-could-eat-the-whole-batch success of this madeleine recipe. Every single crumb is loaded with flavor and since each cookie is just a bite or two, no one will blame you if you eat several at a time.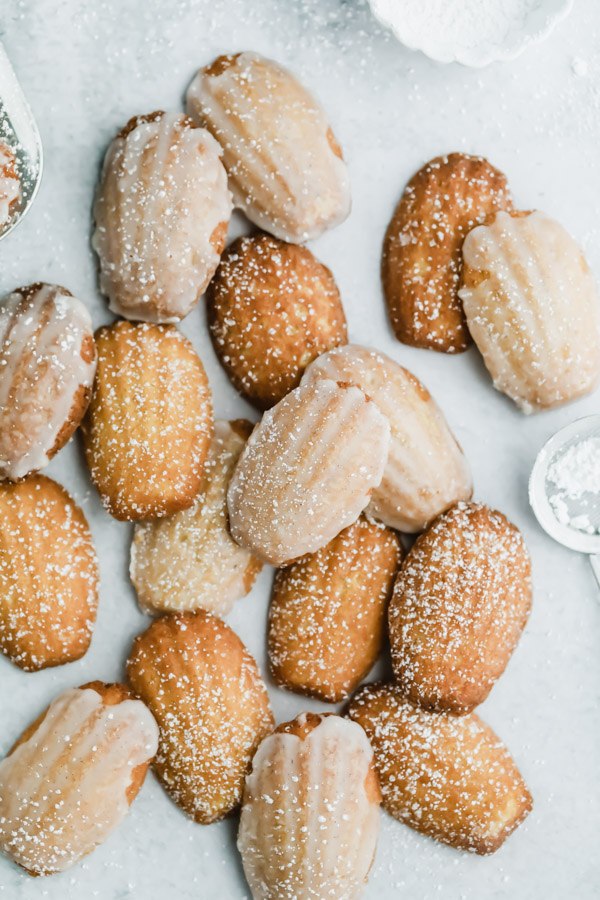 Using the vanilla bean paste in the glaze for these madeleines really elevates the flavor of this buttery cookie in the most delectable way. Vanilla bean paste with seeds is used in place of traditional vanilla extract and it really is the star of the show in this recipe. This vanilla bean paste from Taylor & Colledge is certified organic and free of artificial preservatives. It's made with 100% pure vanilla beans with no funky ingredients added which means I can feel good about using this authentic ingredient in sweets for my sweeties. You can use this vanilla bean paste in any of your batters, cake mixes, and frostings…simply swap out one teaspoon of paste for 1 teaspoon of standard vanilla extract. Works like a charm every time.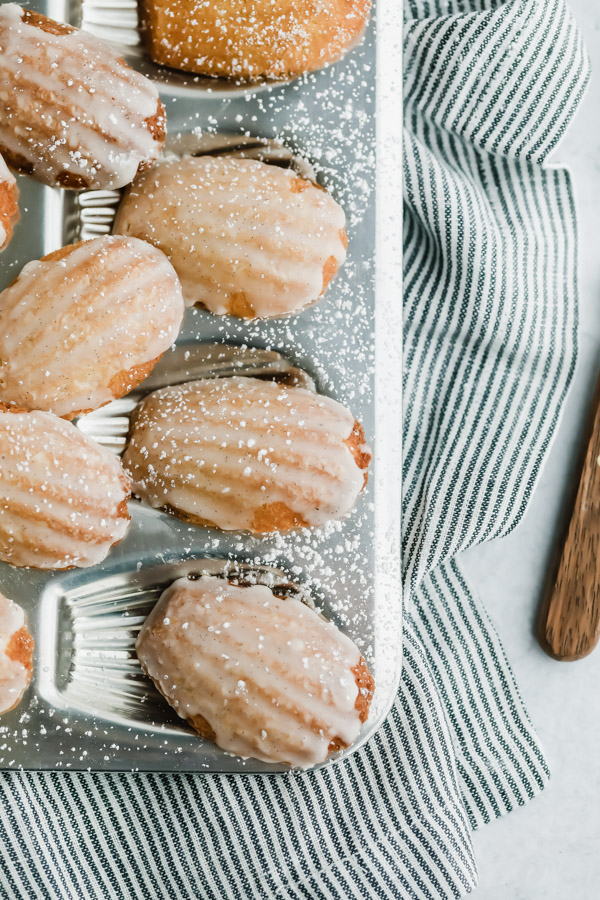 If this is the first time you've made madeleines, let me spill a few tips and tricks that I learned from a whole lot of trial and error. First, invest in a good, non-stick madeleine pan. I know, I know, one more pan to store in that cluttered drawer under the oven. But you can't get this lovely, signature shape without it. Check out my favorite pan from Sur La Table here. Second, there aren't a lot of ingredients in this cake-like cookie so that means technique is everything. You'll need to chill your dough to get that signature "puff" and grease the heck out of your pan so the cookies slide out easily. When you go to fill the madeleine pan, be sure to place the batter in the deepest part of the well and don't spread it out. The oven will take care of that for you.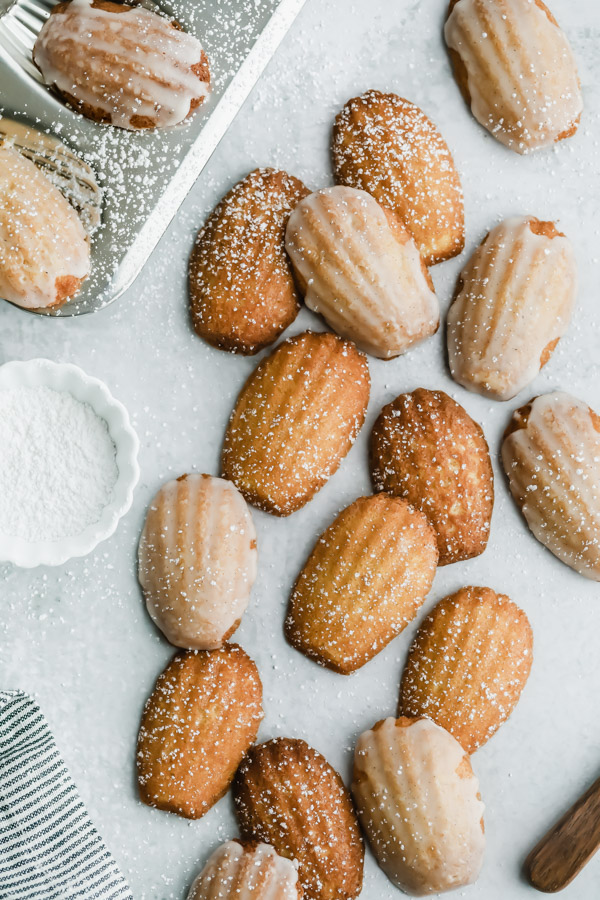 Once your madeleines are baked, let them cool before dusting with confectioner's sugar or drizzling with my personal favorite … vanilla bean glaze. This glaze comes together in a cinch with just three ingredients and it's so good I could lick the entire bowl. Try it for yourself, I think you'll agree. Traditional madeleines are loaded with butter and which makes them most delicious fresh from the oven. These madeleines pretty much come with a guarantee there won't be a crumb left the day you make them.
I hope you'll give these Browned Butter Vanilla Bean Madeleines a try. It's always a nice thing to bake for the ones you love and your Valentines are sure to love this delectable little cookie all year long. If you make this recipe, don't forget to tag @brownedbutterblondie on Instagram. And be sure to follow me on Pinterest for all the latest recipe details straight from the blog.
Happy baking loves!
**Taylor & Colledge Organic Vanilla Bean Paste can be purchased on Amazon.com.