An rich and decadent Baileys dark chocolate bundt cake flavored with a hint of Irish cream and topped with a shiny chocolate glaze. Simple to make, delicious to eat, and always a crowd pleaser!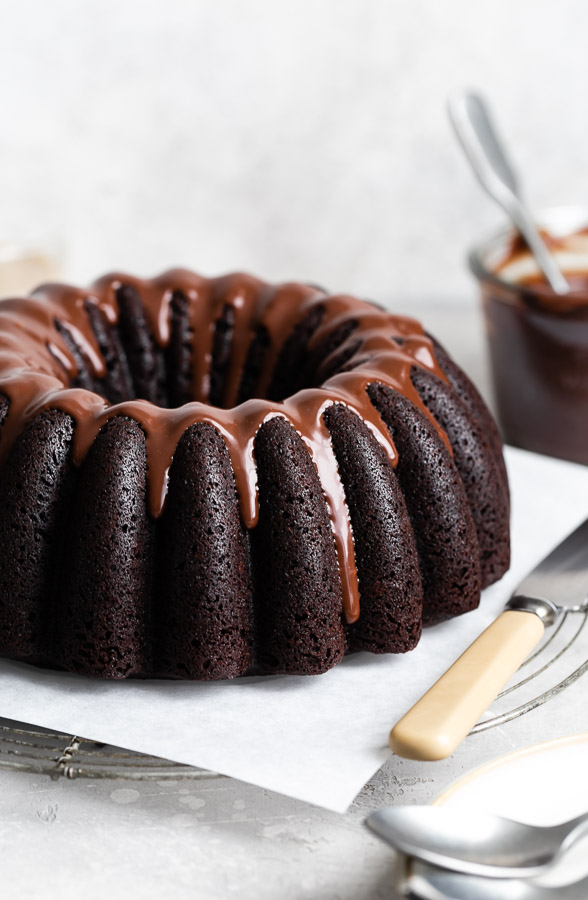 It's St. Patrick's Day friends and while I've never been one for dressing head to toe in green or downing pints of green tinted beer, we do have a few traditions in our house that we've kept up through the years. I always give my girls a stash of gold wrapped chocolate coins for good luck and, like a good mother, check to be sure they are wearing a token green ribbon in their hair or a pair of bright green socks before they set off for school. The hubs will man the griddle if St. Patty's falls on a weekend, making homemade pancakes died with green food coloring number "not natural".  And even though my girls are aren't so little anymore, they've been known to build a leprechaun trap or two the night before just for giggles. We've still yet to catch that leprechaun.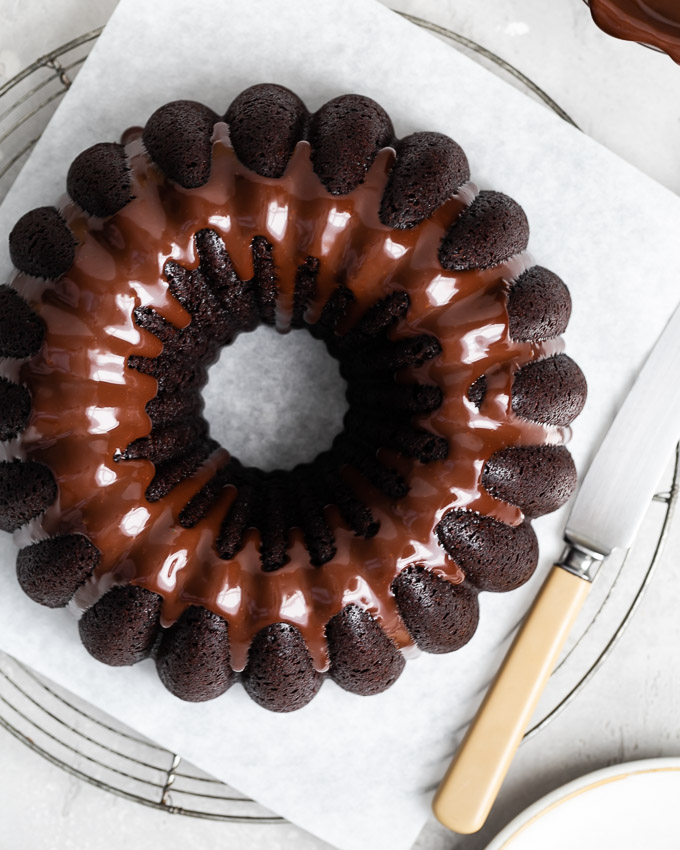 For me, St. Patrick's Day is the perfect occasion to bake up a boozy bundt. Skip the beer, give me the bundt! You all know that chocolate on chocolate is my favorite kind of chocolate. But throw in a hint of espresso and a dash of Irish liqueur and swoooooon!!! I created this dark and decadent baileys chocolate bundt cake especially with St. Patrick's Day in mind. Because who doesn't love a moist, ultra chocolate cake spiked with creamy Irish cream liqueur?? It's the ultimate chocolate lover's dessert!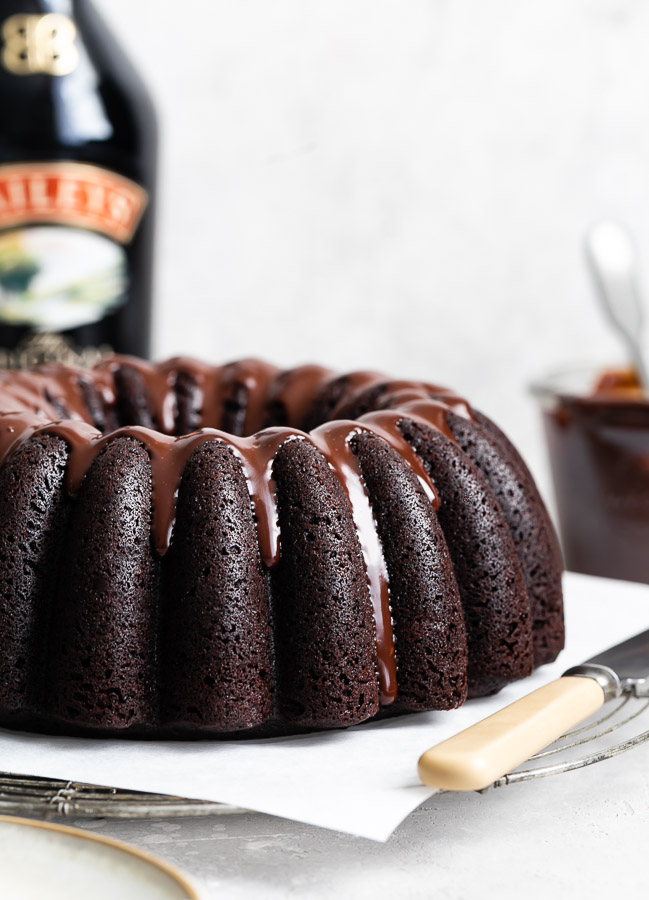 A little bit about Baileys if you haven't baked with it before. This post is not sponsored by the way. Just a fan. Bailey's Irish Cream is a flavored liqueur made with cream, cocoa, and Irish whiskey. It has a subtle flavor that doesn't overwhelm which makes it perfect for adding to baked goods. The flavor of the Baileys coupled with the espresso gives this chocolate bundt cake a warm, deep chocolate flavor that I find irresistible. And don't even get me stared on the texture of the crumb…it's just soooo good!
Pinch me!!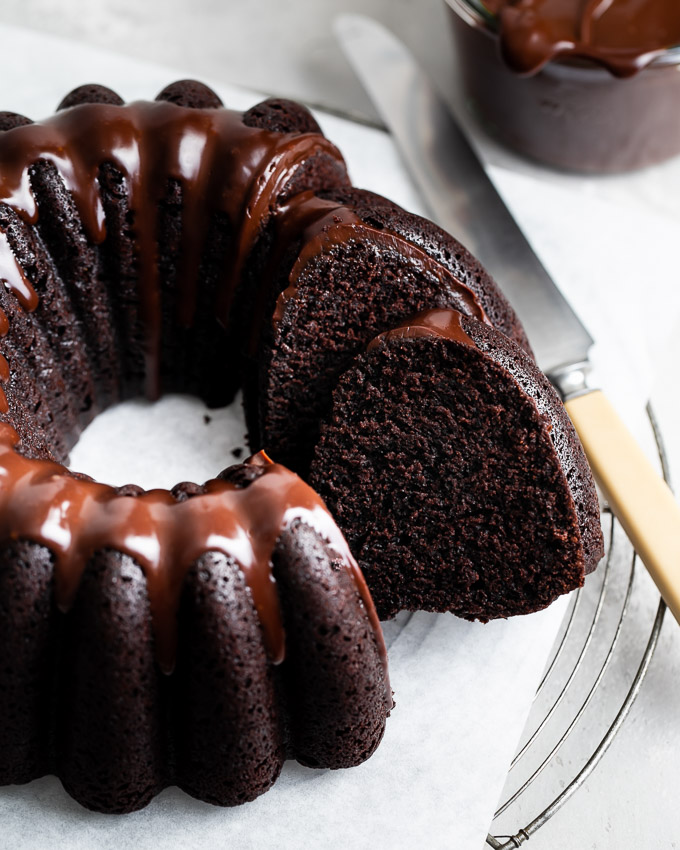 I always love a pretty little bundt because they are easy to make, delicious to eat, and don't require much in the way of decorating skills. Unlike a more fussy layer cake, a bundt cake looks beautiful straight from the pan and can be adorned with a simple shiny glaze before serving.
I mean….just look at that shine!
I betcha wanna know the trick to that super smooth, glossy finish? It's vegetable oil. Yep. Just two teaspoons added to the chocolate ganache and your cake will sparkle and shine from a mile away. You can make the ganache without the added oil but I say it's #worthit for the shine factor. You can also feel free to add a dash of Baileys Irish Cream to the glaze for an extra dose of booze. You do you.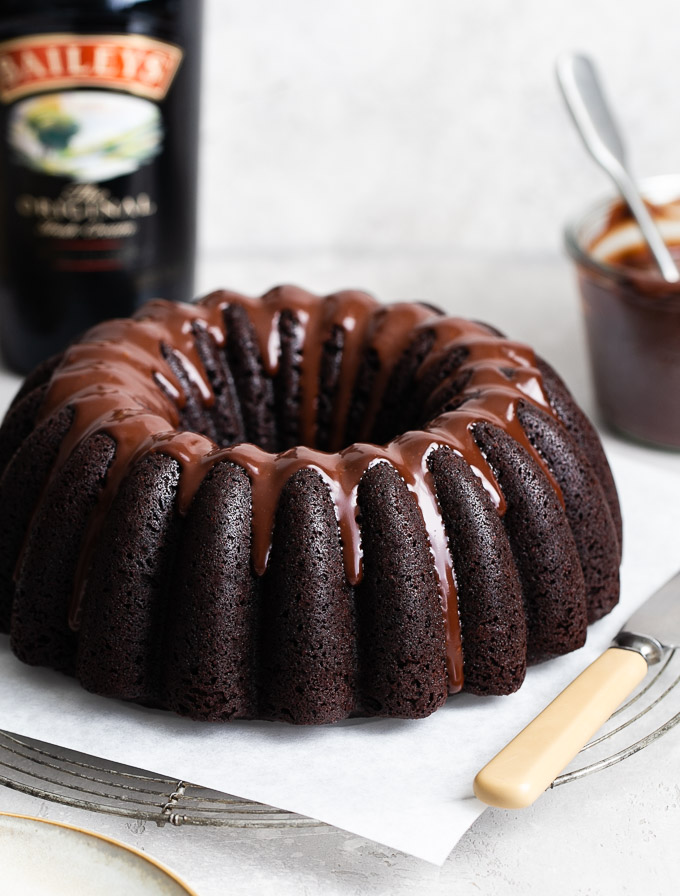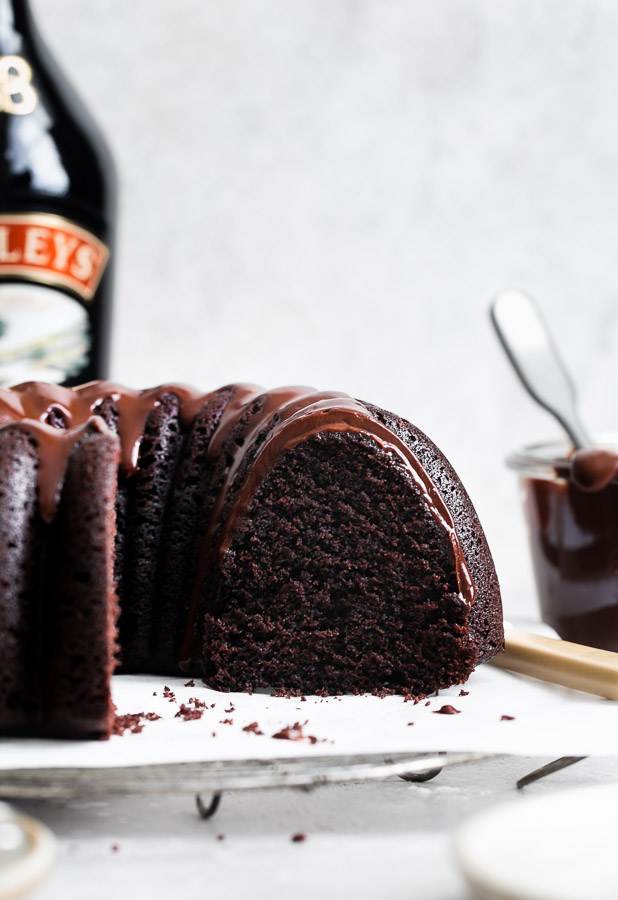 HOW TO MAKE THE BEST CHOCOLATE BUNDT CAKE
If you're new to baking bundt cakes, head on over and check out this post all about how to make the perfect bundt. It's full of all the bundt cake basics you need to know.
Prep your pan. The key to a pretty little bundt is to keep the cake from sticking to the pan. For best results, use a non-stick pan like this one from Nordicware. Be sure to spray the pan thoroughly with non-stick cooking spray but avoid spraying so much that pools of spray gather in the bottom of the pan. If you feel the need to dust your pan, sift unsweetened cocoa over the pan and then flip over to remove the excess. This will help to keep that rich, dark color.
Use room temperature ingredients + extra hot espresso. Room temperature ingredients are critical to the success of 99% of cake recipes. For best results, set your ingredients out the night before you bake this bundt. That includes your eggs, butter and sour cream. On the flip side, be sure that your espresso is piping hot when you add it to the batter at the final step. The extra hot temperature of the liquid helps to "bloom" the cocoa powder creating a deep, rich chocolate flavor. Yes, please!
It's all about the cocoa. I use Dutch process unsweetened cocoa powder in the recipe for a more intense chocolate flavor and deep, dark color. Since the recipe includes both baking powder and baking soda, any unsweetened cocoa powder will technically work if you do not have Dutch process on hand. Pro-tip: Be sure to sift the cocoa powder before adding to the dry ingredients for a smooth, even crumb.
Master the flip. This is trickier than it sounds but don't worry…you got this! Getting your bundt from the pan to the serving dish is a cinch if you follow two simple steps. First, allow the bundt to cool in the pan (on a cooling rack) for 10 minutes. Set your timer once the cake comes out of the oven and never wait more than 15 minutes to remove the cake as you will risk it sticking to the pan. Place a cooling rack or serving plate across the top of the bundt pan and holding tightly, flip it over in one quick motion to release. Second, if it does not fall from the pan immediately in one whole piece, turn the pan back over and allow it to cool in the pan for a few more minutes. Repeat the flip and tap the bottom of the pan firmly to help release the cake. If your cake comes out with a few missing pieces stuck to the bottom of the pan, don't despair. The cake will still taste AH-mazing and you can hide anything under a thick layer of chocolate ganache. Like everything else, practice makes perfect, so if at first you don't succeed – try, try again.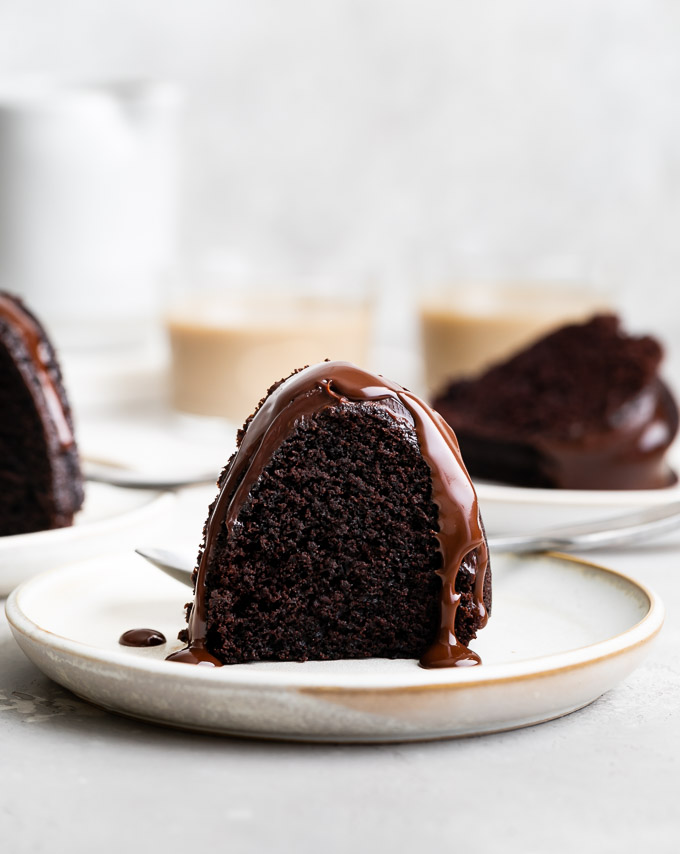 This baileys dark chocolate bundt cake is as easy as it is delicious which makes it the perfect dessert for any occasion. It's so perfectly festive for St. Patrick's Day and it's magically delicious if I do say so myself.
Happy St. Patty's Day bakers!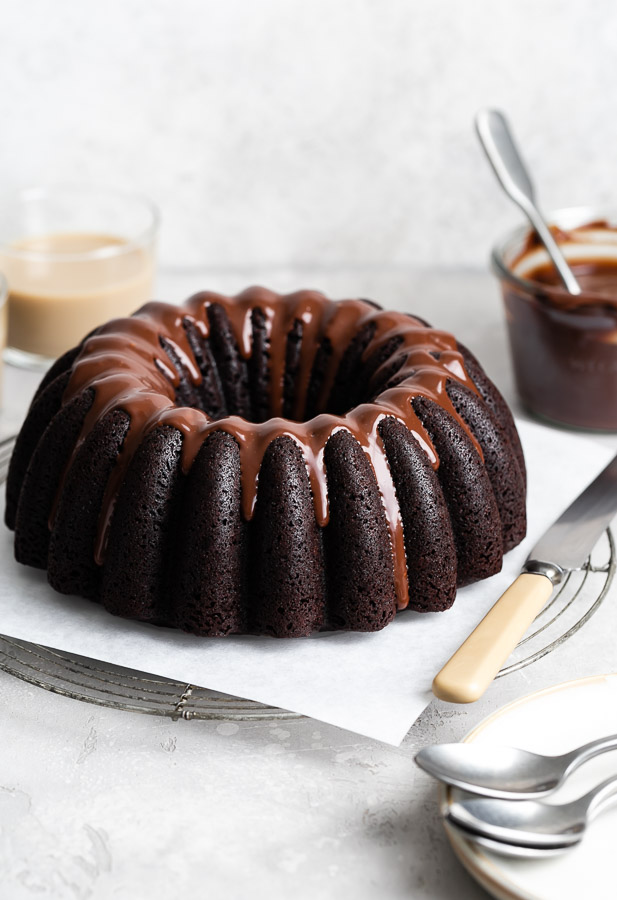 **Recipe originally posted in March 2020. 
If you like this Baileys Dark Chocolate Bundt Cake, you may also like:
Double Chocolate Chip Bundt Cake
Irish Cream Fudge Brownies
Gluten Free Double Chocolate Bundt Cake
Extra Dark Chocolate Snack Cake