A crunchy and delicious dark chocolate pretzel bark with just five simple ingredients. A perfect sweet and salty snack ready in just minutes!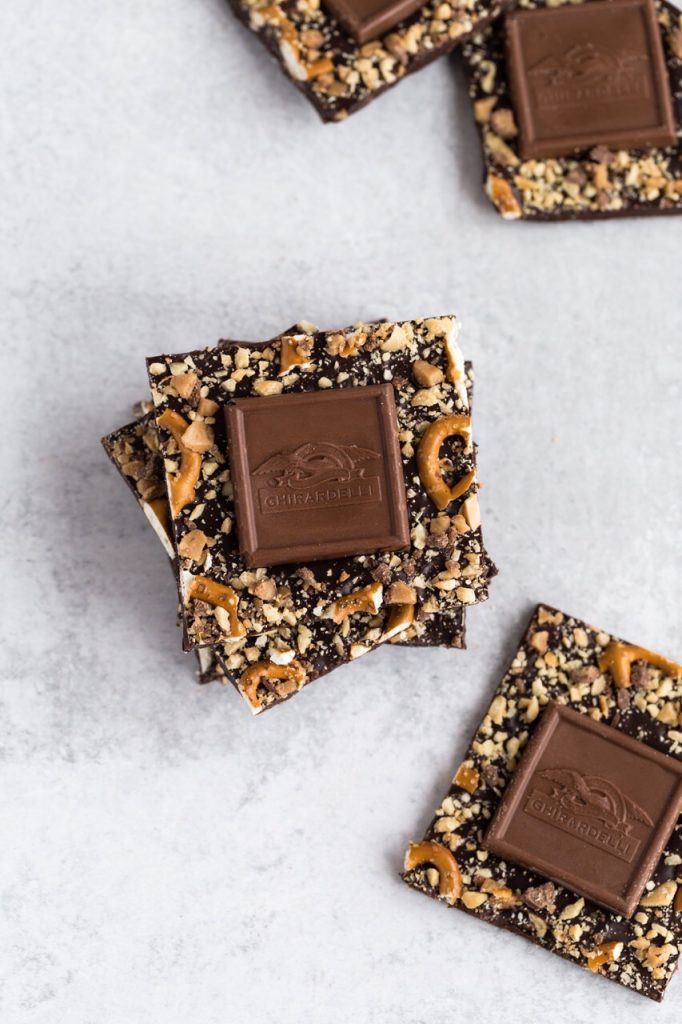 Sometimes you just need a sweet and salty treat to snack on and you need it NOW! I bake a ton for work but some days turning on the oven is the last thing I want to do. These 5 Ingredient Dark Chocolate Pretzel Squares are the answer. Salty, sweet and oh-so-addicting! It's basically everything your taste buds want. Betcha can't have just one!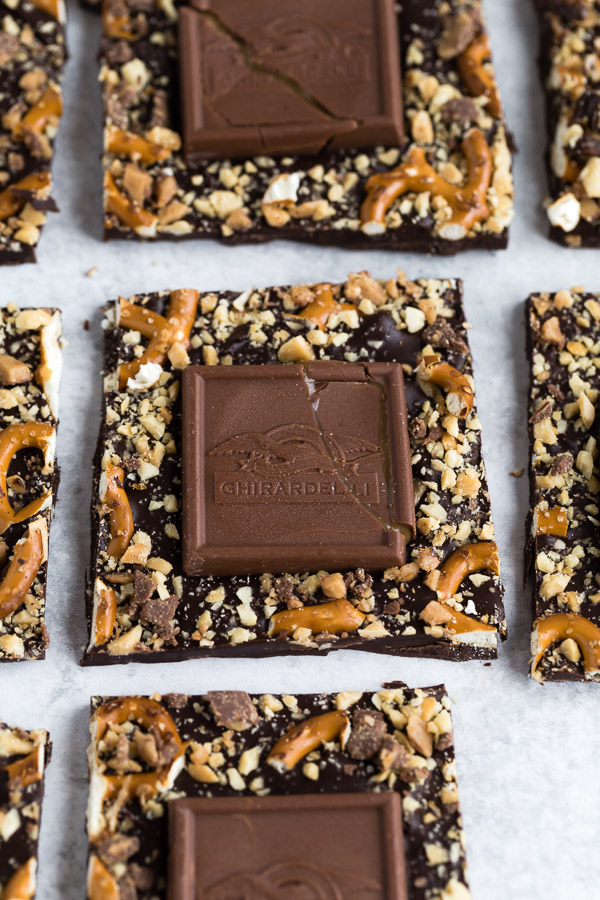 Ever since I founded my toffee biz years ago I've been a big fan of homemade chocolate bark. It's easy to make with only a handful of ingredients and it's ready to be devoured in mere minutes…always a plus! This no bake dessert is perfect for a hot late summer night when you want dessert in a hurry.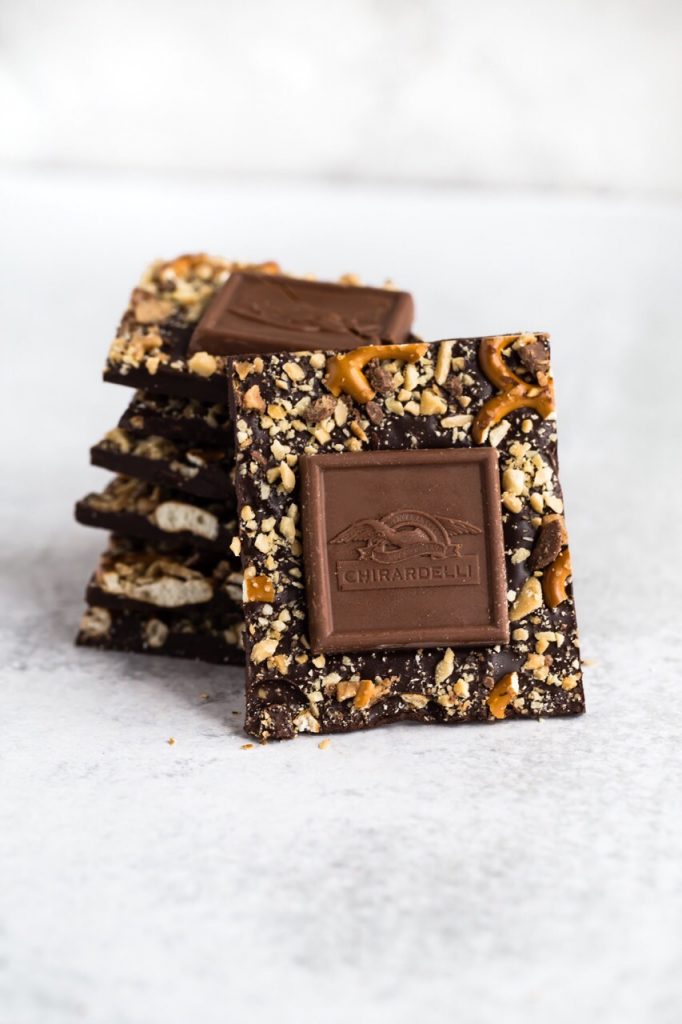 The best part about this dark chocolate bark is that you can spread it to any thickness your heart desires. Like your bark extra thick…go for it! Prefer your bark on the thin side? Have at it. This bark is fully customizable so you do you!

TIPS FOR THE BEST HOMEMADE CHOCOLATE BARK
Prep Ingredients Ahead of Time
To make assembly of your bark go smoothly be sure to prep all of your toppings before you melt the chocolate. Once you've spread the chocolate on the baking sheet you'll need to work fast. So chop the nuts, crush the pretzels and cut the toffee bits in advance. Speaking of chocolate, that brings me to tip number two.
Use High Quality Dark Chocolate
It matters. Dark chocolate is the main ingredient in this simple recipe so I say break out the good stuff. I'm a big fan of dark chocolate but I decided to top the bark with Ghirardelli Milk Chocolate Caramel Squares. The best of both worlds! And the hidden caramel inside delivers the most amazing flavor with every bite.
You can also experiment with different toppings…try almonds instead of peanuts or throw on some dried coconut or white chocolate chips. The possibilities are endless.
Seriously, anything goes!
And if you have kids, this recipe makes for a whole lotta family fun in the kitchen.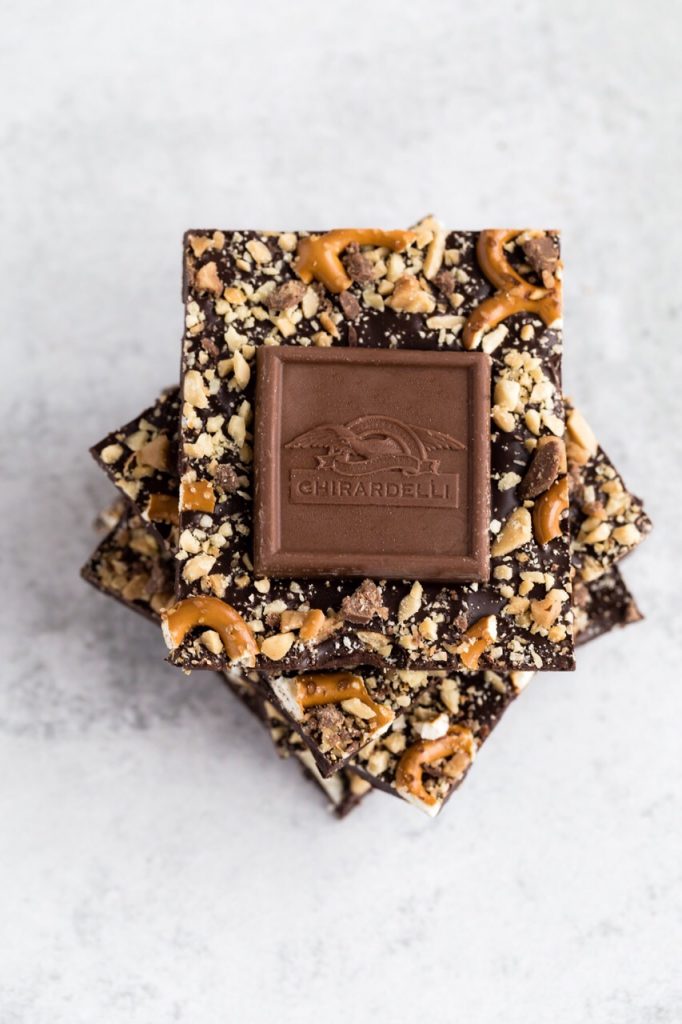 Make Time for Chilling
You're definitely going to want to dive right into this seriously irresistible chocolate bark right away, but don't skimp on the chilling time or you'll have a real mess on your hands. Thirty minutes is good, an hour is better. Once the bark is fully chilled breaking it into squares will be a cinch!
One last pro-tip… for a super fun and decadent summertime dessert, try sandwiching a fluffy, toasted marshmallow between two pieces of chocolate bark.
ohhmmmgeee!! SO GOOD!

Thank you to Ghirardelli for providing the product for this post. You can find Ghirardelli Milk Chocolate Caramel Squares at your local market or online.