If the Fourth of July were a cookie, this would be it! These soft and chewy giant monster cookies are loaded with all the good stuff and then some. Ready in just minutes with zero chilling required, these cookies make a perfectly patriotic treat for kids of all ages. Just mix, scoop, and bake. It's like an instant party!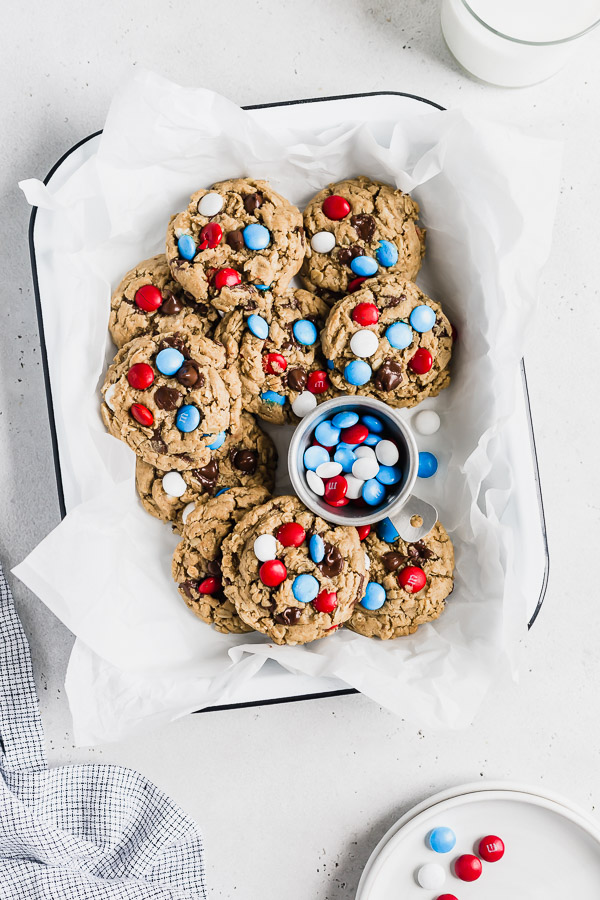 Happy Friday friends! I hope you're all stocked up on burgers and dogs, watermelon and water balloons for what promises to be an Independence Day like no other. If you are looking for a quick and super easy recipe to enjoy on summertime's biggest holiday, look no further. These soft and chewy Fourth of July monster cookies are like fireworks in cookie form and they are bound to make your taste buds oooh and aaahh with every bite. If the 4th of July were a cookie, this would be it. They are fun and festive, easy going and carefree, and no bite is ever boring. They may have canceled the fireworks, but you can't cancel fun and these cookies have F-U-N written all over them!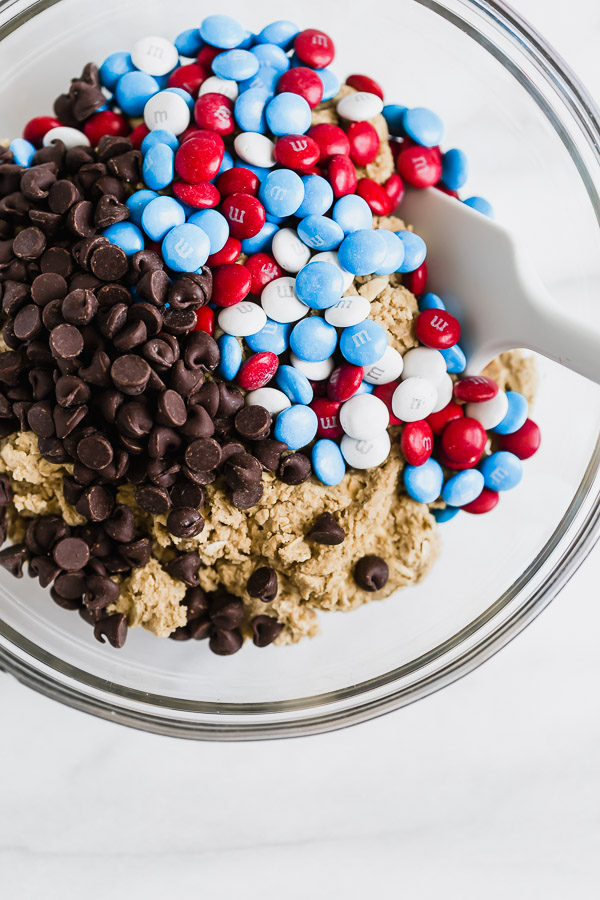 There's no denying I've got a thing for loaded cookies. You guys went crazy for these Jumbo Everything Cookies last spring and rarely a week goes by that I don't bake up a batch of these Easy Funfetti Sugar Cookies. Since the Fourth of July is all about summertime's best, I think the day deserves a special cookie of it's own. These giant stuffed cookies are sure to add some happy to your holiday. So let's get right to it.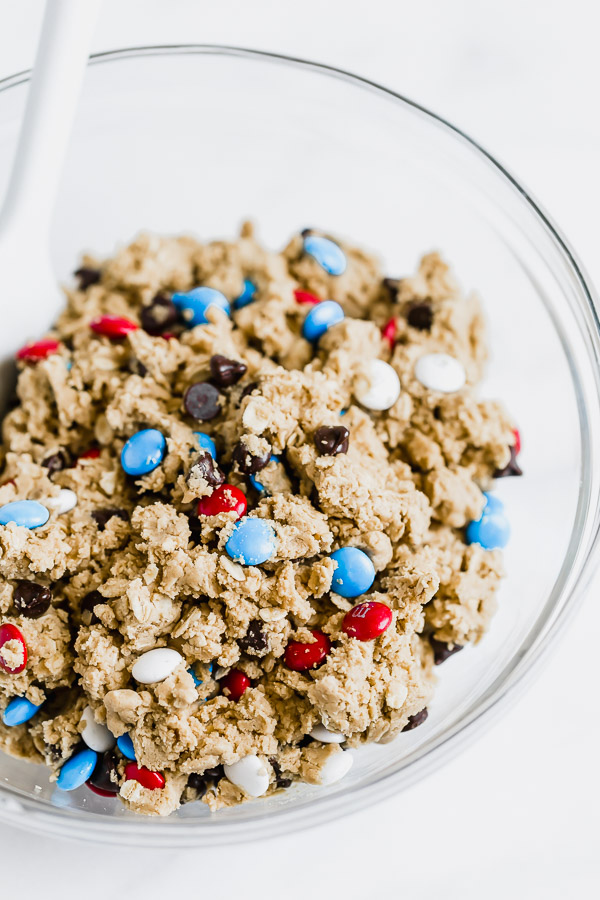 WHY ARE THESE MONSTER COOKIES SO GOOD?
I don't know about you, but I sure won't say no to a thick, chewy, peanut butter cookie loaded with chocolate chips, oats, and sprinkled with festive M&M candies. It's everything I want in a cookie and then some. These monster cookies, aka everything-but-the-kitchen-sink cookies are big. And fat. And chock full of everything that is good in the world. Upon first glance these might look like just another oatmeal cookie, but they are loaded with creamy peanut butter making these cookies extra soft and chewy which in my cookie book is a very good thing. This recipe is perfect for filing under "I want a cookie and I want it now". With zero chill time required, you can bake up a batch of these goodies in under twenty minutes. Just mix, scoop, and bake. It's like an instant party!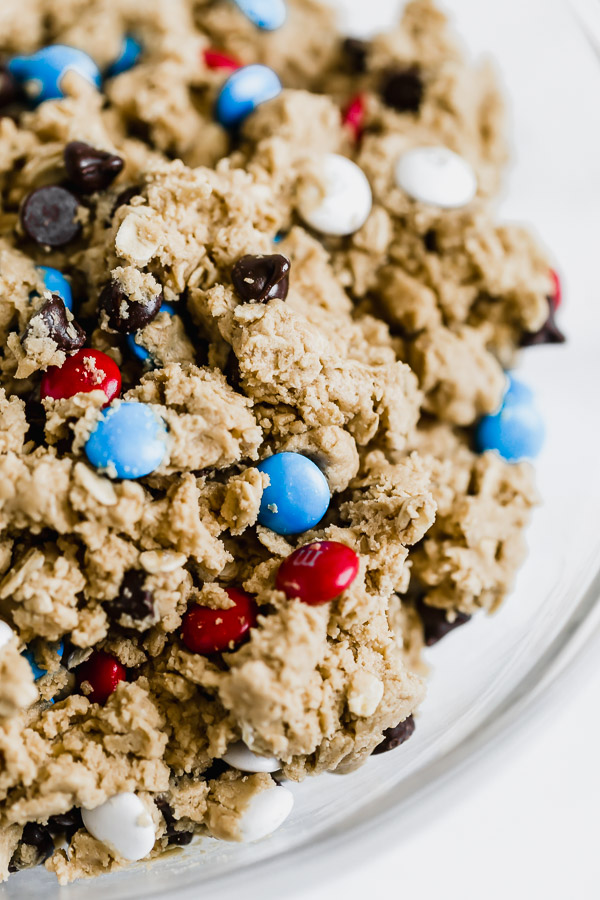 INGREDIENTS YOU NEED FOR 4th OF JULY MONSTER COOKIES
These monster cookies bake up in just minutes with a few standard ingredients and a handful of festive candies that make them a special holiday treat for kids of all ages. Check your pantry for the ingredients below and let's celebrate!
Flour. I love baking these 4th of July monster cookies with a mix of regular all purpose flour and bread flour for an extra chewy texture. If you don't have bread flour on hand, substitute the same amount with all purpose. The texture will be ever so slighty different but they will still taste lights out delicious.
Oats. I like to use quick oats in this recipe rather than old fashioned whole rolled oats. Whole oats will do in a pinch but I prefer the texture of quick oats. If you only have whole oats on hand, give them a few pulses in the food processor to break them up a bit.
Butter. Nothing fancy here. Just use regular, unsalted butter for this recipe. Be sure it's softened to room temperature for easy mixing.
Sugar. This recipe calls for light brown sugar only. Granulated sugar causes cookies to spread more in the oven and by using brown sugar, the cookies will remain thick and the extra moisture in the sugar will keep the cookies soft and chewy.
Peanut Butter. No nuts allowed in my monster cookies so I stick with a smooth and creamy peanut butter like Skippy. I don't recommend using an all natural peanut butter as the extra oil can alter the texture of the cookie. For easier creaming with the butter and sugar, make sure your peanut butter is at room temperature rather than straight from the fridge.
Eggs. Just two eggs help hold the mixture together and give rise to these extra thick and super chewy cookies. If you forgot to set your eggs out ahead of time, just pop them in a bowl of warm water for 10 minutes.
Chocolate chips. The first sign of a good cookie is lots of chocolate and these monster cookies are no exception. Load them up with semi-sweet or milk chocolate chips. You can use regular or mini. You choose!
M&M's. As if you need another reason to make a Target run, these red, white, and blue M&M candies are the perfect topper to these stuffed monster cookies. Do as I do and buy two bags because I guarantee you'll want to make these cookies again and again all summer long.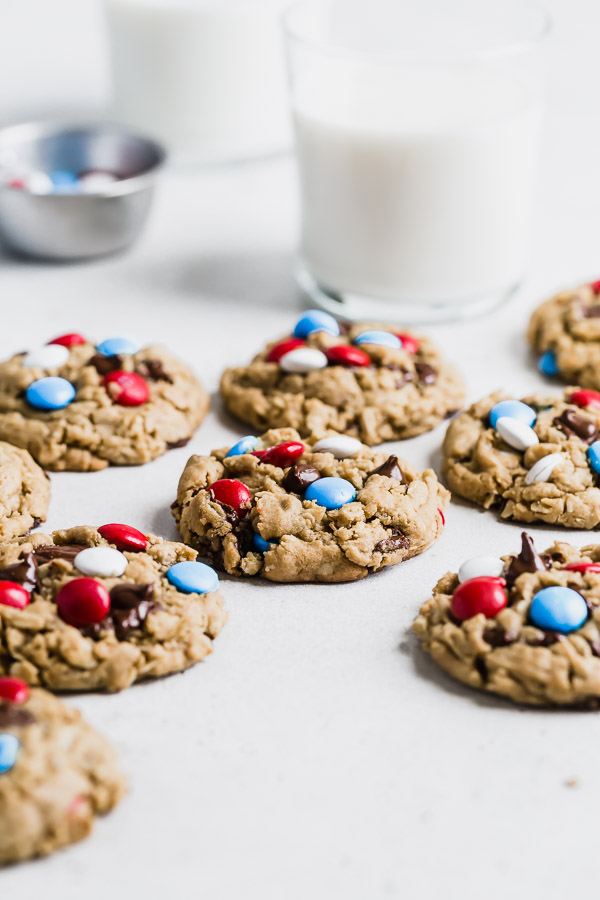 TIPS TO MAKE THE BEST MONSTER COOKIES
Use room temperature ingredients. This batter comes together in no time using room temperature butter and peanut butter. Be sure to set your ingredients out about 30-60 minutes before baking for best results.
Use creamy peanut butter. These cookies are best with that ultra creamy, smooth peanut butter we all know and love from when we were kids. I like to use Skippy creamy peanut butter, but Jif works too.
Do not over mix. For light and fluffy, soft and chewy cookies you'll want to stir the batter with a light hand or just a few twirls of the stand mixer. Leave a few streaks of flour remaining before you add in your chips and candies.
Load them up! The more the merrier when it comes to add-ins so feel free to be generous with the chocolate chips and M&M's. Pro-tip: reserve a few candies to dot the tops of the cookies so that they look extra festive once baked. These red, white and blue studded cookies are perfect for all of summer's celebrations from Memorial Day to Labor Day!
Do not over bake. To keep these cookies soft and chewy it's best to under bake them just a bit. The cookies will continue to bake on the baking sheet once removed from the oven. These cookies bake up extra thick so if you prefer a flatter cookie, give the cookie sheet a few firm taps against the kitchen counter immediately after they come out of the oven. This will help to flatten the cookies and give you those little pools of melted chocolate. SO GOOD!!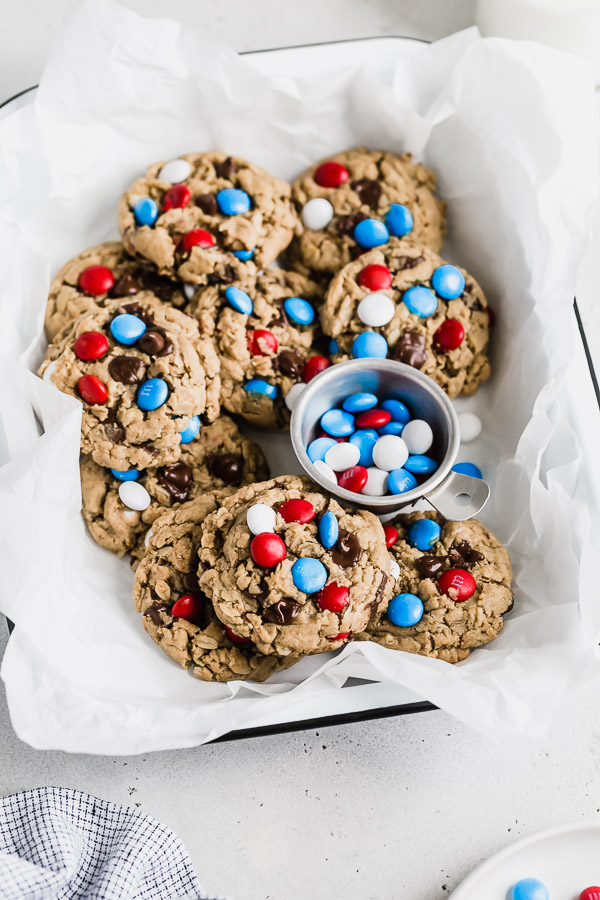 CAN I MAKE THESE COOKIES GLUTEN FREE OR PEANUT FREE?
Yes and yes. One thing I love about these 4th of July monster cookies, aside from how crazy good they taste, is that they are highly customizable. You can easily swap the regular all purpose flour for gluten free 1-to-1 baking flour. And if you have a peanut allergy or simply aren't a fan, swap the peanut butter for a smooth and creamy almond butter. I've tested this cookie both ways and I give both versions a double thumbs up! These cookies have a "choose your own adventure" theme going on so feel free to have fun with the mix-ins. You could swap the semi-sweet chocolate chips for white chocolate or peanut butter chips. If you're a real peanut butter lover like me, think about trading in the M&M's for Reese's peanut butter candies. You could also add toffee bits, mini pretzels, or even butterscotch chips. The possibilities are endless with these loaded monster cookies. It's your cookie party so you do you.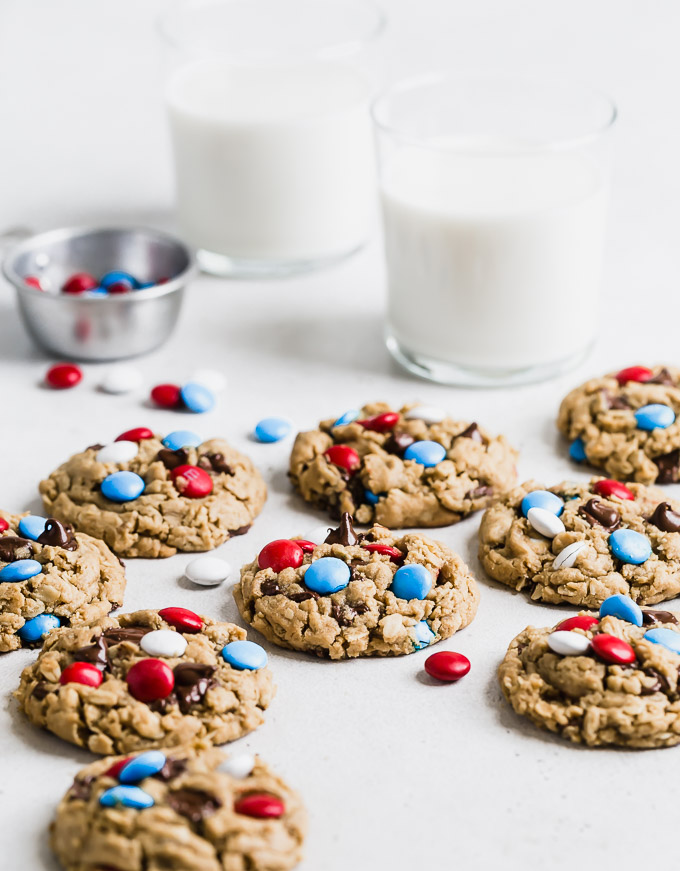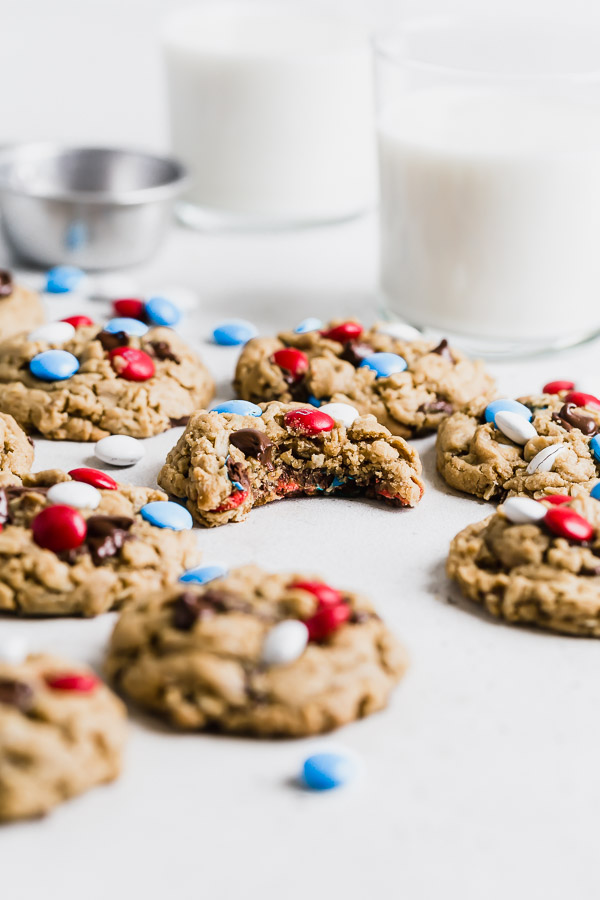 HOW TO STORE 4TH OF JULY MONSTER COOKIES
A batch of these super fun and festive 4th of July monster cookies won't last longer than a backyard fireworks display so I can almost guarantee you won't have a single crumb left over. If you do, take a tip from me and hide them for yourself. These cookies are my favorite fresh from the oven the day of, but I almost love them more the next day when all of the flavors have had time to settle in. The peanut butter and brown sugar work to keep these cookies moist and chewy even days after baking which is just another reason to love these stuffed cookies. For safe keeping, store the cookies tightly covered at room temperature. You'll be glad to know they are freezer friendly too so be sure to stash some away for another day.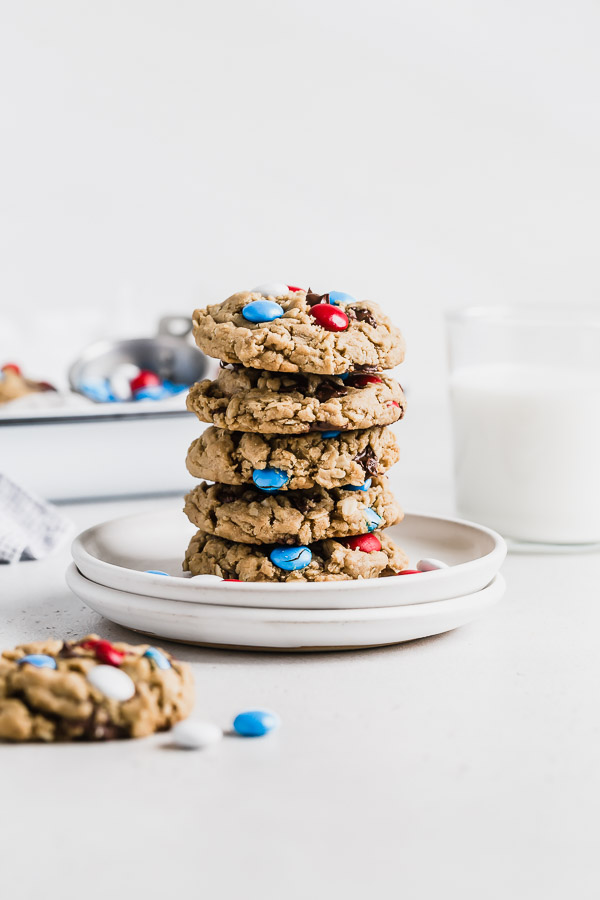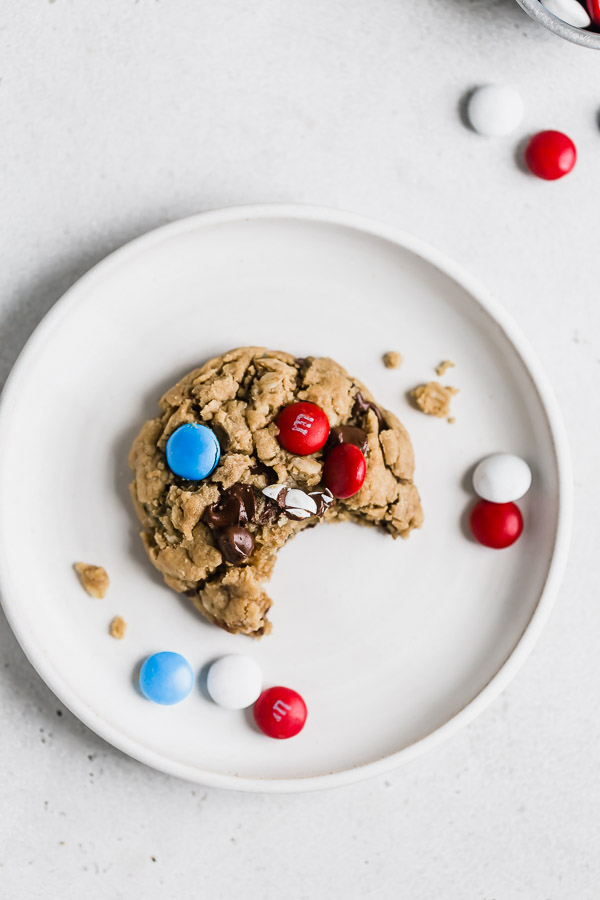 It's not too late to whip up a batch of these fun and festive 4th of July Monster cookies for the holiday weekend! These gems are a procrastinator's dream. Easy to make, quick to bake and they are so perfectly patriotic. Have a safe and happy 4th friends!
Happy baking!!
If you love these 4th of July Monster Cookies, you'll also love…
Jumbo Everything Cookies
Classic Chocolate Chip Cookies & Five Tips for Perfect Cookies Every Time
Easy Funfetti Sugar Cookies
Soft and Chewy Vegan Chocolate Chip Cookies