Say hello to your new favorite peanut butter cookie! Made ultra soft with thick, chewy centers and loaded with delicious peanut butter flavor, these cookies can be made in just 15 minutes from start to finish!
15 MINUTE PEANUT BUTTER COOKIES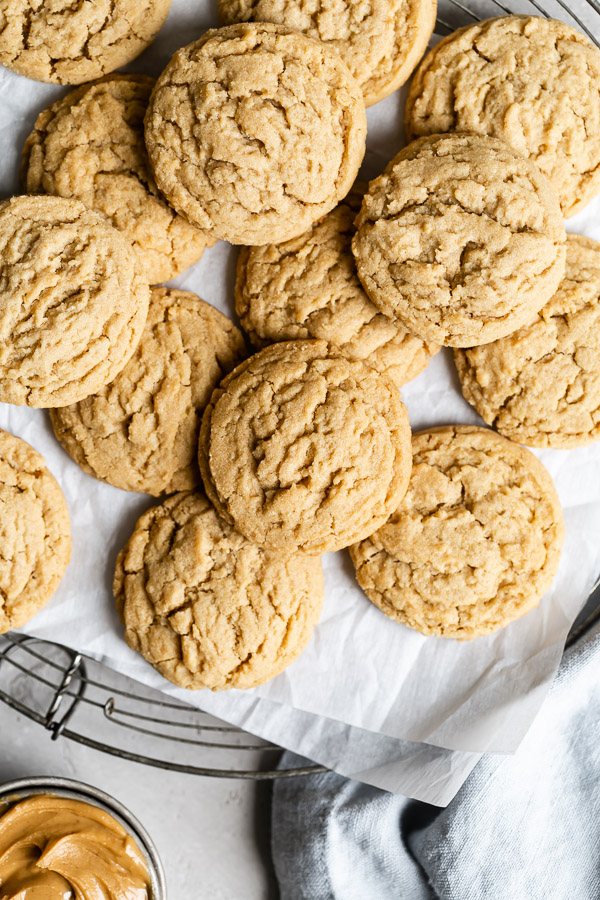 Whoever invented peanut butter cookies deserves a gold star. I mean, what's not to love about a soft on the inside, crispy on the outside, salty, sweet peanut butter cookie? Drool. You guys know I'm a chocolate chip cookie girl through and through, but I'll never say no to a perfect peanut butter cookie. And a perfect peanut butter cookie made in just 15 minutes from start to finish? SIGN.ME.UP.

These easy and super delicious peanut butter cookies really should be called Too Good To Be True Peanut Butter Cookies. Not only are they super easy to make, but these classic cookies are freezer friendly and fun to share. They have all the qualities of a perfect pb cookie that I look for….slightly crispy exteriors with soft, tender centers and plenty of heavenly peanut butter flavor. Everyone LOVES these cookies!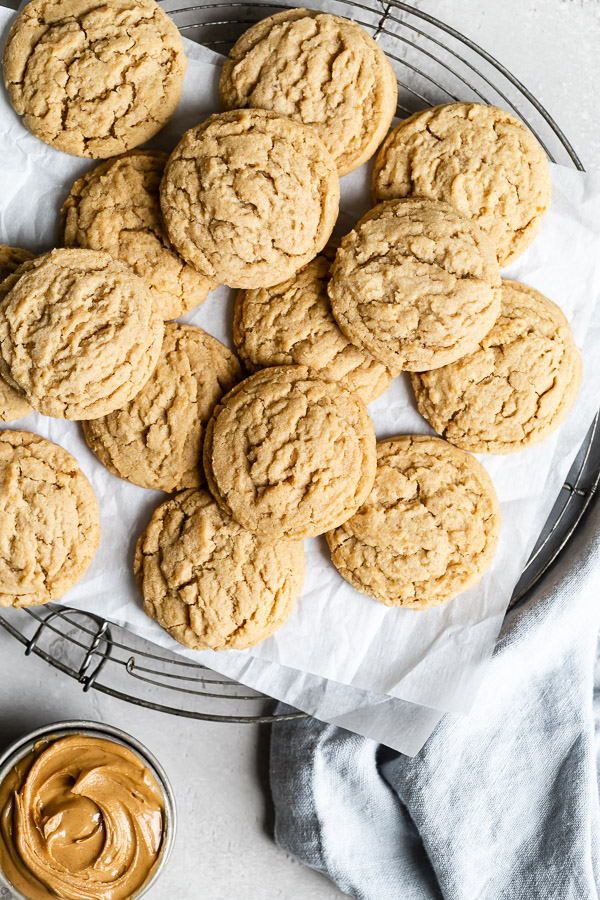 THINGS YOU NEED FOR 15 MINUTE PEANUT BUTTER COOKIES
You can bake up a batch of these easy peanut butter cookies in 15 minutes or less using ingredients you probably already have in your pantry. Here's what you"ll need:
Flour
Butter
Peanut butter
Sugar
Egg
Vanilla
Baking powder
Salt
TIPS FOR THE BEST PEANUT BUTTER COOKIES
Use room temperature ingredients. The beauty of these cookies is that they come together in just minutes but you will need to set the butter, peanut butter and egg out long enough to reach room temperature. I suggest sticking with unsalted butter here but if you are using salted butter, reduce the added kosher salt from 1/4 teaspoon to just a pinch.
Be picky about your peanut butter. You know that super healthy, all natural peanut butter that you love to spread on your morning toast or add to your favorite banana smoothie? Yeah, that's not the kind you want to use in this recipe. Take it from me, for the best taste and texture, reach for the no-stir, creamy pb like Jif or Skippy. Natural peanut butters made without stabilizers have a lot of oil that will completely change the texture of the cookies. I'm team creamy peanut butter all the way, but crunchy peanut butter works too!
Do not over mix. For the softest cookies, do not over mix the dough. Once you add in the dry ingredients, mix only until a few tiny streaks of flour remain. Speaking of flour, be sure to measure the flour correctly. Too much flour will create a dry cookie. For best results, use a kitchen scale like this one to measure the flour.
For extra crunch, sprinkle with sugar. If you love that added crunch on the outside of your peanut butter cookies, sprinkle a little granulated sugar over the tops just before baking. Delish!
Do not over bake. Because these cookies don't bake up with extra golden brown edges, it can be tough to tell when the cookies are done. Err on the side of under baking the cookies unless you want a very crunchy peanut butter cookie. For soft cookies, remove the cookie sheet from the oven when the edges and centers of the cookies are set but still soft and pale. The cookies will continue to bake from the residual heat once you remove the pan from the oven.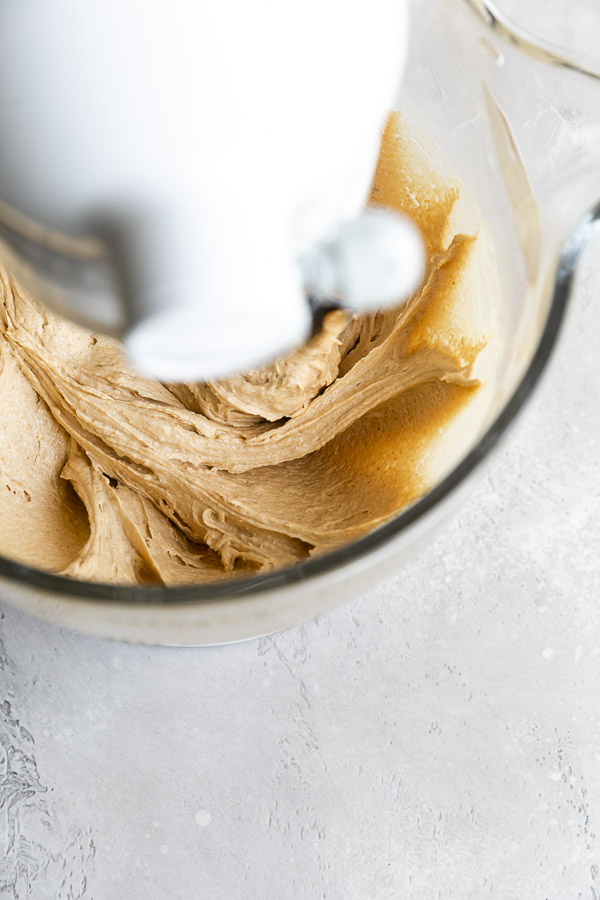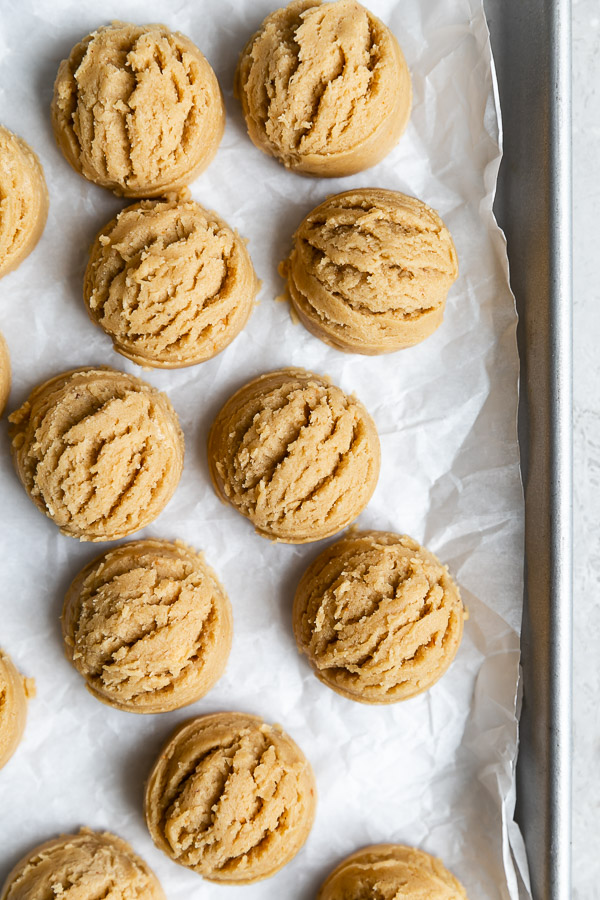 CAN I MAKE THE COOKIE DOUGH IN ADVANCE?
Yes! You can mix up the dough up to three days in advance and store it tightly covered in the refrigerator. Once you are ready to bake the cookies, simply let the cookie dough rest at room temperature for about 30 minutes before scooping the dough into balls. Fresh out of the fridge the dough will be too cold and stiff to scoop properly so it just needs a little time to soften up on the kitchen counter. Once the dough is scooped, bake the cookies as you normally would.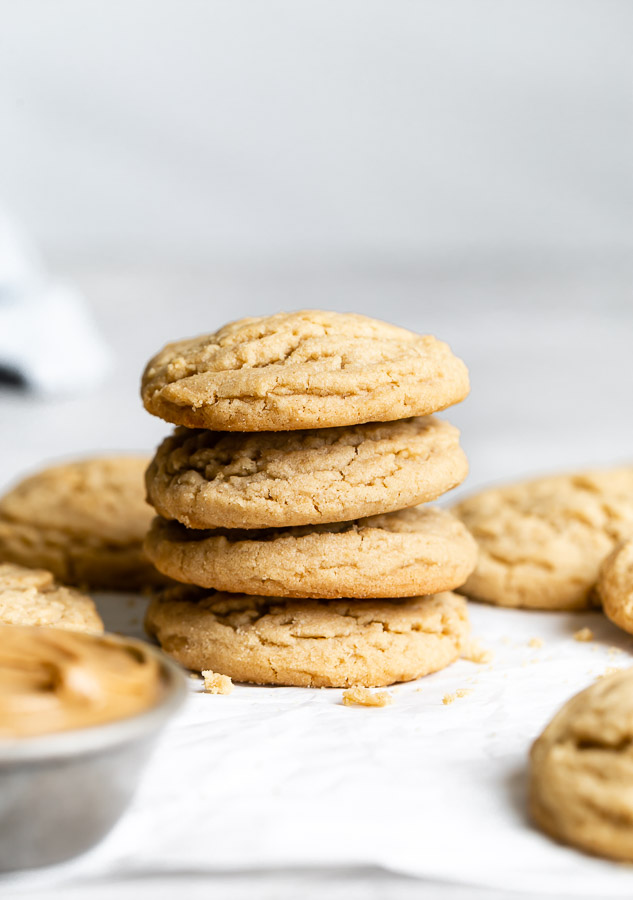 HOW TO STORE PEANUT BUTTER COOKIES
To keep these easy peanut butter cookies soft and tender, you'll want to store them properly. Once the cookies are completely cool, keep them tightly covered in an airtight container for up to five days. They make a delicious after school treat for the kids and I've never met a better midnight snack. They're the perfect size for dunking in a glass of milk! You can also freeze the cookie dough before baking by scooping the dough onto a parchment lined baking sheet and freezing for one hour. Then transfer the frozen dough balls to a large plastic freezer bag and freeze for up to three months. Just bake off a few cookies at a time straight from the freezer whenever the craving strikes. Don't forget to add a couple of minutes to the baking time if using frozen dough.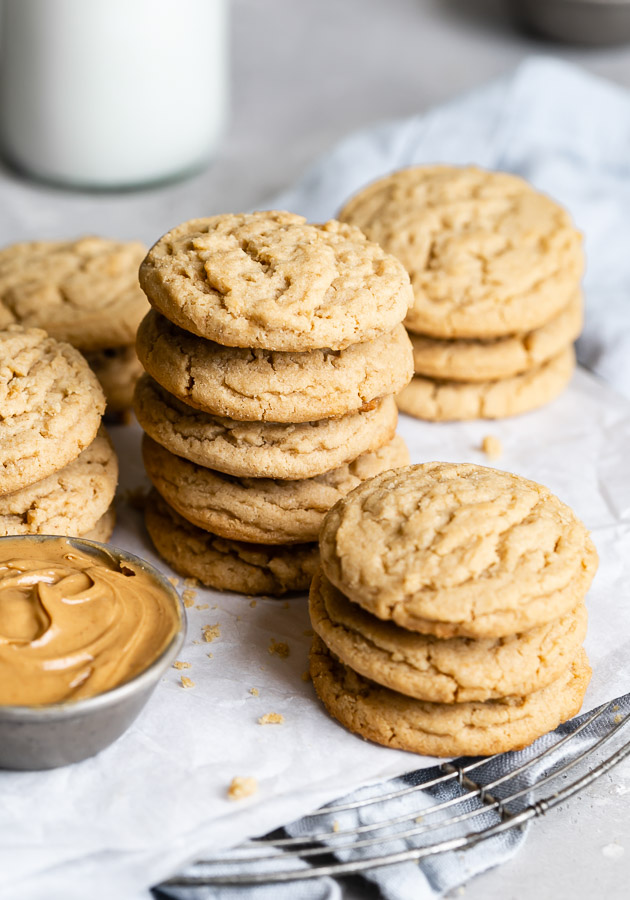 I just know you are going to love these easy peanut butter cookies as much as I do. Bake a batch today or bookmark this recipe for a little weekend baking sesh.
Happy baking!
If you love these 15 Minute Peanut Butter Cookies, you'll love these easy cookie recipes…
Peanut Butter Pretzel Chocolate Chip Cookies
Classic Chocolate Chip Cookies & Five Tips for Perfect Cookies Every Time
Salted Caramel Chocolate Chip Cookies For Two
Peanut Butter Mousse Sandwich Cookies